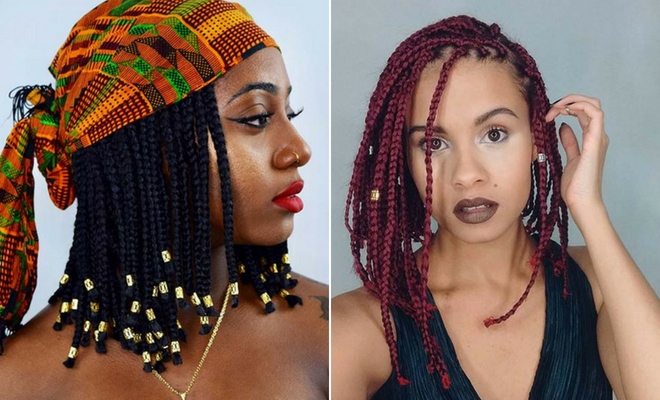 Instagram
Beauty
43 Cute Medium Box Braids You Need to Try
By
|
Want to change your hair but don't know what style to choose? If so, you are in the right place. We have found 43 stylish medium box braids looks. We have something for everyone, including beautiful color ideas, chic medium braids and ideas on how to style them. Take a look, you will be spoilt for choice!
1. Cute Medium Box Braids
The first medium box braid idea we want to share with you is this cute braided bob. This is a beautiful and easy to wear hairstyle that will suit anyone across all ages. Create a hairstyle like featured to keep the look simple and stylish or if you want bolder hair, add some colors or accessories.
2. Medium Box Braids with Gold Cuffs
Next, we have medium box braids that look fit for a Queen. The braids have been styled into a medium length bob with a middle part and are finished off with gold accessories. This is a stunning hairstyle that will look amazing if you want to look like a glam goddess.
3. Accessorized, Chunky Medium Braids
When choosing accessories you don't have to stick to one style, you can combine them together like our next hairstyle. The hair has been braided into chunky braids with cords and braid cuffs. We love the cords and cuffs together because they look trendy and unique. You can choose gold like featured or try different cord colors.
4. Blonde Medium Box Braids
If you want a new hairstyle that gives your look a lift then blonde braids can be the way to do it. Blonde will give you a trendy, sunkissed and brighter look, no matter the season. A stylish way to wear blonde is like the image featured. You can see how beautiful the blonde looks when braided with other colors. Choose multi shades for a natural looking style or one blonde tone for a statement hairstyle.
5. Box Braids Bob
Our next idea features a medium sized box braids that have been styled into a chic bob. The bob is sleek and stylish due to the very neat and quite thin braids. The overall look is beautiful and easy to wear. You can a wear a hairstyle like this anywhere and you will look amazing.
6. Trendy Medium Length Box Braids
Looking for a trendy new 'do? Then this hairstyle is for you. Here we have chunky medium length box braids that have been styled into a side part. The braids have also been accessorized with stylish cords. This is a gorgeous look that will suit anyone and you can create a unique look by adding different color cords.
7. Statement Medium Braids with Beads
Next, we have a chic and statement making idea. These mid length box braids have been sleekly styled and have beautiful beads at the bottom. This is a stunning example of how you can match your hair accessories to your makeup and outfit to create a trendy, coordinated look. We love this!
8. Medium Jumbo Box Braids
Prefer chunkier braids? Then this next look is for you. Here we have jumbo box braids that have been styled into a beautiful bob. You can recreate this look or choose longer braids to suit your taste. Style with or without the hair accessories because either way, you will have a gorgeous hairdo.
9. Small Medium Box Braids
Want a chic and elegant look? Then this is the hair idea for you. Here we have a box braid bob that features thinner and smaller braids and has a center part. All of these elements create a beautiful hairstyle that will look amazing on anyone. You don't have to add any color or accessories because hair like this looks stunning as it is.
10. Half Up, Half Down Style
Our next idea is a trendy half up ponytail. We love braided ponytails because they look so edgy and stylish. This one features chunky box braids in a medium length ponytail. The hair has also been accessorized with cords and cuffs. A ponytail like this would be amazing for summer and vacations.