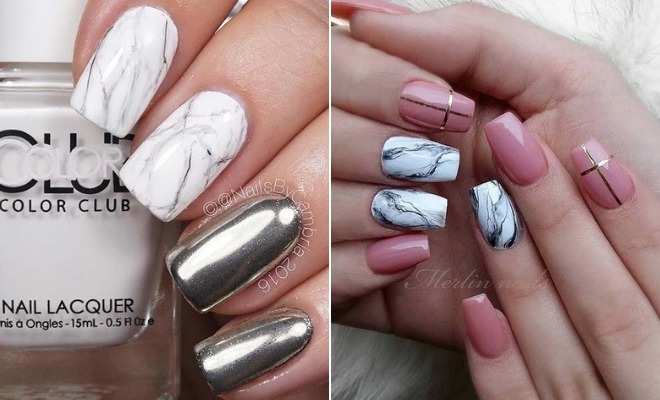 Instagram
Beauty
43 Jaw-Dropping Ways to Wear Marble Nails
By
|
21. Pretty Pink Nails with a Marble Design
You can create so many different looks with marble. Here is a creative one! The nails are pink with two accent nails. On the accent nails, half of the nail is pink and the other is marble. This is such a creative idea. You can recreate the pink look or use any color you like.
22. Elegant Blue and Gold Marble Nails
Next, we have a beautiful marble nail idea. This one is different to the classic marble. Instead of white and grey, this one is white and blue. In addition to using different colors, the artist has created a watercolor effect which makes the nails look unique. There is also stunning gold over the top. These nails will look amazing on anyone!
23. Bubble Gum Pink and Marble Nails
The next nail idea we have to show you is this pink marble design with rhinestones. We love these three different designs together as they look elegant and stylish. The nails have a trendy coffin nail shape which gives the manicure a chic look. If you don't like the pink, you can opt for some darker shades like grey, black, or navy blue.
24. Trendy Black Nail Design
The next nail idea is so trendy and chic. Here we have black coffin shaped nails with a white marble design. The color combination is stunning and the marble art is amazing to. A nail design like this will suit everyone and it can be created on any nail shape. You can recreate this or you can try adding some gems or glitter for a super glam look.
25. Marble and French Ombre
The next idea is one of our favorites! This manicure features a French ombre design with two white marble accent nails. The white marble art is gorgeous and it compliments the chic ombre perfectly. We love this design because it combines two of the must-have nail looks. There are tutorials online for French ombre and marble art so you can try recreating this mani yourself at home.
26. Black Marble Nails with Rhinestones
If you are looking for a glitzy nail design, then this idea is perfect for you. The nails are black with white marble art and two of the nails are decorated with sparkling rhinestones. It is a statement making manicure and it will be perfect for a party or special occasion. Rhinestones can be bought online in many different shapes, sizes and colors and they can be stuck on your nails with nail glue.
27. Glamorous Short Nails
Next, we have glamorous nail idea to show you. Most of the nails are a light, nude shade and there are two accent nails too. The accent nails have a white marble design. We love the colors used and the marble art is amazing. It also shows how great marble nail art looks on shorter nails. Recreate this look or you can try the marble design on all nails.
28. Matte Nail Design
Looking for a unique nail idea? If so, you need to check out this next look. Here we have matte coffin nails and most of the nails have a different design. Two of the nails are nude with gold foils and marble art, the next is grey with rhinestones and the other nails are either grey or burgundy matte. The combination of colors creates such a striking manicure. You can recreate the whole manicure or just try the burgundy nails and gold marble art.
29. Clear Stiletto Nail Design
The next nail idea features another unusual design. This time the nails are stiletto shaped and are clear with smokey black marble art. There is also a black outline around the nails too. This is an amazing nail design and it is so unique and artistic. It is a very chic and glam version of the marble trend.
30. Elegant Nail Idea
This next design is so chic and elegant. All of the nails are matte nude and each one has a gorgeous marble nail art adorned with dark gold foil. We love the marble and nude combination. You can recreate this white marble or you can create the marble accent nail in another color. Also, keep it simple and elegant like this or you could add gems for a glam and sparkly look.