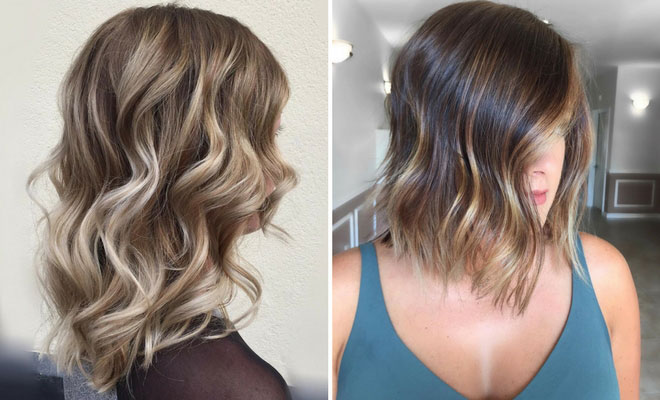 Instagram
Beauty
27 Pretty Lob Haircut Ideas You Should Copy in 2017
By
|
21. Balayage Highlights
But what about when you don't want an all-over colour? What if you just want a hint of colour? Do you think it's impossible to have subtle shading in short hair? Well, you're wrong, and this beautiful look just proves it. Add those balayage highlights to the very ends of your hair and it'll actually make you hair appear a little longer. Make sure it's subtle and well-blended and we promise the compliments will come flying.
22. Sandy Blonde Highlights for Dark Brown Hair
The best news about balayage styles just like this sandy blonde highlights over dark brown hair look is that it allows for natural roots. You can easily go weeks between salon appointments with colour choices like these, darker and more natural at the roots, lighter and more coloured at the ends. As the hair grows and your natural, darker roots come through, it'll just look like another tone to your ombre look. That's fine by us!
23. Curly Blonde Balayage Lob
Of course, you could always choose to go LESS subtle. Just like this blonde bombshell – the cutest of cute blonde balayage lobs. Again, leave things more natural and darker at the roots, lighter towards the end, and go a little while longer before you make that salon appointment. Your hair will thank you for it, and so will your bank balance!
24. Layered Bronde Lob
You can still add layers to your pretty lob haircut ideas to copy in 2017, just make some of the layers a little longer than others, incorporating a good mix. In order to create volume around the face, once you've added your waves to your locks, create a side parting. Give it a quick burst of hairspray, and tousle it up with your fingers, and you'll be left with a beautiful five-minute 'do, just like this one.
25. Voluminous Lob Style
If you blow-dry your hair upside down, you'll create enough oomph and volume to achieve this voluminous lob style from the comfort of your home. You know how when you do your hair it never looks as good as when your stylist does it? Well, the upside-down trick is a really good one to use when you have fine hair. Also consider using mousse, preferably a volume-adding one, and heated or leave-in rollers to help too.
26. Blonde Ombre Lob
What on earth is bronde hair? Well, exactly as it sounds really – blonde and brown hair cleverly blended together until it becomes bronde. In case you weren't aware, J-Lo has rocked the look, and Brie Larson is also a fan. This look features bronde – brown becoming blonde – in an ombre gradient that we can't to rock for ourselves. If it's subtle, yet beautiful, colour-changing you want, this is the look to go for, for sure!
27. Straight & Blonde
And sometimes you don't want big waves, but that doesn't mean you want poker straight and sleek hair either … right? This look shows you an in-between hair look that anyone will kill for, all achieved with the help of a good blow dry with a big round brush. It'll help you get the straightness without the sleekness, and just the right amount of bounce too.
And there you have them – 27 pretty lob haircut ideas you should copy in 2017. They're easy, low-maintenance, beautiful, and can be customised to suit any kind of style, colour, or look you want. What's not to love about the lob? If it's good enough for the likes of Kim Kardashian and Brie Larson, it's good enough for us too.