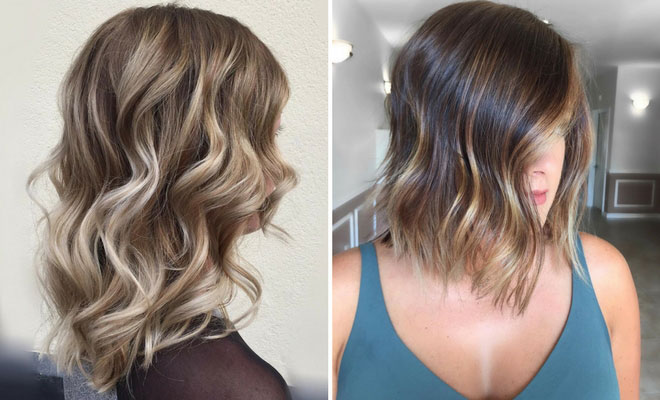 Instagram
Beauty
27 Pretty Lob Haircut Ideas You Should Copy in 2017
By
|
11. Lob Idea for Thin Hair
Hoping for some super-straight locks? Well, you'll be happy to know that with a pretty lob haircut idea like this one, getting perfect hair will take a fraction of the time. If that's not a reason to go for the chop, we don't know what is. You can use your blowdryer and your fingers or a paddle brush to get this sleek style, and once you're done, use some hair oil or wax and a baby toothbrush to smooth down any fly-aways. If you add highlights into the mix, your hair won't look lifeless, which is what many women fear when going for a look this short.
12. Layered Lob Haircut + Balayage Caramel Highlights
Trying to go from brunette to blonde? Rather than doing it in one go, achieving that beautiful (not) orange hue in the middle, try a balayage blend instead. Adding more and more blonde / lighter colours as you go, it's a less strenuous way of going for a drastic change. Do you have time on your hands to dedicate to the cause?
13. Curly Blonde Lob
If you want a super textured look with your lob, there's a really easy trick to do it, and you can use both your hair straighteners or curling tongs to get the effect too. To add more volume and texture into limp and lifeless hair, when you're curling your locks, curl different strands in opposite directions. Curl some to the right and some to the left. It adds a brand new dimension, and will make your 'do look thicker and more full of life. For the record, Daisy Ridley is a big fan of this hair trick.
14. Lob Haircut with Bangs
Short hair and bangs are always a really drastic move, and you need to have the right kind of face shape to pull it off. We did it once, and we ended up looking like a tomato with hair … Round-faced girlies will often have a hard time. The trick to getting it right, of course, is getting the style of bangs right. You don't need to have a harsh, straight long, or thick bangs. You can opt for more wispy and lighter styles for a less severe way to rock the look. Have a chat with your hair stylist – they're trained for this kind of thing!
15. Beige Blonde Balayage
It's a sun-kissed ombre look, and that's just why we love it so much. When we're talking about pretty lob haircuts you should copy in 2017, this one has got to be one of our favourites. We're feeling those summery vibes even if the sun hasn't quite made its way here yet, and if you have long hair, going of the chop will give your locks a new lease of life. We know it's scary getting a big haircut, but it really will do your hair the world of good, enabling it to grow back stronger, healthier, and in much better condition.
16. Lob Haircut with Long Layers
The good news about pretty lob haircut ideas like these is that they're easy to play around with when you want to dress them up or down. There's still enough here to braid your hair into head-band style looks, leaving the rest of the hair down and curly. You could always just pin segments back away from the face, making it an even easier style to take care of. We do love a nice, simple style.
17. Honey Blonde Balayage
Going honey blonde for the spring and summer is always a great idea, especially if you've been rocking dark hair of the majority of winter … mostly because you didn't want to leave the house because it was too cold. If you want to achieve this look at home, you'll want a blend of hair dyes, rather than just one or two shades. Look for at-home dyes that contain names such as caramel, copper, honey, golden, butter, and warm. They'll have a slightly red tinge to them, but that's what the honey-blonde look is all about!
18. Cinnamon Red Lob
Of course, you could always go brighter and lighter with your red than honey blonde. What about a cinnamon red instead? It's definitely bold and bright, but if you've been in the dark for far too long, perhaps this is the right look to come out of the darkness with! It'll be high-maintenance and don't let anyone tell you otherwise. When we had red hair we found we needed to touch it up at least once a week if we wanted to wash it more than twice. Very high-maintenance, but so beautiful. It's hard work being a woman, right?
19. Cute Brunette Lob
You could always go back to basics with your hair this year, copying pretty lob haircut ideas like this one. Grown out your old shade, get your locks cut off to this lob shape and style, and let your hair breathe again. When was the last time you had natural hair? What's so wrong with your natural hair anyway?
20. Curly Bronde Lob
Bronde – brown and blonde – is a big thing right now, favoured by the likes of Jennifer Lopez and Kim Kardashian. Let's face it, if it's good enough for Jenny from the Block, it's good enough for us. The fact that it looks simply stunning is just a massive added bonus.