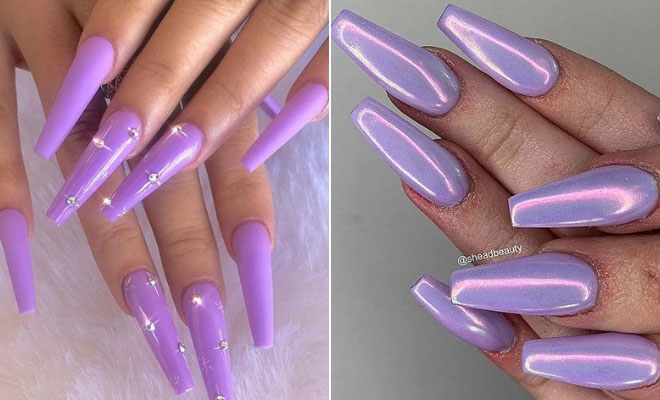 Instagram
Beauty
21 Lavender Coffin Nails That Are Perfect for Spring
By
|
Nail trends are always changing and so are the must-have nail colors. This year one of the hottest colors to wear on your nails is lavender. The soft pastel purple has been seen on designer runway shows and pastels always make an appearance during the spring and summer seasons. It is only a matter of time before the beautiful color makes its way onto your nails. To give you some nail design inspiration ready for the spring, we have found 21 lovely lavender coffin nails. Coffin is our nail shape of choice because the shape can be created in different lengths and it is easy to wear even if your nails are super long. So, with lavender coffin nails you get a trendy mani that is also practical. Read on and take a look at our collection of beautiful nail designs created by talented nail artists. We have bold designs, subtle nails and more, so there is a mani to suit any occasion.
1. Glossy Lavender Coffin Nails
The first nail idea is simple and pretty. For this look, the long coffin nails are painted in soft and light lavender color. Nails like these are so easy to wear and they add color to your look in a low-key way. The mani can be dressed up or down to suit any occasion and as it is chic design, it would be great for special events like a wedding.
2. Ombre Chrome Lavender Nails
Ombre is still one of the hottest nail trends and when you combine it with a must-have color like lavender you get one stylish mani. Here is how to wear lavender ombre in style. Two of the nails have simple nude and purple ombre while the other two have a chrome effect. Both designs look amazing and you can find ombre nail tutorials online. Recreate this or use one version of the ombre on all nails.
3. Lavender and Pink Coffin Nails
The soft pastel purple shades suit other colors too. One combo that we really love for spring is lavender and light pink. Below we have long coffin nails where two nails are lavender, one nail is shimmery purple and the rest are pink. As you can see, the different pink and purple tones look stunning together. You can try a similar design or use just glossy or matte colors in similar shades.
4. Statement Purple Nails with Marble Art and Rhinestones
Lavender can be such a soft and subtle color. But, if you do prefer bolder nail art, then this mani shows how to wear purple in a more statement making way. Two nails are the very light shade while one nail is matte and a darker tone. One nail also features purple marble art and the last nail is covered in rhinestones. We love this because of the different art used and because of the glamorous accent nail. You can find marble nail art tutorials on YouTube.
5. Holographic Lavender Nails
Next, we have a trendy nail idea to show you. For this look, the nails are a stunning coffin shape and are painted in a beautiful light purple with a holographic effect. It is such a fun, stylish and easy to wear nail idea. These nails will be perfect for the spring and summer. You can buy holographic lavender nail polishes from brands like Rimmel.
6. Ombre and Clear Nails
The next nail idea is one of our favorites because it is so trendy and glam. This mani features a mix of ombre art and clear acrylic nails. The ombre is nude and very subtle lavender while the clear nails have a gold and silver foil design. We love the mixed metal foils and the jelly nails just give the lavender a more modern, stylish and edgy look. Recreate this or you can replace the clear nails with purple jelly nails.
7. Matte Purple Mani
Matte nails have become a must-have and with manicures like this one, we can see why. Here we have mid length coffin nails that are painted in a beautiful matte lavender color. The different texture just jazzes up the simple design. You can buy matte polishes or use a glossy nail color with a matte top coat.
8. Stylish Purple Nails with Mermaid Art
Give your nails a mermazing makeover with a design like this one. Two nails are sparkly lavender, two nails are light purple and one nail has bright purple mermaid scale art. It is such a fun, unique and pretty design. Something quirky like this is perfect for the summer season. You can buy mermaid scale stencils online and the colors used are listed on the Instagram page below. But do take note that the colors listed are for professional gel nails, so you will want to find similar colors if recreating yourself at home.
9. Glitter and Ombre Nail Design
Glam up your nails with a purple design like this one. Most of the nails have different designs including bold purple glitter, block lavender color, purple ombre and block pink color too. The color palette used is stunning and it shows a more glitzy way to wear lavender. Recreate the whole look or just use one or two designs on all nails.
10. Super Glam Coffin Nails
We love this next nail idea, it is so gorgeous and glam! Here we have long coffin nails and most of them are decorated with a different glitzy design. Our favorite nail art is the lavender nail that is adorned with silver stars, rhinestones and more. It is such a stunning idea. Try the whole mani or use the purple design on all nails. You can buy silver nail decorations and rhinestones online and you can stick them on with nail glue.
11. Lavender Chrome On Short Coffin Nails
Not all coffin nails have to be long. You can opt for a shorter version too. This next design shows a stunning way to wear shorter coffin nails. Each nail is the same and they are all a lavender color with a chrome effect. As you can see, the nails look stunning and the shorter length means they are easy to wear. Recreate the chrome or have similar nails in either glossy or matte lavender.
12. Cute Lavender And Clear Nail Idea
Next, we have another clear nail idea. For this look, two nails are a lavender shade while the other two are clear. Most of the nails are decorated with gold foils and hearts. It is a fun, pretty and unique idea. These nails will be perfect for the spring and for occasions like Valentine's Day as well as weddings.
13. Glitzy Pastel Pink and Purple Mani
Earlier in the post we shared a purple and pink nail idea. If you loved that color combo, then you need to see this next design too. Most of the nails have different designs including block lavender color, glitter and glitzy rhinestone art. We love the colors and the sparkle, together they create a stunning mani.
14. Stiletto and Coffin Lavender Ombre Nails
This next design is another one of our favorites! Here we have super long nails and each one features nude and lavender ombre. What we really love is that most of the nails are that trendy coffin shape but the little finger nail is a stiletto shape. The different shapes used create such an edgy and unique mani. Recreate this look or simply paint the nails lavender with the different nail shapes.
15. Long Purple Nails with Rhinestones
If you like to wear sparkling rhinestones on your nails, you need to check out this next mani. The nails are all super long. Some are matte lavender and some are glossy purple with silver rhinestones. We love the different textures and the sparkle. It is such a pretty and glam mani that is perfect for parties and nights out.
16. Glam Lavender Nails
Next, we have another glam mani to show you. For this look, three nails are sparkly lavender and two nails are purple with added rhinestones. It is a statement making and sparkly nail design. Something like this is perfect for events like weddings, the prom, festivals and more. It will be a great way to update your mani for the spring and summer.
17. Rhinestone Accent Nail
The next nail idea is pretty and cute. Most of the nails are a soft lavender color with a matte finish. One nail is also matte nude and jazzed up with rhinestones in gold and silver shades. We really like the accent nail because it makes the lavender nails really pop. It is just a stylish and easy to wear look. You can easily recreate nail art like this at home.
18. Lavender Ombre with Rhinestones
Love the ombre art? If so, you need to take a look at this lavender nail idea. This version features beautiful lavender and nude ombre. Two nails on each hand are also decorated with rhinestones. The rhinestones really jazz up the mani but you can recreate the ombre with or without. This is another design that will be great for special occasions such as a spring wedding.
19. Lavender and Silver Glitter Nails
Silver glitter looks stunning on your nails. Even more so when paired with beautiful colors like lavender. This mani is a gorgeous example. Here we have long coffin nails that start with that soft purple shade and then blend to sparkly silver glitter. The glitter compliments the pastel purple perfectly. It is a very pretty nail design that will glam up your look for parties, nights out and more.
20. Chrome Mani
Next, we have another chrome mani. This one is a little different to the one that we featured earlier and it shows a different way to wear trendy chrome. The coffin nails are longer and the actual purple color is softer and subtler. This is a pretty and stylish mani. It is versatile, so it can be dressed up or down to suit any occasion.
21. Pretty Purple Nail Idea
The last lavender nail idea that we have to show you is pretty and glam. Some nails are nude with lavender tips and the others are sparky purple. One nail on each hand also features a gold letter. Letters are a great way to personalize your nails as you could have your initial or put a letter on each nail to spell out a word. It is just a fun and unique idea.
We hope you have found a pretty lavender nail idea to try!