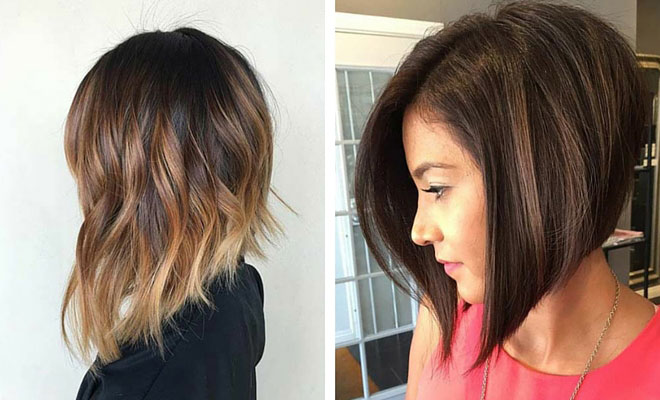 Beauty
41 Best Inverted Bob Hairstyles
By
|
11. Short & Sleek Inverted Bob
This is such a fashionable cut. Just look at that volume! This sleek graduated bob is perfect for any and all occasions. Work, parties, even going to the supermarket. You'll be the envy of each woman you pass in the aisle.
This style would look stunning in any colour. So you've got no reason to not try it out. We definitely think this hairstyle would suit someone with a long slim neck as it would accentuate it beautifully.
12. Blonde Inverted Bob with Layers
This blonde bob has to be one of the best ones we've seen. The fade between dark to light blonde is flawless so this look is perfect if you want to go for quite a natural look, but still want a trendy do.
Check out those choppy layers! We love how the curls look too. They make the hair look so voluminous and add quite a messy look to the style.
13. Voluminous Style
Volume, volume, volume. If you like a bit of boost in your hair you'll love this style. Short, choppy layers are definitely the way to go and they're so easy to manage too.
The long wispy ends that frame the face make the entire look appear a whole lot softer. Especially as the back does look quite uniform being that it's only a single colour. That matte look of this bob really adds to the edginess of it.
14. Gray Inverted Bob
Going gray isn't a bad thing anymore. It's actually a trend believe it or not. This woman is of course too young to have gone gray naturally so she must've had her hair dyed.
Just think, if you can rock a gray bob in your younger years, you know you'll look damn fine when your real gray hairs start peaking through. This gray hair glints under the light so nicely too.
15. Long Inverted Bob + Caramel Highlights
Here's another lob for you long-bob-lovers out there. Chock-full of delicious caramel highlights. This look is perfect if you want to keep your hairstyle quite low-key on the maintenance front but still turn heads.
The transition between chocolate and caramel tones is quite subtle in this style. When the light catches this hairstyle it really does come to life. It illuminates each shade wonderfully – intensifying the entire look.
16. Choppy Bob Cut + Highlights
Highlights really help to elevate any look. And that's exactly the case with this next 'do. You've got to love how bright those blonde ends are – it's one of our favourite parts, that's for sure.
Check out how choppy this cut is, too. It really brings the whole style together. It goes to show that layers are required all the time to add volume to a look. This one doesn't need them at all.
17. Pastel Purple Bob
Are you speechless too? Speechless in a good way that is. The way the different shades of purple have been blended together to form this look is truly inspiring.
Pastel purple really isn't your regular hair colour choice, but if it's done right it can look really spectacular. Just look at this 'do. We bet you're thinking about going purple now. And we don't blame you – we're thinking the exact same thing.
18. Short Blonde Bob
Here's quite a unique style. Not that the one before wasn't or anything. We really like the long ends in the front and how the flow from short to long is pretty steep.
Making this quite a dramatic look. The blonde hues of this style are so bright. They're probably even brighter when the sun is shining on them. You can be sure you'll be noticed walking down the street with this 'do.
19. Medium Length Bob
Best of both worlds. This 'do is great for all you long hair lovers. It's not even that short in the back so you won't have to worry about getting a cold neck. If that's something that people actually worry about.
We like the incorporation of highlights in this look. Especially how they start off as highlights and blend into the only hair colour towards the ends. This style will still look great even when the hair starts to grow out.
20. Wavy Rose Gold Bob
Rose gold is so "in" right now. We've seen it more on jewellery but it's so great to finally see it transition into the hair industry. This is such an effortless look and you can replicate it pretty easily too.
Just get your hair ombred with a rose gold hair colour and then have it cut into an inverted bob. For the curls you don't need to spend too long creating them. The looser, the better.