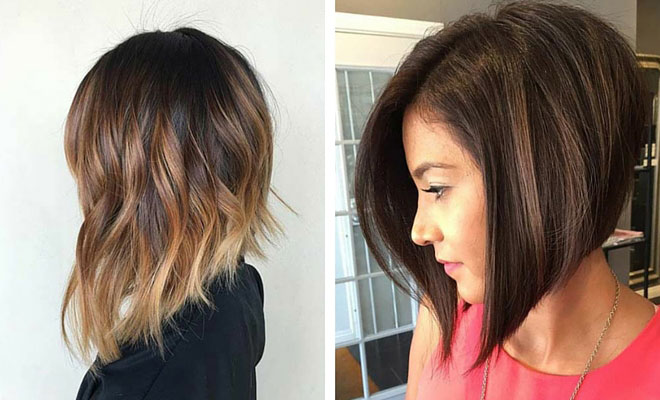 61 Best Inverted Bob Hairstyles for 2019
Sick of constantly having to untangle a knot in you long hair? An inverted bob is the answer. Unlike regular bobs, inverted bobs (also know as graduated bobs) are short at the back and long in the front. There are so many styles to choose from and about a million colours as well. If you want to dye your hair that is. It's entirely up to you. There's even a few lobs (long bob) in there too. We've compiled a list of some of the best inverted bobs we've come across. So sit back and check them out. Oh, and most importantly, enjoy.
1. Short Blonde Bob
Do blondes really have more fun? We bet they do if they have this hairstyle! Whilst this cut is quite short, it's still soft and playful with the incorporated ombre technique. And you can pull it off too. Taking care of the colour and shine is your only job to maintain this look. You don't even have to worry about your roots growing through – it'll just add to the look.
2. Black Inverted Bob + Long Front Layers
Cutting your hair short can seem quite daunting. This look is perfect if you're not 100% ready to take the plunge. You'll get all the volume and boost from having a bob, but still have some length in the front to play with. A jet black bob is quite a striking hairstyle and it's definitely one we recommend. It's a lot easier to maintain than any other colour that's for sure.
3. Lob Style + Balayage Highlights
Lobs or long bobs are way easier to manage than their shorter alternative. The added length means you can style them in tons of different ways. It's the best of both worlds. If you like the look of chunkier highlights in your hair, you should definitely try out the balayage technique. Balayage is of French origin and means "to sweep". Literally sweeping any colour you want, through your hair.
4. Inverted Copper Bob
Going red doesn't mean you have to go bright, bright red. There are so many tones you can choose from. This warm coppery tone is great if you want a more natural style. It's a lot easier to maintain too. Don't get us wrong, you'll still need to use colour protection hair products, but the colour will take longer to fade. Which means fewer visits to the salon for you.
5. Sun-Kissed Inverted Bob
This bob is perfect for spring… and summer too! With the sun highlighting all of the lovely hues running through this style, you'll feel like a million bucks. The sun will even help brighten you hair over time – intensifying this look. Having it long at the front makes this quite a soft, romantic look. The all over ombre makes for a flawless finish, as the chocolate, caramel and blonde colours sweep effortlessly through the hair.
6. Short, Stacked Bob Haircut
If volume is what you want, volume is definitely what you'll get with this look. This hairstyle has so much boost in it, we're mega jealous. We're pretty sure most of it is natural volume though. Although there definitely could be some back-combing in the mix too. Lots of short layers make up this style. They're also the reason for all of that volume too – well some of it anyway.
7. Copper Bob with Blonde Highlights
This inverted bob is truly flawless. Just look at how effortlessly the copper tones melt into a dark blonde toward the end. Highlights are the best way to create a softer look, rather than just picking one uniform colour. Not sure whether a bob's for you? Don't worry ladies, we've got you covered. This style is on the longer side, so if you like it you can always shorten it. And if you don't – just let it grow out.
8. Trendy Haircut
This is by far the most natural style we've come across. Whether you're someone who doesn't want to colour their hair at all, or someone that's so sick of dying their hair that they want to get back to their roots – literally – this look is for you. It's all about the cut with this one. The choppier the ends, the edgier the look. You don't even need layers to boost this hairstyle up.
9. Messy, Layered Inverted Lob
Want to rock the messy look? This one's for you. The sexy just-rolled-out-of-bed look is one we've all tried at one point. It seems so hard to get right though, doesn't it? We've finally found the solution. Layers. It's that simple. Think about it, when you add layers it adds volume. And volume is good. Now throw in a bit of colour and your once lifeless hair has been completely revamped.
10. Short Orange Red Bob
Here's to all the natural redheads out there. Oh, how we wish we could have your hair. Thankfully now, we're actually in with a shot. Well we'll still have to maintain the colour and get our roots done once in awhile, but it's totally worth it. This oh-so-striking orange is perfect for the spring and summer months. Just imagine walking down the street with you hair glittering under the sun's warm rays.
11. Short & Sleek Inverted Bob
This is such a fashionable cut. Just look at that volume! This sleek graduated bob is perfect for any and all occasions. Work, parties, even going to the supermarket. You'll be the envy of each woman you pass in the aisle. This style would look stunning in any colour. So you've got no reason to not try it out. We definitely think this hairstyle would suit someone with a long slim neck as it would accentuate it beautifully.
12. Blonde Inverted Bob with Layers
This blonde bob has to be one of the best ones we've seen. The fade between dark to light blonde is flawless so this look is perfect if you want to go for quite a natural look, but still want a trendy do. Check out those choppy layers! We love how the curls look too. They make the hair look so voluminous and add quite a messy look to the style.
13. Voluminous Style
Volume, volume, volume. If you like a bit of boost in your hair you'll love this style. Short, choppy layers are definitely the way to go and they're so easy to manage too. The long wispy ends that frame the face make the entire look appear a whole lot softer. Especially as the back does look quite uniform being that it's only a single colour. That matte look of this bob really adds to the edginess of it.
14. Gray Inverted Bob
Going gray isn't a bad thing anymore. It's actually a trend believe it or not. This woman is of course too young to have gone gray naturally so she must've had her hair dyed. Just think, if you can rock a gray bob in your younger years, you know you'll look damn fine when your real gray hairs start peaking through. This gray hair glints under the light so nicely too.
15. Long Inverted Bob + Caramel Highlights
Here's another lob for you long-bob-lovers out there. Chock-full of delicious caramel highlights. This look is perfect if you want to keep your hairstyle quite low-key on the maintenance front but still turn heads. The transition between chocolate and caramel tones is quite subtle in this style. When the light catches this hairstyle it really does come to life. It illuminates each shade wonderfully – intensifying the entire look.
16. Choppy Bob Cut + Highlights
Highlights really help to elevate any look. And that's exactly the case with this next 'do. You've got to love how bright those blonde ends are – it's one of our favourite parts, that's for sure. Check out how choppy this cut is, too. It really brings the whole style together. It goes to show that layers are required all the time to add volume to a look. This one doesn't need them at all.
17. Pastel Purple Bob
Are you speechless too? Speechless in a good way that is. The way the different shades of purple have been blended together to form this look is truly inspiring. Pastel purple really isn't your regular hair colour choice, but if it's done right it can look really spectacular. Just look at this 'do. We bet you're thinking about going purple now. And we don't blame you – we're thinking the exact same thing.
18. Short Blonde Bob
Here's quite a unique style. Not that the one before wasn't or anything. We really like the long ends in the front and how the flow from short to long is pretty steep. Making this quite a dramatic look. The blonde hues of this style are so bright. They're probably even brighter when the sun is shining on them. You can be sure you'll be noticed walking down the street with this 'do.
19. Medium Length Bob
Best of both worlds. This 'do is great for all you long hair lovers. It's not even that short in the back so you won't have to worry about getting a cold neck. If that's something that people actually worry about. We like the incorporation of highlights in this look. Especially how they start off as highlights and blend into the only hair colour towards the ends. This style will still look great even when the hair starts to grow out.
20. Wavy Rose Gold Bob
Rose gold is so "in" right now. We've seen it more on jewellery but it's so great to finally see it transition into the hair industry. This is such an effortless look and you can replicate it pretty easily too. Just get your hair ombred with a rose gold hair colour and then have it cut into an inverted bob. For the curls you don't need to spend too long creating them. The looser, the better.
21. Choppy Blonde Bob
We love how pale the blonde is in this hairstyle. The fade between dark blonde and light blonde is so pretty. Having to go back to the salon every 4-6 weeks to have your hair re-dyed can be a pain. The great thing about this style is that it will still look just as pretty when your roots grow through. You'll save some time and money too, which means you can buy that bag you've had your eye on.
22. Dramatic Medium Haircut
Business in the back and party in the front. This bob is sensational. It looks like quite a normal looking bob from behind and you wouldn't think any differently. But with the front pulled back you can see the flawless way the hair has been shaped. There's so much volume in this 'do. And it looks really natural too. Don't worry if your hair isn't as naturally thick as this model's. A bit of back-combing and a spritz of hairspray and you're sorted.
23. Inverted Bob with Long Side Swept Bangs
Those bangs are just exquisite, aren't they? Their length softens the entire look. We love how far back they start too. If your hair is thinner, you'll want to incorporate less hair into your bangs, otherwise the back of your hair won't be as full-looking. This is because there won't be enough hair to create that much loved volume we all look for in a bob hairstyle.
24. Stacked Short Bob with Highlights
What a phenomenal hairstyle! The whole thing looks like it took ages to create. And it probably did. If this was us, we'd be too scared to touch it just in case we ruined it. Scratch that, we wouldn't even want to move. The colours are incredible and the curls really help to highlight the different tones ombred into the style. Don't get us started on the volume at the back. We're in complete awe.
25. Wavy, Shoulder Length Inverted Bob
The waves in this graduated bob really do make the whole hairstyle come to life. They also accentuate the colours flowing through the hair. We really love the slight messiness to the look. It makes the hair look pretty effortless and really quite sexy too if we're honest. Windswept messy, we'll call it. The fact the darker blonde can be seen peaking through the lighter blonde adds another dimension to the style.
26. Straight, Short Bob Haircut
The back, the sides… even the front. We adore this whole hairstyle. The overall choppiness is a really nice touch. You could get rid of all your split ends with a cut like this. Not that we're saying you have split ends. Well, you know what we mean. It's quite wispy towards the front of the look, but it really works. You wouldn't have to go jet black for this style either. Any uniform colour would look great.
27. Medium Bob with Face Framing Highlights
Ooh that's new! It just goes to show that you don't have to have highlights all over your hair. You can just highlight a small area. Take this style for instance, you can just get the hair surrounding your face highlighted. Face-framing highlights are also great if it's your first time getting highlights and you want to test them out before you take the plunge and get your whole head done.
28. Pastel Bob Hairstyle
Yay, another pastel bob! And you have to admit, this one is quite remarkable. The hours it must've taken to create this perfection were totally worth it. You must agree. You can see some of the back-combing techniquer nestled in the back of this 'do, but we don't even mind. You could pick any of your favourite pastel colours to recreate this look with. A minimum of two would be required, but we think 3 or more would look even better.
29. Inverted Lob + Beautiful Caramel Highlights
Lobs are the perfect medium between bobs and long hair. You have more freedom with new hairdos you want to try. For instance, you have more hair to curl and you can even put your hair into a ponytail. The caramel highlights in this style are great if you're looking for a natural-looking hairstyle. They'll also brighten up when the sun gets to them. Creating a much lighter look over time.
30. Choppy & Messy Cut
Another messy one! Well we couldn't leave it out now could we? Just look at it. There's quite a choppy style to it, but the feathered ends give it a weightless look and feel overall. It's really shiny too. Normally when you go messy, all the shininess runs out the door. Also, you don't have to dye your hair. This bob proves you can still look amazing with natural hair and a trendy cut.
31. Straight, Clean Cut Bob
We couldn't not include a classic. Sometimes simple is better. And you can see why. Uniform colours look best for this look. It's such an elegant style. Errors in this cut would be really difficult to hide, so you'll want to make sure you get someone you trust to cut your hair, or a qualified professional of course. Also, use a hair product that will help your hair retain its shine and stay straight for longer.
32. Long Bob Cut for Thick Hair
Long graduated bobs are great for thick hair. Having thick hair is advantageous, so make the most of it. If you've got it, flaunt it. Think about it. You won't need to back-comb for ages and use a ton of hairspray to make it all stay in place. This is a pretty natural look, with only a few highlights to create a bit of dimension. It's simply beautiful though.
33. Bob Cut with Long Wisps at the Front
This cut has the perfect mix of dark and light. Dark brunette tresses flow into light blonde ones. There are a few wispy bits at the front, framing the face. This softens the look, making it appear a whole lot girlier. Not in a child-like way though. A womanly-girly, if there's such a thing. You could recreate this cut and keep your natural hair with no problem. Adding a bit of colour really does elevate the look though.
34. Sleek, Long Bob Hairstyle
Sleek and sophisticated. Here's another one for you natural beauties out there. The graduated of this bob is quite subtle. Not too subtle that you don't notice it though. This is such a great style. No layers, no curls, no fringe – just simple elegance. Don't think you have to have black hair to pull this look off. Any hair colour would look lovely. Just leave out the frills to keep it chic.
35. Short, Textured Bob + Bold Color
Go crazy! Pick any wild, bold colour you like the look of. The purple they've used looks almost metallic, doesn't it? We absolutely love it. The shine is incredible too. There's so much texture in this style too. Loose curls with a windswept look. Defining the curls at the front really help to frame the face. Making this rock-chic style have a more feminine feel and look.
36. Elegant Bob Haircut
The colours in this inverted bob are sensational. They just light up when the sun reaches them. Just the way the bob flows from short in the back to long in the front. Chic and sleek. We love the way the dark blonde shows through the light blonde. Such a great contrast. You could try out this style with any two tones. It'd look great with pastel colours.
37. Short at the Back, Long at the Front
You've got to love how this style has the hair curled inwards at the back and pointed at the front. Just look how pointy the tips are. There's a subtle lightness at the bottom too, which is a really nice touch. You could have this style in any colour as it's such a simple cut. Even creating a two tone effect would look amazing as well.
38. Short Cut + Balayage Highlights
Another balayage look. These defined highlights really take this style to a whole other level. You've got to love it as much as we do. The dramatic graduation of this cut is sensational. Plus all the hues mixed in really pull the whole hairstyle together. Oh, and who can forget those curls. The loose waves add so much volume to the 'do. But we're sure it'd look great with straight hair too.
39. Straight, Clean and Gorgeous
Look at how dramatic this bob is. The angle from short to long is spectacular. And it's so shiny too. Not to mention frizz-free. Top tip: it's all about the hair products. No matter what hairstyle you have there's a hair product you could be using to make it ten times better. Just look at the model below. You know she'll be using some sort of product or products to maintain this look.
40. Trendy Balayage Bob Style
Check out this trendsetter. The balayage is flawless in this look. We particularly like how the blonde isn't just confined to the bottom of the hair. It's flowing throughout the entire look. Once again the brunette peaking through the blonde looks terrific and really adds another dimension. It makes this hairstyle look really defined. We definitely recommend trying this one out. Especially if you're a fan of balayage.
41. Medium, Straight Inverted Bob
Save the best till last. Well all the hairstyles are amazing too. The thin highlights keep this style looking pretty natural. You don't even have to get highlights. They really do add to the look though, so we definitely recommend considering them. It's a really nice angle of cut too and the choppy ends make it appear a lot softer. Smooth and soft, this hairstyle is for all occasions.
42. Sleek and Stylish Bob
Next, we have a sleek and stylish bob. The cut is trendy and statement making because the angle is quite dramatic and there is clear difference in length. This is highlighted even more by the straight style. We love this modern and bold hairstyle, it is perfect for the women who want a complete hair makeover.
43. Inverted Bob with Blonde Highlights
Freshen up your look with a highlighted bob like this. The actual cut is quite short with the longest length just passing the chin and the hair has beautiful blonde highlights too. This hairstyle is finished off with gorgeous messy layers. A bob like this will be perfect for the summer as you will have an easy to manage cut, and the blonde will make your hair look sun-kissed.
44. Trendy and Modern Bob
If you want a new hairstyle that will make you stand out from the crowd, then this could be perfect for you! This hair has the inverted bob cut and it is asymmetric too. When hair is asymmetric, it is shorter on one side than the other. This is a unique and super cool cut that will look amazing on everyone.
45. Curly Inverted Bob
Our next hair idea is great for the ladies with curly hair. Here we have a simple inverted cut that is shorter at the back and longer at the front. As you can see, this cut looks gorgeous with curly hair! This is an easy to wear look and it is easy to style. A bob like this will be the perfect way to tame your curls during the summer.
46. Long Inverted Bob Idea
The next idea features a stylish long bob. For this look, the hair is a little longer at the front than it is at the back. It is a subtler length difference which makes it perfect for those who want to try the trend without being too bold. A lob cut is great for the ladies who want to try a shorter style without the change being too dramatic.
47. Classy, Chin Length Bob
Next, we have a very chic hairstyle to show you. The hair has a simple cut and the longest length is just past the chin. This is another easy to wear style that will look gorgeous on everyone. An inverted bob like this will look amazing in any color too, but we recommend trying a vibrant color for a bolder hairstyle.
48. Blonde Highlights
Is your hair a bit dull and would you like to glam up your look a little? If that sounds like you, then you need to check out this hairstyle. Here we have a beautiful inverted bob that is updated with blonde highlights. The highlights and cut just create a very elegant and chic hairstyle. Recreate the blonde hairstyle to brighten up your look or you can try the cut in any color.
49. Bold Red Bob
Thinking about trying a new cut and color? Then take a look at this hairstyle. This hairstyle features a bold inverted cut and the hair is colored in a warm red shade. The red color and trendy cut create one statement making hairstyle. Recreate this look or you can, of course, try the haircut in a different color.
50. Chic Inverted Bob Hairstyle
The next hair idea features another chic and pretty bob. For this look, the hair is quite a lot longer at the front than it is at the back. Even though the inverted cut is bold, it is still an easy to wear look that will never go out of style. Hair like this will look stunning on everyone.
51. Short Blonde Bob
Looking for a shorter cut? Then take a look at this. Here we have a short blonde inverted bob. The longest length is chin length so you get that trendy short bob look. We love the cut because it is quite blunt so it does make a statement. A blonde short bob like this will give your hair new life and take your hair from drab to fab.
52. Fiery Bob Hairstyle
Love the red hair colors? Then this hairstyle could be perfect for you. The hair has the inverted cut and it is colored in a warm coppery color with lighter highlights. We love the color and it will definitely spice up your look. You can recreate this hairstyle or try the fiery colors on a longer inverted bob.
53. Short Inverted Bob
Next, we have another short cut to show you. The hair is very short at the back and the hair is just about chin length at the front. With this hairstyle, you get the best of both worlds. You can try the trendy short cut, but also have a bob style because of the hair at the front. Try this blonde look or you can try the cut in a different color.
54. Curly Lob
If you prefer the longer haircuts, then have a look at this hair idea. For this look, the hair is cut into a long inverted bob. As you can see, the front is quite long and the back has the bob length. This is just a trendy way to wear the style. It is another great idea for the ladies who want to try a shorter cut without being too dramatic.
55. Blue and Blonde Bob
Bored of your hair and want to try something completely new? Then this hairstyle could be perfect! Here we have an inverted bob that is colored in light blonde and bold blue. The colors really jazz up the hair and create a unique and statement making style. You can recreate this look or try a cut in any vibrant colors.
56. Summery Blonde Bob
Looking for a new hairstyle ready for the summer? Then check out this next idea. This is a longer inverted bob that is colored in a light blonde shade. The cut is perfect for the hot weather because it is easy to maintain and style, and the color will brighten up your look. Try this blonde style or opt for a warmer blonde shade.
57. Long Bob with Highlights
Next, we have another long bob to show you. The hair at the front is quite a lot longer than the hair at the back. What we really love about this style is the highlights. The highlights are a warmer blonde at the back of the hair and are a lighter shade at the front. This is such a unique idea and it really shows off that inverted cut.
58. Black and Blonde Inverted Bob
The next hairstyle we have to show you is sleek and trendy. For this look, the hair is black and it is cut into a short inverted bob. The hair also has blonde highlights at the front. Black and blonde is such a stylish combination and as you can see, the contrasting colors create a bold style that will make you stand out from the crowd.
59. Vibrant Red Hair Idea
Our next hair idea is perfect for the ladies who are looking for a bright and bold hairstyle. The hair has the short inverted cut and it is colored in a gorgeous red shade. There are also other colors used in the hair, such as purple. This multi tone bob is super stylish and it will look fabulous on anyone.
60. Short Blunt Cut Bob
Next, we have a simple and stylish haircut. The bob is black with a blunt inverted cut. We love this hairstyle because it is so trendy and easy to wear. Hair like this will suit everyone and it will look beautiful in any color. Recreate the shorter length or you can try wearing the hair a little longer.
61. Pastel Pink Inverted Bob
If all the bold cuts and colors are not for you, then this hairstyle could be perfect. The difference in length is quite subtle and the bob is the classic length. With this you get to try the trendy look, but the change is not too bold. It allows you to wear the style in a chic way without the commitment of cutting your hair too short.
We hope you've been inspired by these amazing inverted bob hairstyles!