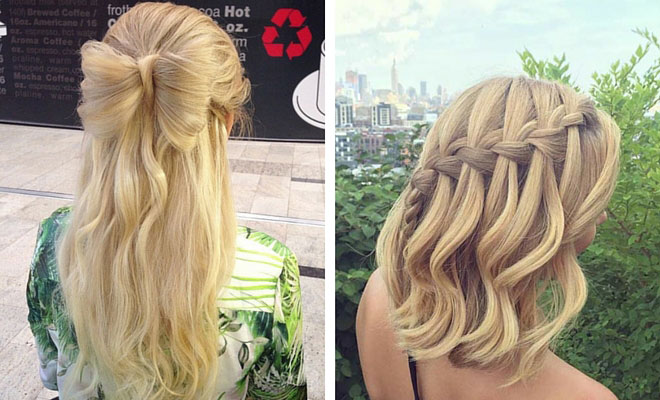 31 Half Up, Half Down Prom Hairstyles
11. Curly, Twisted Half Updo
Do you love to have loose curls?  Then try this style. It is so easy and quick to do, which will give you more time to apply your makeup and relax a little before you set out the door.  If you are unsure about braiding, twists will be much quicker and easier to do.
12. Simple, Curly Half Updo
Many girls tend to overthink their hair for prom. This then takes the beauty away from your hair and your dress.  If you love your hair, show it off.  This is a gorgeous, simple and curly style, that will turn heads without adding any fancy hairpiece. They say less is more!
13. French Braid Half Updo for Long Hair
There is long hair and there is extra-long hair. This is ideal for extra-long hair.  This French braid looks unbelievable, stylish and outstanding.  You may need a little help with this style, as it is quite tricky to do.  You could maybe ask your mum or a friend for help, the result will be incredible.
14. Waterfall Braid for Mid Length Hair
The waterfall braid gives the illusion of longer hair. If you have shoulder length hair and want to create a masterpiece, have a go at this.  It will highlight your hair in many ways and make you feel special for the evening.
15. Romantic Half Updo with a Hairpiece
We love this boho hairstyle. If you are feeling the summer vibe and love the beach, this style is for you.  It has romance written all over it.  Have this half up, half down braided style and add a delicate gorgeous hairpiece to the braid only.  This will enhance the braid and add a gentle innocent look to your hair.
16. Perfect Formal Half Updo
If you want your hairstyle to be more formal and dressy, this curly half updo will do the trick. It is so easy to do, you can create this style yourself.  Loosely grab a few sections from both sides and twist and gather.  You can use bobby pins to ensure the hair stays in its place.  Try not to grab the sections that are closest to your face, you want your hair to frame your face.
17.  Fishtail Halo Braid
Who needs a crown when you can a halo, right? This is perfect way to create volume and is all the craze at the moment.  Make sure you are trending with this striking halo and even if you are crowned Prom Queen, the crown will sit perfectly onto of your halo.
18. Curly & Messy Half Updo
This works well with thick and thin hair. If you have thick hair, this will take you 5 minutes to create.  All you have to do is twist the side sections and pin back.  If you have thinner hair, this will make your hair look thicker and add volume.  Make sure you do not pull back your hair too tight, this is supposed to be a messy style!
19. Boho Half Updo with Flowers
If you do not have of these pretty flowers, then run to the store now. This will form a whimsical and pretty finish.  You can add a few flower clips to the top of your hair and try to have matching flower hairbands like the photo.  It adds colour and fun to your hair.
20. Elegant Half Updo
If you are unsure of what hair updo you want to have, why not have a mixture. You can combine twists, braids and hair down.  This is the perfect solution for those who have no clue how to wear their hair.  As it features many styles in one, it looks great from all angles.  From the front, you get to see your long wavy hair.  From the side, you can see your gorgeous braid underneath the layers of hair and from the back; you get to see it all.  Only have the undercover braid on one side to add to the effect.  Just remember which side you choose to have it when the photographer takes your picture!