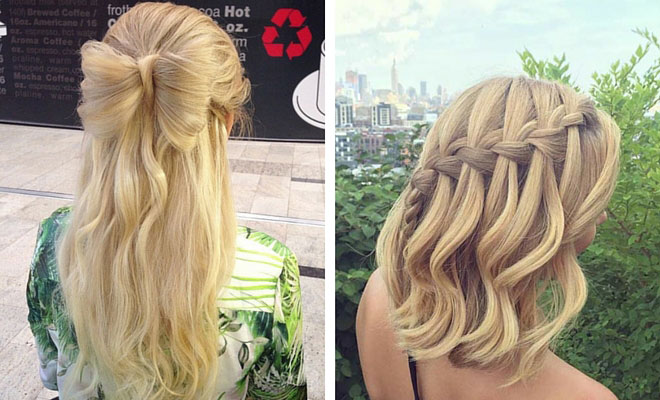 31 Half Up, Half Down Prom Hairstyles
It's a girls worst nightmare not to find an amazing prom hairstyle.  This is such an important part of going to the prom, some girls even plan a year ahead.  Prom season is here and we know what you are thinking.  How shall I have my hair?  This is a big decision, as you want to look and feel your best.  Whether you have long or short hair, your hairstyle is what should complement your outfit and give you that extra boost of confidence.  After you have chosen your dress, or maybe before you even start to think about your dress, you are thinking about how to wear your hair.  For many girls, the hair is more important than the dress.  If your hair does not feel right, then nothing will feel right so you have to get it right.
We all have bad hair days and you definitely want to ensure you don't have one of these days on the eve of your prom.  If you are thinking of having your hair down, but are worried about it being in the way all night, why not opt for a half up, half down style.  This way, you will still have the length of your hair but with a gorgeous design too.  Take a look at our 31 half up, half down prom hairstyles.  There is a style for everyone.
1. Fishtail Braid Half Updo
This is elegant and gorgeous style for prom. Fishtail braids are so beautiful and make any outfit look incredible.  They highlight your natural or dyed tones in your hair too.  It is super easy and quick to create.  To add volume, twist your hair and then start with the fishtail braid.  They have become a YouTube sensation so if you're unsure how to fishtail braid, have a look on there and you'll be amazed how quickly you will learn.
2. Beautiful Curls + Waterfall Braid
Curls are gorgeous. If you have naturally curly hair, this will be faster and easier for you to create.  If not, allow extra time to curl your hair then style into the waterfall braid.  The braid is very subtle yet so effective.
3. Braided Half Updo
Got that extra oomph with lots of different style braids. This will keep the hair away from your face, showing off your lovely makeup whilst the back will creative a girly and feminine look.  Don't be afraid to experiment with different braids, show off your talent!
4. Half Up Twisted Hair
If you have great hair, you may not need to do much to it to show it off. This simple half up twisted hairstyle looks amazing.  It is all about the twists with this style and anyone can twist hair.  You do not need to be an expert.  Grab sections of your hair and twist, and then use bobby pins.  Finish the look by curling your hair and you are ready to go.  Twists are so easy to do, you probably twist your hair without knowing you're doing so!
5. Teased Crown +  Braided Headband
This is a great money saving hairstyle. No need to buy a hairband, make your own with a braided headband.  In many ways, this is better than buying a hair accessory.  You will need to tease (also known as back comb) your crown to create the high-rise crown.  The crown will complement your braid.  This will save you time and money so get practicing.
6. Simple Style for Medium Length Hair
Do you have a shoulder length bob and are worried that there are not many styles out there for you?  Here is the perfect style for you. Grab two sections from both sides and start to braid your hair.  No need to add a hairpiece or any hair accessory to this style as the style speaks for itself.
7. Cute Half-Up Hair Bow
This is the cutest hairstyle for prom. Having this gorgeous bow will make your hair look girly and cute.  Keep the rest of your hair basic, as you want to draw attention to the bow and nothing else.
8. Curly & Voluminous Hair with a Braid
Pump up your hair volume with this style. Curls give you an extra lift and when you add volume to curls, you will create that extra bounce you want.  Add a subtle braid, which looks amazing with curls.  Go for natural looking curls and add some hairspray so they hold all evening.
9. Rope Twist Half Updo
This rope twist style is stunning. This style is elegant and girly and surprising looks like rope!  Perfect for any dress you decide to wear.  If you are feeling daring and want to feel extra special, go for double ropes like the photo.  We can assure you that all of your friends will be talking about your hair all evening.
10. Amazing Curls with Flowers
Looking at this photo, you can see how pretty flowers complement a hairstyle. Add a unique style to your curls by adding a few colourful flowers.  You can keep to one colour or add a few different colours like the photo.  You could even think about matching your dress colour or your makeup with your flowers.