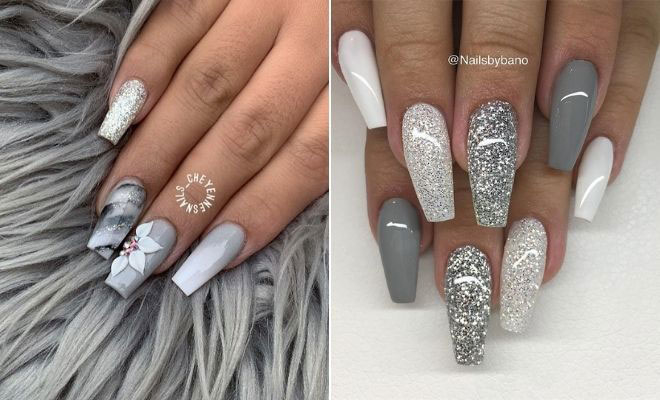 Instagram
Beauty
23 Pretty Ways to Wear Grey Nails in 2021
By
|
11. Dark Grey Nails with Stylish Art
There are so many different shades of grey to try and this mani features a darker tone. This darker shade has been worn with bold marble effect nail art. It is such a unique mani and the art really makes a statement. There are marble nail art tutorials online. You can try this or you can just use grey on all nails for a more low-key look.
12. Cute Nail Design
Next, we have cute nails to show you. The nails are short and feature grey, silver glitter and wintry nail art. This is a fun and unique look. It also shows that grey tones will suit any season. You could even just use the grey and glitter for a mani to wear all year and not just for Christmas.
13. Pretty Grey Nails
The next nail idea is so pretty! Each nail features different art which includes glitter, marble, flowers and more. It is such a beautiful nail idea and it is perfect for those who want to try something new. Recreate the whole look or you can use maybe one or two designs on all nails.
14. Coffin Nail Design
If you are looking for a more elegant and glam nail design, then this is for you. The nails are glossy grey with with marble art. Some nails are covered in glitter. It is a stunning look and the glitter really jazzes up the nail art. This design would look amazing on stiletto nails as well.
15. Grey, White and Glitter Nails
This next nail idea is another one of our favorites. These nails are long and they feature a combination of grey, white and glitter shades. It is a stylish nail idea and the glitter looks gorgeous with the grey. You can buy nail glitter online and there are tutorials to show you how to apply them.
16. Light Grey Nails with Sequins
Love the short and easy to wear nails? If so, this for you. The nails are very short and they are all painted in a light grey shade. Two nails are also adorned with gold and red sequins. We love this design and it will suit everyone. The colors will also suit the holiday season. Recreate this or you can use sequins in any color.
17. Grey and Chrome Nail Design
If you want a bold, trendy and unique mani, then this is for you. Here we have short coffin nails and almost each nail has different art. You have light grey nails, silver chrome and silver glitter. This is a simple and stylish mani that will make you stand out from the crowd. Try the whole look on any nail shape and nail length. These nails are easy to recreate and wear. Make sure to give them a try!
18. Bold Nail Design
We love this next nail idea. For this look we have long coffin nails. Some are matte grey and glitter, one has glitter tip and the last nail is covered in sparkly rhinestones. It is a cute, glitzy and easy to wear look. The long nails are not easy to wear but you can, of course, try the design on a shorter shape as well.
19. Dark Grey and Pink Mani
Next, we have a pretty nail design to show you. The nails are a long coffin shape and some are neon pink while some are grey. These nails are adorned with silver stripes, lace art, rhinestones and more. The colors are gorgeous and the lace is stunning. Recreate the whole look or have just grey nails with the white lace.
20. Short Nails with Botanical Art
The next nail design is another one of our favorites. As you can see, the nails are short and light grey. There is also one accent nail that is sparkly with black botanical art. The grey shade is stunning and easy to wear. We love the black botanical art, it is so striking against the grey. You can buy leafy nail stencils online.
21. Abstract Nail Art
The grey color does not have to cover the whole nail. You could use grey to create stylish nail art like this. Here we have abstract nail art. It features grey with other shades such as nude and coppery nail foils have been used too. This is just a unique way to add a pop of grey to your look.
22. Matte Grey Nails
This next idea is easy to create and wear. The nails are mid length and each one is painted in a different shade of grey from dark to light. We love the matte texture. So, all you will need is five different shades of grey. You can use matte polishes or you can use glossy ones with a matte top coat.
23. Grey Nails with Marble Art
The last nail idea is stylish and beautiful. As you can see, the nails are coffin shaped. All of the nails are ombre grey but some also feature trendy marble nail art. The color combination and art look amazing together. This design is so easy to wear and it will suit all nail lengths and shapes.
We hope you have found a trendy grey nail design to try.