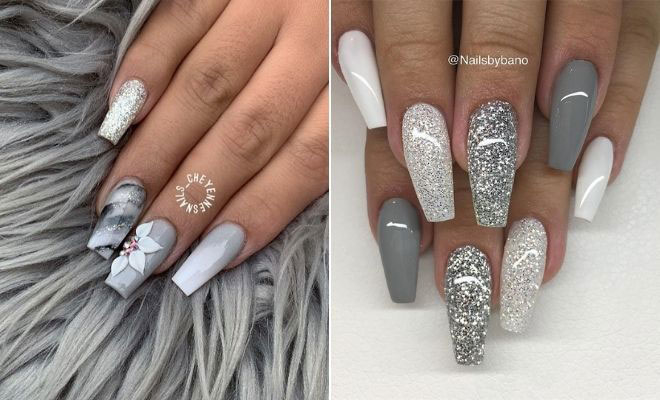 Instagram
Beauty
23 Pretty Ways to Wear Grey Nails in 2021
By
|
Are your nails in need of a makeover? Do you need inspiration on what nail art to try next? If so, this is the place to be. Today we have 23 pretty ways to wear grey nails in 2021. Grey is a stunning color, it suits any season and it can be worn for any occasion. There are so many shades to try so there is something to suit everyone. So, what are you waiting for?! Read on and find a trendy grey nail design and most of these can even be created at home.
1. Stylish Grey Nails with Silver Tape
First up we have these stylish grey nails. The nails are long with a rounded shape. All are a light shade of grey and two nails on each hand are adorned with silver stripes and rhinestones. This is a fun and glitzy nail idea. You can recreate a similar look with silver nail tape and rhinestones. Both of which can be bought online.
2. Clear Nails with Grey Marble and Gold Foil
Looking for more of a statement making and trendy look? If so, this is for you. Here we have clear coffin nails. The tip of the nail is clear while the base is grey and it has a marble effect. This mani is complete with gold foil. It is a bold and glam design and it will make you stand out from the crowd.
3. Matte Grey Nails with Glitter Ombre
The next nail idea will add some sparkle to your look. All of the nails are matte grey except one. The accent nail is nude with glitter ombre. We love this design because the glitter is glitzy but still low-key because of the grey. Recreate this or use any glitter color as most will compliment grey.
4. Light Grey Nails with Glitter
Next, we have another glittery grey mani. For this look we have long coffin nails. Some are glossy grey and some are sparkly. This is a glam and stylish nail design and it will suit all nail lengths and shapes. Nail art like this is perfect for special occasions and parties. A darker grey tone would look amazing with glitter as well.
5. Trendy Grey Nail Design
Give your nails a trendy makeover with art like this. Two different shades of grey have been used and there are two different nail art designs. One nail has a black line and the other has a silver pattern. It is a stunning and unique nail idea and it will suit any occasion. Recreate the whole look or use one or two designs on all nails.
6. Short Grey and Orange Nails
Grey compliments so many other colors, one of which is orange. Don't just take our word for it, check out this next mani. As you can see, some nails are matte grey and there are two accent nails. The accent nails are half grey with either white or orange color. We love the orange with the grey, it looks stunning!
7. Short Grey and White Nails
Another color combination you could try is grey and white and here is how to wear it in style. Some nails are grey, some are white and grey and there is one accent nail that is all white and adorned with a sparkly rhinestone. You can see the white and grey nails also have a silver glitter line. This is another stylish and pretty color combination. The white really jazzes up the grey shade. We love this!
8. Matte Nails with Roses
This next nail design is one of our favorites. Here we have long and stylish coffin nails. Most of them are nude and grey ombre with either rhinestones or lovely 3D roses over the top. This is such a stunning look and it is so trendy. Recreate the whole look or use only one of the designs on all your nails. Either way, your nails will look fabulous.
9. Pretty Grey Stiletto Nails with Clouds
The next nail idea is so pretty and unique. These nails are a beautiful stiletto shape. All are grey except for one, the accent nail is light pink. The nail art used includes clouds, sequins and more. It has a magical vibe and you could use a design like this and maybe add a unicorn horn for a cute and mystical look.
10. Grey with Purple Tones
Looking for a simple and stunning nail idea? If so, check this out. Here we have long nails and each one is glossy grey. The color used also has a subtle purple tone. Nails like these are easy to wear and the design will suit everyone and any occasion. Try something similar or you could even jazz it up with some rhinestones.