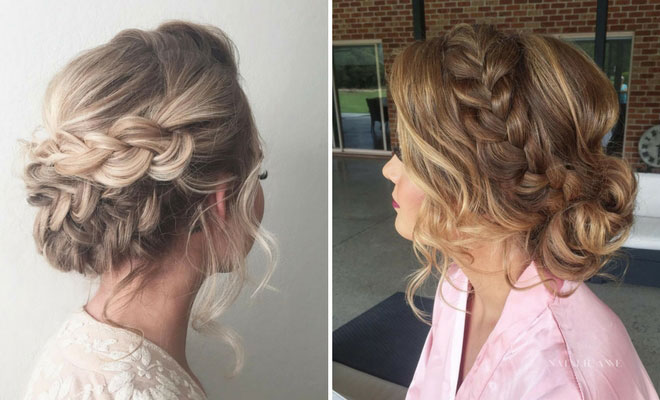 Instagram
Beauty
67 Gorgeous Prom Hairstyles for Long Hair
By
|
31. Pretty Braided Updo
Braided updos are popular for events like the prom and with hairstyles like this, it is no surprise! Here we have a pretty updo that has braided hair going all the way around the head like a halo braid. There are also loose curls at the front too. It is a beautiful hairstyle and you can find tutorials for similar styles online.
32. Trendy and Unique Prom Hairstyle
Next, we have a trendy and unique hairstyle. This time the hair is braided down the sides and in the middle. The bottom layer of hair has been left loose. We love this because it is such a creative and artistic way to use braids. Hair like this will be perfect for those who want to stand out from the crowd and try a different style.
33. Half Ponytail with Cornrow Braids
Looking for a cute and fun hairstyle? If so, this could be perfect. Here we have a high, half ponytail with braids. The top section is braided and styled into a ponytail while the bottom layer is left loose and curly. This is a pretty and easy to wear look. You can recreate this or try just a curly half updo without the braids. Either way, your hair will be gorgeous.
34. Glamorous High Ponytail
The next hairstyle features another stunning ponytail and this is one of our favorites. For this, the hair has been styled into a high ponytail complete with a sparkly hair accessory. We love the loose curls because they create such a voluminous look. It is a chic and classic hairstyle that is perfect for the prom.
35. Edgy and Elegant Braided Hairstyle
Maybe you would like to wear something a little more trendy for the prom? If so, this could be just what you are looking for. The top section of the hair features one braid that then blends into another braid further down the head. Then the bottom section of the hair is left loose and curly and it is styled to the side to create a ponytail. It is a very unique style and it has the perfect balance of elegant and edgy.
36. Cute Side Braid
Next, we have a cute and simpler look. The hair features beautiful and loose curls and the style is finished off with a side braid and rhinestone accessory. It is an easy to wear style and the accessory really glams up the hair. You can find tutorials for these braids online and you can find similar hair accessories online too.
37. High Ponytail with Volume
Love the ponytail styles that are full of volume? If so, this is perfect for you! For this, the top section of the hair is braided. The rest of the hair is styled into a high ponytail that is full of volume and curls. There are so many ways that you can add volume to your ponytail. You can tease the hair with a comb, buy products that you can hide in the hair to create a more voluminous look and more. Read tips and tricks online and see what method works for you.
38. Half Up Hairstyle with Twists
Next, we have a very chic and elegant hairstyle. The hair is split in half, the top section is loose with twists and the bottom section of hair is curly. It is a stunning hair idea that is perfect for a special event. You can keep it simple like this or even add a sparkling hair accessory where the twist section is. It would look perfect with the prom Queen crown too, just saying!
39. Ponytail with a Side Fishtail Braid
The next hair idea features another braided ponytail. This time, the hair is styled into a side fishtail braid and some of the hair is left loose in the actual ponytail too. The fishtail braid looks stunning and it gives the hair an edgy and stylish vibe. Recreate this  or you could even add some hair accessories. You can buy sparkling hair spirals online that can be added to updos like this one.
40. Old Hollywood Hair
This gorgeous style is another one of our favorites! For this, the hair is long and loose with stunning curls. We love this hair idea because it has an old Hollywood glamour look that is perfect for such a special event. It is a very chic and classic style. This is another hairdo where you can add some glitzy accessories. Hair clips with rhinestones would be perfect if worn in the thinner section of the hair.