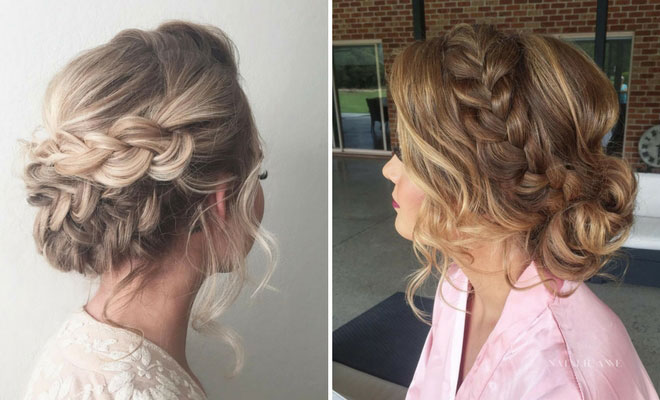 Instagram
Beauty
67 Gorgeous Prom Hairstyles for Long Hair
By
|
21. Messy & Twisted Half Up Style
You can often get away with much more relaxed and loose styles when you have long hair, and that means getting the right prom hair will be easier. You have many more options and designs open to you, and although short hair is cute and can still be wrapped and twisted into wonderful designs and styles, you must admit that this look is stunning. We'd love to make this our next go-to everyday style!
22. Curly, All Down Hair with a Side Braid
If you have a killer pair of earrings, show them off, but don't show them off with two ears. Show off just one ear with this beautiful one-sided braided style, both hiding and revealing your face at once. Hair pushed over to the side is considered a sexy and sophisticated style, and it shows off a playful side to yourself. It's almost like revealing a part of you that you wouldn't usually reveal.
23. Simple and Elegant Ponytail
A little bit of volume can make the world of difference to an otherwise rather dull ponytail, and just a bit of tousling with your fingers can make gorgeous prom hairstyles for long hair like this happen. Once your pony is in place, just use your fingers to bring down various strands of hair that frame the face. You can leave them slightly wavy, or add more curls as and when you want to. You may want to consider a little light backcombing before putting your pony in place. This will help to create volume at the roots.
24. Cool Updo Idea for Brunettes
We're hopelessly in love with this beautifully romantic look, very elegant and so classic. It's simply a case of curling your hair before twisting and pinning into place. The way it has been done, however, reminds us very much of a bouquet of roses. Perhaps you should throw in some floral decorations for good measure?
25. Side Swept Bun
And for a totally glamorous look, just push things over to the side. Just because you have the length on your side, doesn't mean you need to show it off. Gorgeous prom hairstyles for long hair like this are not only simple, but effortlessly beautiful, and with the help of a braid and a few pins, could be the perfect finishing touch to your prom look.
26. Pull Through Braid Ponytail
We recently tried a little look like this ourselves, and it's not as difficult to do as you first may have thought. There are tutorials that you can follow if you need a hand getting started, but for the most part, this look requires separating the hair into two sections, bringing over the pony, and then using another small elastic to create another pony. Did that make sense? No, we didn't think so … We often find it easier to watch someone else do these on a video than it is reading words describing how to do it.
27. Half Up, Half Down Braid Hair
Last, but certainly not least, we come to this look – another of the gorgeous prom hairstyles for long hair that we are definitely longing for …. (Pun definitely intended!) It's half-up, half-down, and also asymmetrically shaped and styles to give it a look that's quite similar to some of the ones we've shown you before, but still very different at the same time.
28. Chic Side Ponytail
The next hairstyle that we have to show you features a chic side ponytail. For this look, the hair on the head is sleek and smooth and the actual ponytail is curly. This is an easy to wear hairstyle that will suit everyone. You can recreate this or you can try the ponytail with all straight hair. Either way, you will have chic prom hairstyle.
29. Updo with Braids and Twists
This next hair idea is stunning and it will wow everyone at the prom. Here we have a loose updo with a beautiful braid at the front of the hair and long twists and curls at the back. It is such an elegant hairstyle and it will make you look like a princess for such a special occasion. Recreate this hairstyle or you can try using a different braid type.
30. Super Glam Weave Ponytail
Ponytails can be so glamorous and this next style is a perfect example. This hairstyle features a sky high ponytail with gorgeous curls. There are also loose tendrils at the front. We love this hair idea because it is stunning but it is also trendy too. It allows you to look elegant but still keep your individual sense of style.