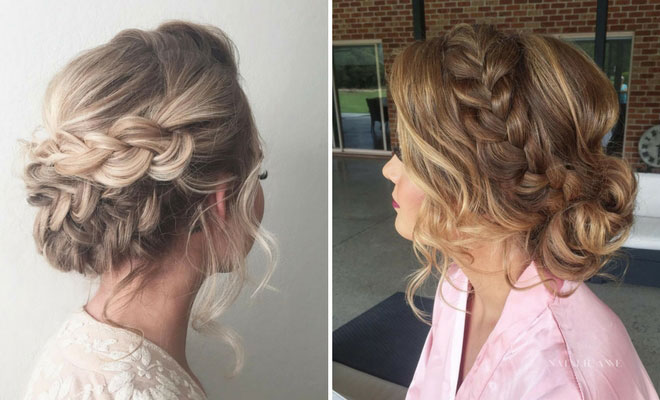 Instagram
Beauty
67 Gorgeous Prom Hairstyles for Long Hair
By
|
11. Boho Vibes
Are you feeling all the boho vibes? If you still want to wear your hair down, but show off a beautiful back design on your dress at the same time, hair like this provides the perfect compromise. We love it when a plan comes together.
12. Braided Low Bun
Remember that you are likely to need to some work done to your hair for your prom, either in the form of dyeing, blow-drying, or even curling. Headed styling tools and other bleach-based products are going to be bad for the state of your hair, so if you're looking for an intricate style, you may want to consider getting the conditioning treatments in nice and early. You'll want touchable hair, not crunchy and dry hair.
13. Twisted Half Up, Half Down Style
For when you're not interested in braids, how do twists take your fancy? These are not only cute and simple, but also very elegant, and you can even get away with not having your colour re-done in the salon too. Those ombre dark-rooted looks are very much on-trend right now.
14. Fishtail To the Side Look
When you've done your fishtail braid, pull things apart a little for an easy-breezy, romantic hair look. You'd be amazed by how much a little light tousling can change the way your hair looks entirely, and it alway gives you a great way to wear your hair when you can't be bothered to wash it. These intricate twisted and braided styles always work better on dirty hair over clean hair.
15. Fishtail to a Bun
And when you want to wear your hair loose but not necessarily long, how about a fishtail braid effortlessly twisted into a comfortable and loose bun? A few grips will help keep the hair in place, and some light-hold hairspray will also help. If you struggle to get these looks done yourself at home, book an appointment with a hair salon. They don't just cut and colour hair, you know, they can style long and short hair too.
16. Braid to a Messy Ponytail
And for when a bun just won't do, how about a messy ponytail instead? It's a fishtail braid slightly pulled apart, and after it's all been pulled back into a medium-height ponytail, a strand has been used to wrap around the base and hide the hairband. Pull it out a touch with your fingers to give thing a more relaxed and boho vibe, and you have a romantic look that'll go with any dress. One of the simplest and best gorgeous prom hairstyles for long hair if you ask us.
17. Twisted Updo
It's amazing what you can create with a few simple twists and turns of your hair, and a few grips and some hairbands are all you need to recreate a look as pretty as this one. Twist things in, pin them down, and keep it all in check with some medium-hold hairspray. If you play your cards right, you might even get away with this relaxed look the day after the prom night wonders too.
18. Voluminous Bun
Use hair-pieces to give you some oomph when you have limp or fine hair. There's no need to spend hours in the salon getting hair extensions woven or glues into your hair, especially when clip-in hair extensions can be bought for a decent quality at a decent price these days. You only want the extra volume for that one night, and that one event, but you could also use the extensions again if you feel like being experimental with your 'do.
19. Curly, Braided Half Up Hair
For when you're not sure whether or not you want to wear your hair up or down, why not opt for this half-up, half-down fishtail braided style, the braids themselves used as head-bands, of sorts. It's very angelic looking, almost like a halo, and we think it's perfect for that fairy princess look. Isn't that what you're looking for with these gorgeous prom hairstyles for long hair?
20. Messy High Bun Updo
If you don't have long hair, but you still want to look at these gorgeous prom hairstyles for long hair, why not look at using hair extensions or clip-ins, just for one night? No one would ever know. Well, unless they knew you and knew you only had short hair to begin with, of course, but for one night only, you might find that it is a lot of fun to play around with long hair styles. What do you think?