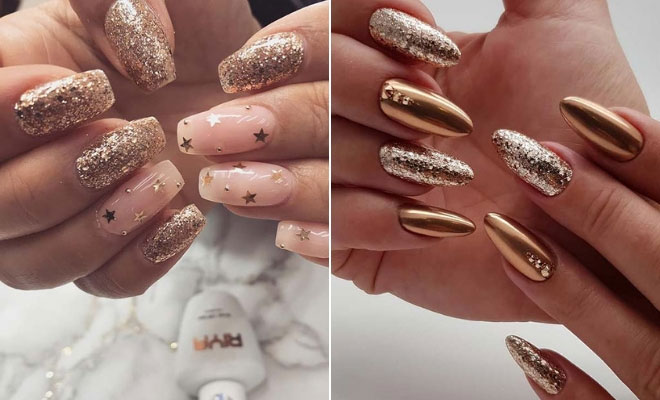 Instagram
Beauty
23 Gold Nail Designs For Your Next Trip to The Salon
By
|
11. Matte White and Gold Coffin Nails
Next, we have another simple and very stylish gold idea. These nails are coffin shaped with two colors used. One is a glittery gold shade and the other is matte white. It is a stunning look that is easy to wear and to recreate. To create this manicure at home you will also need a few gold studs and a nail glue.
12. Gold Glitter and Nude Nail Idea
Our next idea is pretty and sparkly. One of the nails is a light nude shade while the others are gold. We love this nail design because the gold glitter is beautiful and the different golds used just make the nails stand out from the crowd. Nails like these are perfect for the chic ladies that want to make a statement.
13. Bold Gold Coffin Nails
Looking for a bold nail idea that will wow? Then this is for you! Some of the nails are gold chrome, one is covered in gold decorations and one has gold tips. This is a creative and unique nail design that will give everyone nail envy! You can recreate this look or make it simpler by using a gold nail polish with one embellished accent nail. Gold nail decorations can be bought online and stuck onto your nails with nail glue.
14. Gold Nail Design for Short Nails
Another color combo you should consider is silver and gold. These two colors suit each perfectly and will give you a trendy mixed metal look. Here is a beautiful way to wear gold and silver. The tips of the nails are silver glitter and the rest of the nail is gold glitter. There is also a nude cuticle design too. This is such a stylish idea for short nails. Recreate this look or you can have the nails all gold and silver without the cuticle nail art.
15. Trendy Gold Pattern
Want to try a subtler gold look? Then these nails are for you. The nails are nude with a trendy gold pattern. The nail art does make a statement but it is not as bold as some of the other designs. You can wear nail art like this every day and it will suit any occasion. You can recreate on short nails too, the look is perfect for any nail length.
16. Statement Gold Chrome and Matte Nails
If you do want your nails to be bold, daring and statement making then this next idea is for you. Most of the nails are gold chrome, some are matte nude and two nails on each hand are covered in gold embellishments. These nails are dazzling and will get you noticed! You can recreate the look with gold polish, nude polish and embellishments which can be bought online.
17. Elegant Ombre and Gold Nails
Next, we have a pretty and stylish design to show you. These nails are created using a french ombre technique. This is such a simple but amazing idea!
18. Pretty and Simple Nail Idea
Our next idea shows an easy way how to wear a sparkly gold nail polish. Simply paint three of the nails into a light pink shade, and two of them into a sparkly gold one. This nail design is perfect for spring and summer and special occasions like prom or wedding.
19. Nude and Gold Glitter Nails
Gold will look gorgeous with any nail art, so you can experiment and try different looks. This nail idea features nude nails with elegant white nail art and some of the nails have a diagonal design too. There are also some nails covered in gold glitter. This is beautiful nail idea and it will suit everyone. Recreate the manicure or try only one or two of the designs.
20. Gold Chrome Nails with Crystals
Love chrome manicures? Then you need to check out these nails! Most of the nails are gold chrome with one crystal accent design. It is a trendy and sparkly idea which is perfect for the ladies that like their nails to be bold. You can recreate the look with any gold color and with any rhinestone design.
21. Glittery Gold Nails
Next, we have another easy look that will make your nails stand out from the crowd. These nails are painted in a stunning gold glitter polish. It is just an amazing set of nails that would be perfect for a party, night out or other special occasion.
22. Glam Gold Leaf Nail Design
Give your nails a glam makeover by choosing a gold leaf design like this one. The nails are all painted in a neutral shade with a gold leaf design on each one. We love this idea because it is so artistic and creative. You can use gold leaf on your nails at home. Simply paint your nails in a nude matte shade  then place the gold leaf on the nail and secure with a top coat. There are tutorials online too.
23. Dark Gold Chrome Nails
The last nail idea we have to share with you is this dark gold chrome look. These nails are short and each one is covered in chrome. This such a trendy and edgy design. Recreate this manicure for a bold look or you can create a chrome accent nail and pair it with other nail colors such as matte black.
We hope you have found a stylish gold nail idea to try!