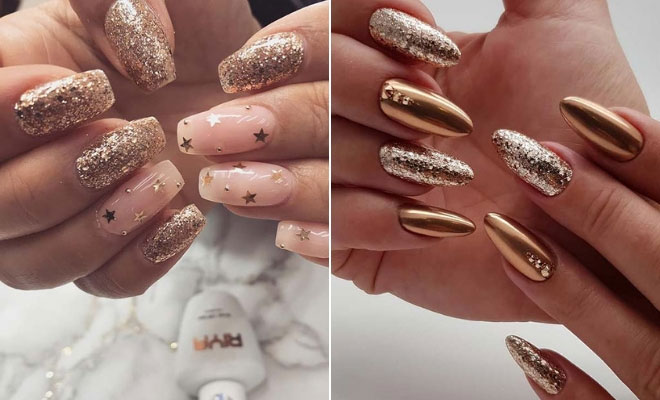 Instagram
Beauty
43 Gold Nail Designs For Your Next Trip to The Salon
By
|
Gold is a glamorous and stylish choice for your nails. It is versatile so can be worn with any other color and nail art design. Not only that, but gold nails can be dressed up or down to suit any occasion from a relaxed day to a special event. With so many ideas available, it can be difficult to choose your next nail look. So, we are here to help narrow down your choices and have found 43 stunning gold nail designs. We have beautiful patterns, sparkling glitter nails, trendy chrome and more. There really is a design to suit everyone.
1. Nude and Gold Nail Design
The first gold nail idea we have to show you is this bold look. These nails are long and coffin shaped with one neutral nail and the rest are gold. Two types of gold have been used one is glam glitter, and the other is more sparkly. It is a gorgeous nail design that will wow. The products used to create the look are Cinnamon Rose Gold, Hola and Smokey Nude which are available from JustNails.
2. Gold Glitter Nails with Stars
Our next idea is out of this world! Some of the nails are gold glitter and the others are nude with gold dots and stars. The stars are stunning and will make your nails stand out from the crowd. You can buy stars for your nails online so you can recreate a similar look at home.
3. French Ombre and Gold Chrome Nails
Next, we have a super stylish ombre look. This design includes chrome, French ombre and gold chrome nail designs. Some of the nails are embellished too. We love this nail idea because it combines ombre and chrome which are two of the must-have nail trends. A manicure like this is perfect for the ladies that want to make a statement.
4.  Simple Gold Nails
These nails are painted in a stunning gold  foil polish. It is a simple and stylish look that will suit every nail length and shape. The nail polish used to create the look is Zoya in shade 'Astrid'.
5. Dazzling Gold and White Nail Idea
One of the great things about gold is that it will compliment any other color. A chic color combination you can try is gold and white and the nails featured below are a beautiful example. The nails are long and stiletto shaped and each nail has a different design. A manicure like this is perfect for a special occasion where you want to feel glam. Recreate this design with a white polish, gold glitter polish and gems or take inspiration and create your own dazzling white and gold look.
6. Pretty Gold Nails
You can create elegant nail art with gold. This next design features dark gold chrome nails with three accent nails in gold glitter. With just two colors and a few rhinestones, you can create stunning nails just like these. Instead of chrome, you can opt for a matte or glossy finish nail polish in your favorite gold shade.
7. Matte and Gold Coffin Nails
Next, we have a trendy and glamorous nail idea to show you. Most of the nails are matte nude and there is one glitter nail and one chrome nail too. Two of the nude nails also have gold embellishments. It is a gorgeous look and you can recreate it or try your own version. Recreate without the chrome and gold decorations for a more subtle look.
8. Stylish Half Gold Nails
If you are looking for stylish nail art to try, then this next idea is for you. Here we have soft gold nails with a diagonal section of light color. The two colors look amazing together and create a chic and trendy look. You can recreate this nail art with tape. Simply paint on the gold color and when dry, add some tape in a diagonal line, then paint the other color on one side of the tape. You can find tutorials online. The colors used are OPI Cosmo-Not Tonight Honey! and Jessica Cosmetics Simply Sexy.
9. Matte Black Nails with Gold
Another cool color combination you can try is black and gold. Our next nail idea shows how to wear these colors in style! Here we have black matte coffin nails with a trendy gold design. It is a gorgeous nail idea and will make a statement. A design like this is best suited to longer nails as you can show off that beautiful gold nail art.
10. Gold Glitter Coffin Nails
Love glitter nails? The this idea is for you! Here we have coffin nails that are covered in dazzling gold glitter. There are also two accent nails with gold glitter tips and the rest of the nail is nude. It is a stunning set of nails that would be perfect for a party or special occasion. You can check out the products used to create the look and find out where to buy them on the nail artist's page below.