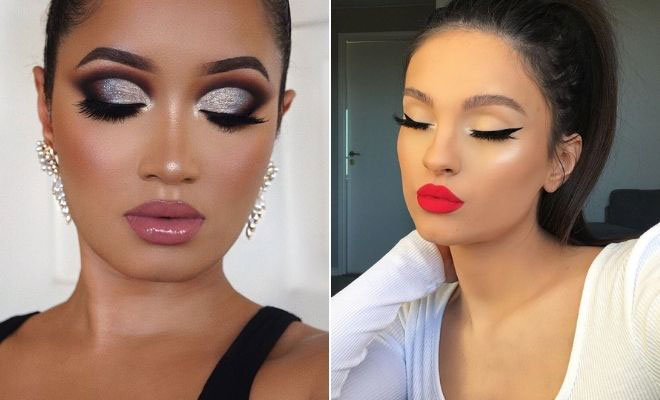 Instagram
Beauty
23 Glam Makeup Looks to Wear for the Holidays in 2020
By
|
Most of us wear makeup every day but when was the last time you really tried something glamorous? You know those glam makeup looks with maybe a little glitter or bold lip color that really wows and makes you look stunning?! Well, if you are in need of some fresh inspo for your makeup, then we are here to help. Today we have 23 glam makeup looks that will make you look and feel amazing for any occasion. Whether you are going to a party, going for a night on the town or just want to look gorgeous for the day, there is something for you.
1. Glam Nude Makeup Look
First up we have this glam nude makeup look. She is wearing dark eyeliner with matte nude eyeshadow and the look is complete with nude and glossy lip color. Makeup like this so easy to wear and it will suit everyone. Not only that, but it can be dressed up or down to suit any occasion.
2. Bold Eyes with Nude Lips
If you love bold and dramatic eye makeup, then this perfect for you. For this look, she has a soft smokey eye with gold glitter in the crease paired with long, wispy lashes! The eyes really stand out because of the nude lip color so if your eyes are your best feature, then wear something like this.
3. Sparkly Bronze Eyes
Maybe warm bronze tones are more your thing? If so, this makeup idea is for you. The makeup stars with a shimmery nude tone on the eyelid and above the crease the makeup turns into a matte brown shade. The look is jazzed up with a bronze eyeshadow which is applied on a small section of the eyelid. This is a stunning color palette and it is perfect for the fall and winter.
4. Gold and Green Eye Makeup Idea
Add a pop of color to your look with this next makeup idea. As you can see, the makeup artist is wearing the classic gold glitter eyeshadow that is very popular around Christmas. But she has given it a twist and used a beautiful green eyeshadow on her lower lash line. This is such a fun idea and it adds color without being too bold. Recreate this or you can use any vibrant eyeshadow color. This look will make your brown eyes pop!
5. Christmas Makeup Idea
This next makeup look is one of our favorites because it looks effortlessly glam. The makeup artist has created soft brown eye makeup complete with long lashes and a pop of gold glitter in the inner corner. While her lips are a stunning and pretty matte red. The lip color really pops because of the simple eye makeup so if you want to show off your lips, then this is the way to do it. This makeup look screams Christmas!
6. Glam and Bold Eye Makeup
Next, we have more glam and bold eye makeup to show you. There is a blend of color on her eyelid including tones of brown, blue, green and a pale gold. The look is complete with black liner and bold lashes. We love the white liner used on her lower lash line because this technique will make your eyes look bigger and brighter.
Products used: Benefit Goof Proof Pencil 4.5 d, Ka-Brow 4.5 & 24 Hour Brow Setter, Morphe Fluidity Foundation F1.50, Laura Mercier Smooth Finish Foundation Powder & Translucent Setting Powder, Buxom Cosmetics Boss Babe Betty palette, Urban Decay Cosmetics Moondust Eyeshadow Palette, Pretty Vulgar Gel Liner, Revlon Colorstay Liquid Liner, NYX Light Wonder Pencil, Urban Decay Cosmetics Heavy Metal Glitter Liner in Distortion, Buxom Lash Mascara and Tatti Lashes TL1.
7. Black Smokey Eye Tutorial
If you like smokey eyes that wow, then this is for you. Here we have dark black smokey eyes with a sweep of silver glitter. Makeup like this is perfect for parties, nights out and even the holiday season. It will give you a glam look but with an edge. We love this one! Pair with nude or dark red lip color depending on your taste.
Productus used: Benefit Fool Proof Brow Powder in 5, Precisely Me Pencil in 6 & 25 Hour Brow Setter, Morphe 35M Palette & Poppin Metallic Eyeshadow, Stilazzi Jet Liner and House of Lashes Radient & Ethereal Lashes.
8. Shimmery Eye Makeup with Bold Lips
The next makeup idea features more bold lip color. The eyes use neutral tones with a little sparkle. The makeup is complete with a bold matte lip color in dark purple. This makeup looks effortlessly glam and it will suit any occasion. Something like this would be also great for fall, winter and holiday season.
9. Sparkly Eyes with Red Lips
Maybe darker and richer lip colors are more you thing. If so, this makeup is for you. This look features a stunning dark red lip color with silver shimmery eyes. The silver really pops and the red looks gorgeous. Makeup like this is perfect for the fall and winter seasons. For Christmas, you could even use gold on your eyes.
10. Glitter Eyes with Sparkly Eyebrows
When we saw this next makeup idea we just had to share it with you! This one is perfect for the ladies who like to go all out. For this, she has super sparkly gold eyes complete with smokey brown tones. Her eyelashes are gorgeous and she even has glitter on her eyebrow. We love the sparkly eyebrow, it really wows.
Products used: ABH Dip Brow Dark Brown, Morphe 39A Palette, Sarazaar Cosmetics 24k Gold Infused Highlighter & Envy Glitter, Kat Von D Liner in Trooper and iikon Lashes in Taylor.