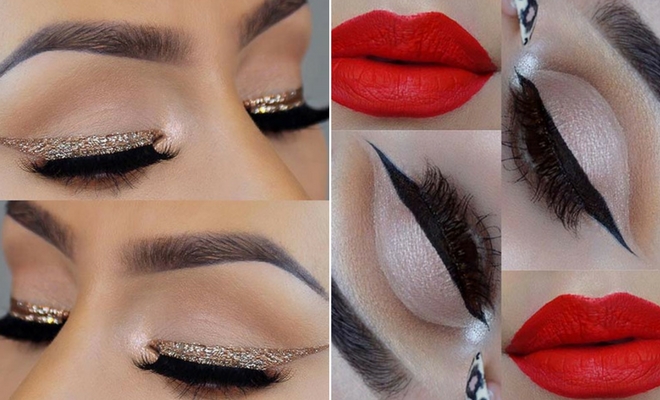 23 Glam Makeup Ideas for Christmas 2017
Christmas is such a special occasion, so you will want to look your best. One of the ways that you can jazz up your look for the festive season is with makeup. With makeup you can create many different looks from Christmassy and fun to stylish and sparkly. To give you some inspiration we have found 23 glam makeup ideas for Christmas. There is something for everyone whether your new to makeup or are a pro.
1. Christmas Red and Gold
First up we have this red and gold Christmas makeup look. We love this makeup idea because it combines Christmassy glitter and festive red in a very glamorous way. This look could be quite simple to recreate just try a smokey eye with a small sweep of glitter and finish off with red lips. This would suit any festive occasion.
2. Festive Gold and Green
Another must-have color combination for Christmas is gold and green. Our next makeup idea shows how to put these two together in style! On the top of the lid is a stunning shimmering gold with a sweep of green along the waterline. To recreate the look, you will need Morphe Jaclyn Hill palette and Stila Cosmetics in Rose Gold Retro Magnificent Metal or products like them.
3. Winter Glitter Makeup
Our next idea features a shimmering wintry eye look. The glitter is icy blue and silver. We love this combo because it suits the winter season perfectly. You could wear with a similar lipstick of something softer like a light pink. Eyes like these will suit any Christmas occasion.
4. Trendy Gold Glitter Eyeliner
We couldn't have a Christmas makeup list without featuring gold glitter! Our next idea features a trendy eyeliner flick that shimmers in golden glitter. This is a great way to wear glitter because you get the sparkle without going too over the top. You could wear this to any Christmassy event. To create this look you will need Urban Decay Heavy Metal Glitter Eyeliner in Midnight Cowboy.
5. Classic Makeup Idea for Christmas
Red lips look chic at any time of year but especially during the festive season. Red is an iconic Christmas color and red lipstick is a very stylish way to wear. This next makeup idea features vibrant red lips with the classic black eyeliner on the eyes. This is an easy makeup idea that will suit anyone for Christmas.
6. Glittering Gold
If subtle is not really your thing and you want to make the most of the sparkly season, then this next makeup idea is for you. These eyes feature a stunning blend of gold, dark tones and glitter. We just love this look. Eyes like these would look amazing for a Christmas party. You can find all the products on the artists page.
7. Glitter and Gems
Next, we have a darker glam makeup idea. The makeup uses vampy purples and glitter to create a gorgeous look that will wow. Dark purples like these are must-haves for the winter so you can wear the shades long after Christmas is over. With makeup like this you can celebrate Christmas in style. All products used are featured on the artists page.
8. Wintry Glitter
If you're looking for glam glittery eyes than look no further! These eyes are shimmery and stunning. We love these because not only will this idea look beautiful for Christmas but also new years to. To recreate the look, you will need Morphe Brushes 35OM and Peaches and Cream Gatsby eyeshadow pigment.
9. Subtle Shimmer
Our next idea shows how to shimmer and sparkle with elegance. The eyes feature light shades with subtle glitter over the top. Each eye is finished off with a classic eyeliner flick. The lips are in a soft pink shade. This is a stunning look will make you feel like a pretty princess throughout the Christmas festivities.
10. Bold Festive Red Eyeliner
Want a trendy way to wear festive red? Then this next idea could be for you. This eye makeup features a striking and sharp red eyeliner line with minimal shadow and black lashes. We love this idea because it is a stylish take on the classic liner. To create a look like this you need Makeup Forever Aqua XL Color Paint in m-72 or something like it.