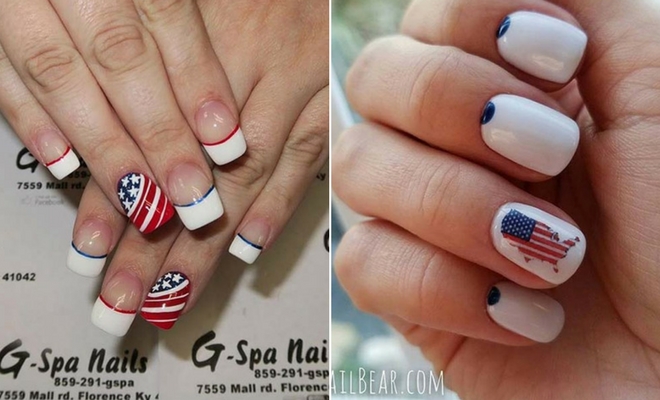 Instagram
Beauty
21 Funky and Fun 4th Of July Nail Designs
By
|
Celebrate July Fourth in style with awesome nail art. Nails are an easy way to add some red, white and blue to your look. We have found 21 of the best 4th of July nail designs. There is something for everyone from sparkling glitter to bold and trendy art. You can have a go at creating most of these yourself for a cool Independence Day manicure.
1. Glitter Stars and Stripes
First up we have this gorgeous manicure. It features sparkling glitter nails in red and silver with two accent nails inspired by the American flag. The stripes and stars are perfect for a 4th of July look. You could use this as inspiration to create your own unique design.
2. Red, White and Blue
Here is another manicure with an awesome accent nail. The nails are painted in dark blue glitter which looks great next to the white polish. We love the cute stars and gem, as it finishes off the manicure beautifully. This is a design that has taken elements out of the flag to create a trendy design that will look great after the event.
3.  Dr. Seuss Inspired
Fan of Dr. Seuss? Then you will love our next pick. This funky stars and stripes design was inspired by Dr. Seuss's illustrations. It is fun nail art for all ages. You could have a go at creating something like this for a cool diy project. Try both designs or just one.
4. American Flag Map Design
Our next design could not celebrate America more! The design features a map of America with the flag as a background. It is a great 4th of July nail art idea that will make you look stylish and patriotic. You could even add your own touches, maybe your state.
5. Blue French Manicure with Stars
Give your French manicure a 4th of July twist by turning it blue! The manicure is finished off with splashes of red, white and blue. It is a creative design that will look stylish after the day to. You could even just have the blue tips or swap the color for red.
6. American Flag Accent Nail
These nails would be perfect for the celebrations. The long nails feature an American flag accent design and the rest are white and light grey with thin strips of red and blue. We love these, you could have art like this on shorter nails to.
7. Creative Crystal Nail Art
Want nails that will wow this July 4th? Then you need to check out these amazing crystal nails. The sharp almond nails feature different art on each nail inspired by the American flag. The colors are used to create stars, stripes, marbling and more. If all that wasn't enough the nails are finished off with sparkling gems. You could re-create something like this or just choose one of the designs.
8. Stars and Stripes
Here is another gorgeous stars and stripes design. This nail art has red nails with cute little stars as well as two accent nails. One with stripes and one with stars. It is a cute art that would suit any age. You could mix up the design by choosing blue nails or just one accent nail.
9. Cute Glitter Nails
If you want a subtler 4th of July nail design, then consider glitter nails like these. You still have the colors of the flag without the bold stars and stripes. It is beautiful manicure that would suit everyone. You could re-create it with the accent nail or mix it up by choosing one of the designs.
10. American Flag Accent Nail
Here is another way to give your French Manicure a 4th of July makeover! These nails feature the classic white tips with red and blue stripes. There is even an American flag inspired accent nail. Art like this will help you celebrate the holiday in style.