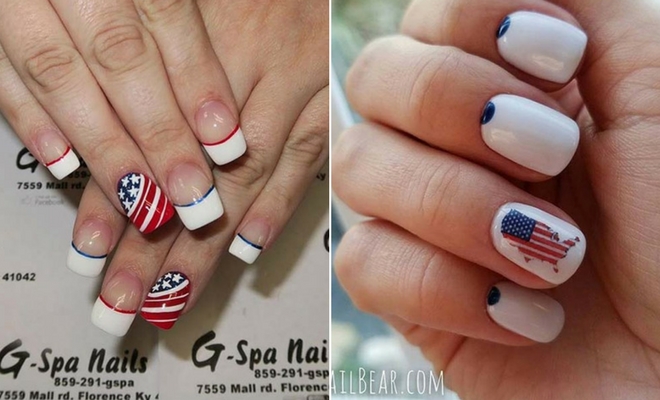 21 Funky and Fun 4th Of July Nail Designs
11. 4th of July Nail Art Design
If you want to go all out with your nails then consider a trendy design like this. These nails have funky star designs with a 4th accent nail. This is the perfect manicure to be patriotic during the holiday. You could put the 4th art on any background from stars to stripes to glitter.
12. French Manicure and Flag Accent Nails
Add some blue and red gems to your French manicure for a trendy fourth of July look. You could even have accent nails inspired by the flag like these. This is a very stylish nail design for the celebrations. Your accent nail could even have just stars or stripes.
13. Sparkles and Stars
Our next pick features two accent nails one with stars and one with sparkles. The manicure is finished off with red polish on the rest of the nails. Art like this will look awesome on all ages. It will suit everyone. You could also swap around the designs to create something unique.
14. Stunning Stars and Stripes
This nail art is stunning, it features two gorgeous accent nails. One multi star design and one with red and white stripes. The combination of these designs create a beautiful manicure that would look beautiful for the 4th of July and beyond.
15. Red, White and Blue Glitter
If you like your manicures sparkly, then you'll love this! This design features red, blue and silver glitter nails. There are also just red and blue accent nails. Art like this is perfect for trying yourself. All you'll need is glitter polishes and if you're following this design plain red and blue polishes along with some tiny stars.
16. Bold Star Art
Make a statement this 4th of July with bold star nails like these. The nails have been painted in bright red and blue with big white starts painted on the top. This is a funky and fun design that suits the celebratory mood of the holiday perfectly.
17. Ombre Glitter, Stars and Stripes
If you want to create a stars and stripes design that is unique try adding some ombre glitter. This cool design features red and blue accent nails with silver glitter. The ombre effect is super trendy and will suit everyone. Glitter ombre can be created at home to, there are plenty of tutorials online.
18. 4th of July French Manicure
For an awesome 4th of July nail design try adding some red glitter tips to your French manicure like this. You could even add the glitter American flag art to. Something like this will be trendy for the holiday celebrations. You could re-create this with the accent nail or not.
19. Funky Flag Design
Our next manicure is a funky way to add the American flag to your nails. The art takes inspiration from the colors, stars and stripes. You could try and re-create this or use it as an idea to get you started. There are endless design possibilities.
20. Sparkly Accent Nail
This design is perfect for creating at home. All you'll need is a red and blue polish and silver glitter. If the glitter isn't your thing just use white polish instead. Give each nail a coat in the colors and you're good to go. It's an easy but stylish manicure to try yourself.
21. Glitter Flag and Stars
The last 4th of July nail art is a jazzy way to celebrate the holiday. It has everything, glitter, the American flag and cute stars. You could try to re-create the whole look or just choose one design. Either way you would have one stylish set of nails.
We hope you have found the perfect 4th of July nail design.