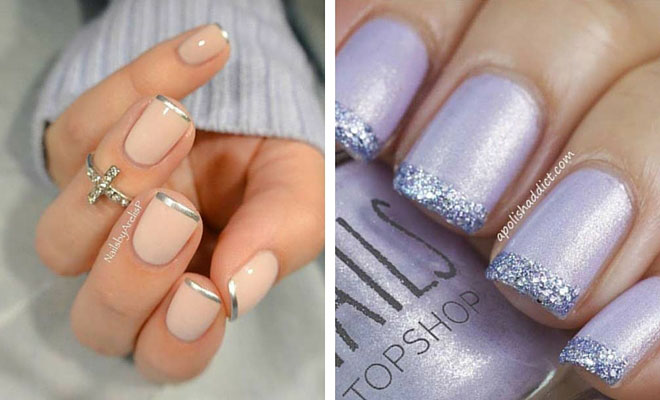 Beauty
51 Cool French Tip Nail Designs
By
|
21. Light Blue French Tips + Bow Accent Nail
This light blue French tips with bow accent nails style is simple and easy to create. You start by painting your nails a natural colour base with light blue tips. Leave your accent finger until last. Accent nails have been popular for some time now and the finger that usually is decorated is the ring finger, like the photo above. This features a pretty bow design for the cute effect.
22. Pink & White Design for Short Nails
How cute is this design. This works so well with shorter nails. This is super girly and it's perfect for any occasion especially a wedding. It's romantic and has a touch of glamour. On one hand you have nails that are based on a baby pink colour, with a white tip, whilst the other nails are white with a touch of nail art at the bed of the nail. This arty design is created in a semi-circle shape. On the other hand, you have all nails painted in a baby pink base with a white tip but with a different nail art design. You can always have plain painted nails, you don't have to add the gems, it's entirely up to you.
23. Glittery French Tips
Go for bold blue as a base and white silver tips. This crazy glittery frenzy French manicure is divine. The nail tips are highlighted in silver glitter whilst the glittery blue stands out on its own accord. This is a very eye-catching design.
24. Unique Red & White Design
Go for an outstanding red and white unique design. A bloody red base with a long sided nail tips in white. Extravagant and powerful topped with a top shiny clear coat.
25. Long White & Silver Glitter Nails
Why not set the new trend for the next classic French manicure with this gorgeous white and silver style. This works better with long nails as you get to have the straight line of silver glitter just below the white nail tip. Sorry to all of you with shorter nails, but you could always get false nails for this style. This is based on three different nail polishes – natural pink base, white and silver glitter. You can always add a clear top coat so it lasts longer.
26. Black French Tip
This nude pink and black tip combination will definitely stand out. The main base is a nude colour pink shade with black polish for the nail tips.
27. Black Matte Nails with Golden French Tips
Nowadays matte black is the choice of style rather than shiny for the main base colour. A matte effect nail polish is exciting and with the golden tips, looks elegant and classy.
28. White and Sparkly Silver French Tip Nails
Combining white and silver will create a sophistication and chic style. Make your mark and statement with this gorgeous white and sparkly silver French tip nails. Use a clear base, paint your nail tips in white and add a line of silver underneath. Coat your ring finger fully in sparkly silver for the overall glamorous appearance.
29. Nude Nails with Gold French Tips
Nude pink is a great colour for a base. A nude colour is usually associated with the classic French manicure, this colour looks fresh and clean. Gold tips add a sun-kissed glow to your nails.
30. Black French Tips + Stiletto Shaped Nails
If you're a fan of shoe stilettos, you'll love these. Having these girl boss shaped nails are so powering and sexy. The natural colour base looks subtle but by adding the black stiletto tip, you are serious.