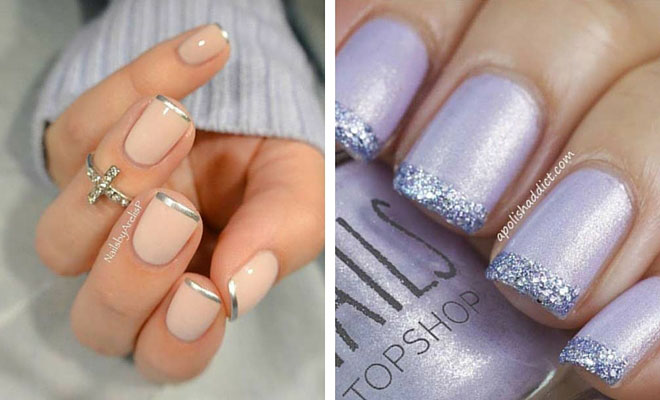 51 Cool French Tip Nail Designs
Every girl likes beautiful nails and nails are the first thing we notice about one another. Hence, the reason we need to look after them. We always remember the person who had the incredible nails and on the contrary, the worst nails we've ever seen. So make sure you're nails are pampered and looking as fabulous as they can be.
It's almost summer now and we can't hide our nails inside our lovely cosy knitted gloves, so now is the time to show off your nails girls. Many people aren't aware that in the "nail world" certain colours are trending more than others. It's like fashion for nails. Having lovely manicured nails always looks good, as well as making you feel incredible. Neat and looked after nails, give people the extra boost and confidence they need on a daily basis. Bare nails can take a way to adjust too especially if you're always having painted nails or false nails.
There are so many different ways of painting your nails. From nail art to false nails, there are nails for everyone. If you have lots of different shades and colours in your nail box, then great, you can grab your favourite colour of the month tonight and paint your nails. The best tips we can offer are before you apply your nails or nail polish, you should give your hands a quick massage to help with your blood circulation. Having good circulation will help with your nail development. When applying nail polish, it's always best to apply thin coats, rather than a few thick coats. This way, it will dry quicker and it will last longer. Thick nail polish tends to chip faster and sometimes develops air bubbles.
We have come up with 51 cool French tip nails designs for you to try out. I can guarantee you'll find a few in here that you'll always go back to.
1. Rose Gold French Tip
The rose gold colour has been trending for a few seasons now and you can see why. From homeware, fashion clothing to nails. These gorgeous rose gold French tips look divine! The contrast between the colours and the tips is incredible. We're definitely going to be trying this! Rose gold tips with pastel shade colours are perfectly suited. Also, don't worry about clashing your jewellery with these nails, rose gold looks so good with gold and silver jewellery.
2. Nude & Navy Blue Design
Nude colours are always so classy and chic. Paint your nails with a nude beige shade and team with a navy tip. This look is great for working, school, going to a party, or just relaxing at home.
3. Classic White French Tip
With all the new nail arts and trends out now, people tend to forget about the classic white French tip. The classic French manicure has been in nail fashion industry for a many years. Many women have become accustomed with the nail style. Majority of women tend to choose this style due to its simplicity and versatility. The French manicure will go with anything you wear and you don't have to change the colour of your nails every day. It looks elegant and effortless, but if you're bored of this simple and classic design, why not add nail art to your ring finger and a spot of silver to make it stand out. You will still have the elegance and chic style but with a touch of glamour. This is ideal for sprucing up your outfit, for any occasion.
4. Red Glittery Tips
Red on nails always looks sexy and feminine. Many girls stay away from the bright red fingernails, due to it staining your nails afterwards, but we have a solution! Apply to the tips only. Look how gorgeous these red glittery nails look. You can always add some nail art for extra effect.
5. Thin Silver Tips
Instead of sticking to the white French tips, add silver tips to show off your creative side. Silver tips, look amazing with a nude / pink base like the photo above. It adds something special and keeps the stylish look.
6. Sparkly Glitter Tips
Glittery tips are heavenly. If we happen to notice someone else with glittery nails, of course we check them out, it's in our nature. This is where many ideas come from. If you opt for these gorgeous nails, next time you're in a store having the cashier your money, I'm sure they'll be checking your sexy nails out!
7. Nude Base + Burgundy Tips
Nude colour nails creates a fresh and chic style. Adding burgundy tips sets your nails on fire and shows off your sassy side.
8. Glittery Tips
Having a nude colour base with glittery tips will create more attention. You have taken all the focus away from your nails and eyes are instantly drawn to the tips.
9. Nude & Light Blue Design
Who would have thought that light blue and nude went together so well! These colours look incredible. The blue sets off the nude and gives it a very different vibe.
10. French Tip for Short Nails
Having short nails can sometimes be a pain, especially when you want your nails to grow. They seem to take a long time even get passed your finger pads. The classic French manicure whit white tips looks great on all length of nails. The white tips can give the illusion that your nails are longer than they actually are.
11. Black & Red French Tip Design
Are you looking for striking nails? Red and black will be your best option. Have a solid black base and then add the red to the tips. Switch it up a little by reserving the look on one finger.
12. French Tip Nails with a Pop of Silver
Sparkle is a girl's best friend. If you're used to having the classic French manicure, white tip with a nude natural base, try adding a pop of silver to your mani. This way you will still have your classic French manicure but with a twist. This would be perfect for weddings or parties.
13. Black Matte Design
Do you tend to reach for the black shiny base and always have black nails? This can sometimes look dark and gloomy. Who wants to feel like this in Spring/Summer? We have come up with a solution for you. You get to keep your sexy black nails but switch it up a little by using a matte base and add a shiny black tip. Gorgeous!
14. Sparkly Purple Nails
Having a clear base will open up many doors for your nails tips. Take for instance, this purple sparkle colour. The natural base looks so healthy and shiny and the purple tips will complement your nails.
15. Nude French Tip on Stiletto Nails
Stiletto nails are huge right now and many people are choosing to have them. For those who don't know, stiletto nails have been around for many years but lately, it seems they are becoming popular. This is down to celebrities showing off their stiletto claws. From Katy Perry, Rihanna, Rita Ora and Khloe Kardashian who are loving their stilettos. They look stunning with a natural nude base. This is simple and classy design which will go with any outfit.
16. White French Tip + Roses
Have a natural looking glow about your nails with this elegant style. Using a nude base with the nail tips painted in white and adding the rose band creates a girly and feminine feel. It also adds a touch of colour, which is attractive to the eye.
17. Pink French Tips with Rhinestones
This is sparkles galore. Make your nails looks this striking and girly with rhinestones. Natural colour base with pink tips and rhinestone gems are added just below the tip line to complete the sparkly effect.
18. Elegant French Tip Design
Decorating classy elegant French tip nails is becoming more popular. Instead of keeping them simple with a natural base and white tips, many people combine nail art with the classic French manicure like the photo above. You still have the simplicity of the natural base and it will still go with all of your clothes and accessories. You could always go back to the classic manicure.
19. Golden Tips on Almond Shaped Nails
Rock your golden tips this spring and summer with the new craze. This is a gorgeous design, which will stand out with the trending almond shape nails. Round and square shaped nails are so last season, so you need to get on the almond look. They are perfect for elongating your fingers and nails to make them look longer than they are. If you have shorter nails, try filing your nails this shape for a change. The golden tips will accentuate your nails and give off a summery natural glow.
20. Neon Colored French Tips for Spring and Summer
We have green, we have yellow, we have orange, red and blue. Almost like a rainbow, right? These need to be all neon colours to make this design stand out. To get you in the mood for summer, paint your nails like this. This is a great summery vibe and simple to do. It looks effortless and stylish. The base needs to be a neutral colour so the emphasis is drawn to the nail tips and not the base. Ideal for fun days out that turn into evening summer parties.
21. Light Blue French Tips + Bow Accent Nail
This light blue French tips with bow accent nails style is simple and easy to create. You start by painting your nails a natural colour base with light blue tips. Leave your accent finger until last. Accent nails have been popular for some time now and the finger that usually is decorated is the ring finger, like the photo above. This features a pretty bow design for the cute effect.
22. Pink & White Design for Short Nails
How cute is this design. This works so well with shorter nails. This is super girly and it's perfect for any occasion especially a wedding. It's romantic and has a touch of glamour. On one hand you have nails that are based on a baby pink colour, with a white tip, whilst the other nails are white with a touch of nail art at the bed of the nail. This arty design is created in a semi-circle shape. On the other hand, you have all nails painted in a baby pink base with a white tip but with a different nail art design. You can always have plain painted nails, you don't have to add the gems, it's entirely up to you.
23. Glittery French Tips
Go for bold blue as a base and white silver tips. This crazy glittery frenzy French manicure is divine. The nail tips are highlighted in silver glitter whilst the glittery blue stands out on its own accord. This is a very eye-catching design.
24. Unique Red & White Design
Go for an outstanding red and white unique design. A bloody red base with a long sided nail tips in white. Extravagant and powerful topped with a top shiny clear coat.
25. Long White & Silver Glitter Nails
Why not set the new trend for the next classic French manicure with this gorgeous white and silver style. This works better with long nails as you get to have the straight line of silver glitter just below the white nail tip. Sorry to all of you with shorter nails, but you could always get false nails for this style. This is based on three different nail polishes – natural pink base, white and silver glitter. You can always add a clear top coat so it lasts longer.
26. Black French Tip
This nude pink and black tip combination will definitely stand out. The main base is a nude colour pink shade with black polish for the nail tips.
27. Black Matte Nails with Golden French Tips
Nowadays matte black is the choice of style rather than shiny for the main base colour. A matte effect nail polish is exciting and with the golden tips, looks elegant and classy.
28. White and Sparkly Silver French Tip Nails
Combining white and silver will create a sophistication and chic style. Make your mark and statement with this gorgeous white and sparkly silver French tip nails. Use a clear base, paint your nail tips in white and add a line of silver underneath. Coat your ring finger fully in sparkly silver for the overall glamorous appearance.
29. Nude Nails with Gold French Tips
Nude pink is a great colour for a base. A nude colour is usually associated with the classic French manicure, this colour looks fresh and clean. Gold tips add a sun-kissed glow to your nails.
30. Black French Tips + Stiletto Shaped Nails
If you're a fan of shoe stilettos, you'll love these. Having these girl boss shaped nails are so powering and sexy. The natural colour base looks subtle but by adding the black stiletto tip, you are serious.
31. Red + Silver Glitter French Tips
When we look at these nails, sassy, sexy, and sparkle spring to mind. The 3 S's will get heads turning. Having a striking red base to begin with always stands out. The silver glitter will add shine when the sun light hits it, making it irresistible.
32. Cool Green French Tips
Instead of the classic white tips have you thought about choosing a different color like this vibrant green. You still get that chic nail style but with a bold color. It is a fun, stylish and modern look. Recreate the green and grey or try a different color combo.
33. Matte Black Tips and Polka Dots
Next, we have a chic look. The nails are a nude shade with black tips. We love this nail idea because black polka dots have been added to the tips to give the nails a unique and stylish look. You can recreate this manicure or try black tips and have the polka dot design as an accent nail.
34. Cute Pink French Tips
Be pretty in pink with these nails! This design features light pink nails with vibrant pink tips. The two pink shades compliment each other beautifully and look stylish too. You can use pink tips like these on any nail length and shape. It is a fun, chic and vibrant design that will brighten up your look.
35. Elegant Snowflake Idea
Our next idea is elegant and festive! Here have an ombre French manicure. This has the classic colors but the tips are a little blended instead of having a clear line, giving the nails a stylish ombre look. The nails have been finished off with beautiful snowflakes. You can check out the tutorial and the products used on the artist's page featured below.
36. Sparkly French Tips
Give your nails a dazzling makeover with nail art like this! The nails have different designs including soft pink color, glitter and clear nails with glittery French tips. This is a stunning and sparkly idea that would look amazing for special occasions and the holiday season. Try this look or try sparkles in different colors.
37. Black French Tips
Let out your inner rock chick with nails like these. The nails are a chic grey tone with trendy black tips. We love this color combination, it is so stylish, modern and trendsetting. A manicure like this would be amazing for a night out or for the days when you want to feel fierce!
38. Neon Nails with White French Tips
Love color and want nails that are bold and vibrant? Then these could be for you. For this look most of the nails are a different bright color with stylish white tips and there is one chevron accent nail. This is a fun manicure and is perfect for the ladies who want their nails to stand out from the crowd.
39. Cute Candy Corn Idea
Next, we have amazing nails inspired by candy corn. Instead of the classic white tips these nails feature vibrant candy colored stripes. This is such a creative and unique idea. You can recreate this look for Halloween or try different color stripes in your favorite shades for the rest of the year.
40. Festive French Tips
Our next idea is another seasonal one. Here we have festive French tips! The nails have the classic nude color and white tips but each nail is finished off with a Christmas garland design. This is so cute and will look amazing for the holiday season. You can check out the tutorial and the products used on the page below.
41. Vibrant and Stylish Tips
Wow everyone with your nails by choosing a design like this one. For this look some of the nails are covered in a stunning blue design while the rest of the nails have the same art but in a French tip style. It is a gorgeous idea that gives you a trendy look but keeps it classic and chic too.
42. Sparkle and White French Tips
Next, we have a unique idea with sparkle. These nails have the French manicure look with the tips and light nails but with a twist. The tips are classic white at the top and then turn into sparkling glitter. This is a super stylish and glam idea that would look amazing for a special occasion.
43. Glam Matte Nails with Black Tips
Earlier we featured nails with black tips, if you liked that idea then you may like this one too. These nails feature the chic, black tips but the nails are nude and feature accent designs. One accent nail has crystals and the other has stunning dream catcher art. A manicure like this is a must-have for any stylish lady.
44. Neon French Tips
If you love the ombre french tips then this idea is for you. Instead of the classic white and nude colors we featured on the snowflake nails, this design is vibrant and bold. Most of the nails are neon with two accent nails. The accent nails are nude with neon ombre tips. This is an awesome idea and is perfect for the ladies who want their manicure to stand out and be noticed!
45. Red Tips and Chrome Glass Nails
Looking for a trendy nail idea? Then these nails are for you. This manicure features stylish glass nails that have a chrome look to them with nude nails and red tips. We love the red tips because they are so bold and beautiful. Recreate the whole look or just try the red tips.
46. Glitter Tips
Our next idea is bold and stylish. Most of the nails feature a different design including chrome, blue and glitter tips. The glitter tips are stunning and would be perfect for a night out, party and other special occasion. You can try and create a similar look or only use the glitter tip design. Either way, your nails will look amazing!
47. Elegant Glitter Tips with Bridal Accent Nail
Next, we have an elegant and unique idea to share with you. For this look most of the nails are a light pink. Some are decorated with crystals and some with glitter French tips. The look is finished off with an accent nail that has an illustration that looks like a bride. This is a stunning idea and would be perfect for a wedding. Try the whole look or just the glittery French tips.
48. Stylish Matte Burgundy Tips
Another color that looks amazing when used as tips is burgundy! Don't just take our word for it, check out these nails. This manicure features burgundy nails, nude nails with a black accent design and nude nails with burgundy French tips. This is a gorgeous nail idea and a manicure would look amazing if all the nails had the burgundy tips.
49. Rose Gold and Pink Nails
Add glitz and glamour to your look with nails like these. These nails are a light pink color with glitter French tips, there are also accent nails covered in glitter too. The rose gold tips are beautiful and will make you sparkle in style! Nails like these would look awesome for special occasions and the holiday season.
50. White Stripe French Tips
Next, we have another stylish and modern take on the classic French tips. For this look the nails are nude with white tips. The difference is that instead of the block white color, there are stripes instead. You still get that chic French look but in a trendsetting and new way. We love this idea!
51. Red and White French Tips
Our next idea is cute and creative. Here we have a manicure with nude nails and white tips. There is one accent nail with a red tip, too. The red really stands out and jazzes up the white. Nails like these would be perfect for the ladies who want to try a new color without being over the top. A design like this would be great for the holiday season too.