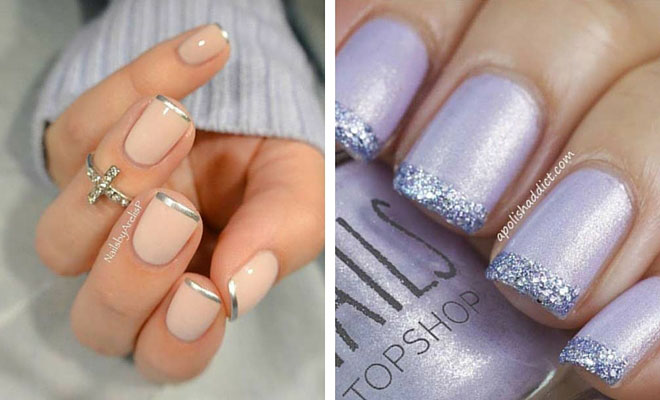 Beauty
51 Cool French Tip Nail Designs
By
|
11. Black & Red French Tip Design
Are you looking for striking nails? Red and black will be your best option. Have a solid black base and then add the red to the tips. Switch it up a little by reserving the look on one finger.
12. French Tip Nails with a Pop of Silver
Sparkle is a girl's best friend. If you're used to having the classic French manicure, white tip with a nude natural base, try adding a pop of silver to your mani. This way you will still have your classic French manicure but with a twist. This would be perfect for weddings or parties.
13. Black Matte Design
Do you tend to reach for the black shiny base and always have black nails? This can sometimes look dark and gloomy. Who wants to feel like this in Spring/Summer? We have come up with a solution for you. You get to keep your sexy black nails but switch it up a little by using a matte base and add a shiny black tip. Gorgeous!
14. Sparkly Purple Nails
Having a clear base will open up many doors for your nails tips. Take for instance, this purple sparkle colour. The natural base looks so healthy and shiny and the purple tips will complement your nails.
15. Nude French Tip on Stiletto Nails
Stiletto nails are huge right now and many people are choosing to have them. For those who don't know, stiletto nails have been around for many years but lately, it seems they are becoming popular. This is down to celebrities showing off their stiletto claws. From Katy Perry, Rihanna, Rita Ora and Khloe Kardashian who are loving their stilettos. They look stunning with a natural nude base. This is simple and classy design which will go with any outfit.
16. White French Tip + Roses
Have a natural looking glow about your nails with this elegant style. Using a nude base with the nail tips painted in white and adding the rose band creates a girly and feminine feel. It also adds a touch of colour, which is attractive to the eye.
17. Pink French Tips with Rhinestones
This is sparkles galore. Make your nails looks this striking and girly with rhinestones. Natural colour base with pink tips and rhinestone gems are added just below the tip line to complete the sparkly effect.
18. Elegant French Tip Design
Decorating classy elegant French tip nails is becoming more popular. Instead of keeping them simple with a natural base and white tips, many people combine nail art with the classic French manicure like the photo above. You still have the simplicity of the natural base and it will still go with all of your clothes and accessories. You could always go back to the classic manicure.
19. Golden Tips on Almond Shaped Nails
Rock your golden tips this spring and summer with the new craze. This is a gorgeous design, which will stand out with the trending almond shape nails. Round and square shaped nails are so last season, so you need to get on the almond look. They are perfect for elongating your fingers and nails to make them look longer than they are. If you have shorter nails, try filing your nails this shape for a change. The golden tips will accentuate your nails and give off a summery natural glow.
20. Neon Colored French Tips for Spring and Summer
We have green, we have yellow, we have orange, red and blue. Almost like a rainbow, right? These need to be all neon colours to make this design stand out. To get you in the mood for summer, paint your nails like this. This is a great summery vibe and simple to do. It looks effortless and stylish. The base needs to be a neutral colour so the emphasis is drawn to the nail tips and not the base. Ideal for fun days out that turn into evening summer parties.