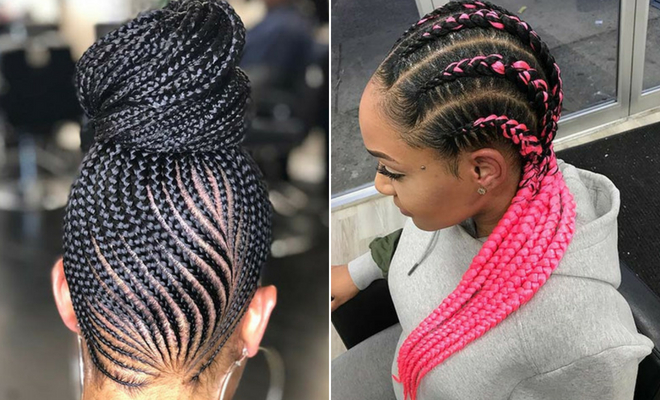 Instagram
Beauty
43 Cool Ways to Wear Feed In Cornrows
By
|
11. Side Swept Wave Braids
Braids can be styled in so many different ways. Next, we have braids with a wave pattern. We love the wavy braids because they look unique and stylish. You can have thicker braids like featured or thinner braids. Either way you will have a gorgeous hairdo.
12. Feed in Braids to the Side
Earlier in the post we featured a hair idea with side swept braids. If you liked that idea, then you may like this one too. For this one, the braids are chunky and in one size. We love how sleek and stylish these braids look. Hair like this will suit everyone, for any occasion.
13. Long, Blonde Cornrows
Want a new look? Then this hair idea could be just the thing you need! The hair has been braided into thick cornrows with a very light blonde running through them. Blonde is a chic and trendy way to update your hair. You can also choose a darker blonde too.
14. Long Cornrow Ponytail
Like ponytails? Then this next idea is for you. Here we have a very long ponytail with thick cornrow braids. The ponytail would be stylish as it is but there is the added accessory too. One of the braids has a cord in a criss-cross design. You can use any color cord with your braids for a trendy look.
15. Trendy Four Cornrow Braids
Next, we have a creative four braid idea. The hair has been braided into four at the top of the head but half way down the four braids merge into two. We love this idea because it is a unique version of the classic double braids and four braid cornrow styles.
16. Very Long, Thin Cornrows
Our next hair idea is stunning! The hair has been braided into thin, neat braids with a middle part. There are also beads throughout the braids too. We love this hairstyle because it is sleek and stylish. This is braided style that will wow. You can also use different beads for your hair.
17. Six Feed In Cornrows
Like the six braid styles? Then this next idea is for you. The hair is braided into six and is simple but super trendy. Hair like this will suit everyone. You can even jazz it up with colors, beads or braid cuffs. However, if you want an easy to wear style then choose braids like these.
18. Stylish Multi Cornrows
Next, we have a unique braided style to show you. The hair has been braided twice into double braids and there are multiple braids on the top of the head. It is a creative hairstyle that will wow everyone who sees it. Hair like this will suit everyone.
19. Patterned Feed In Cornrows with Beads
Looking for a cornrow braided style with a funky pattern? Then this next hair idea is for you. You can see that the braids are styled into trendy pattern. You can take inspiration from this and recreate a similar look or experiment with your own patterns.
20. Cornrows in a Bun
Braided buns look stunning. Don't just take our word for it, take a look at this next pick. The hair has been braided into thin, wavy braids and then put into a high bun. A high bun like this is perfect for the summer, vacations or a special occasion. It will give anyone a glam look.