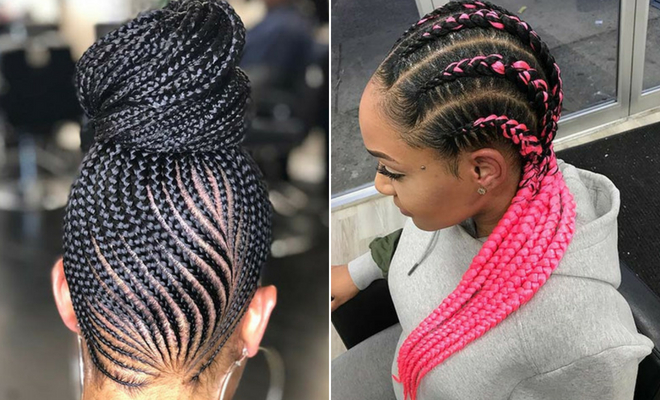 Instagram
Beauty
43 Cool Ways to Wear Feed In Cornrows
By
|
In need of a new hairstyle? Want to update your look? Then you are in the right place. We have found the coolest ways to wear feed in cornrows this season. We have a hairstyle for everyone, from braids with vibrant colors to cornrows with trendy patterns. Take a look to find your favorite, the only problem you will have is deciding which hairstyle you want next! Ready to up your braid game?
1. Side Swept Feed In Cornrows
The first cornrow braids we would like to show you are these side swept braids. Side swept braids look chic and elegant. For this hairstyle there are mixture of chunky and thin braids as well as a zig zag design. You can recreate this style with shorter braids, maybe even try braids with different colors too.
2. Feed In Cornrow Ponytail
Braids look beautiful loose but they also look gorgeous in updos too. Here we have feed in cornrow braids that have been styled into a high ponytail. A high ponytail looks stylish and would be perfect for the summer and vacations. Try thin and thick braids like the hairstyle featured or just choose one size.
3. Long Cornrows with Beads
Long braids look glamorous and stylish. This next idea features very long cornrows with a zig zag design and beads. You will also see that a different color has been added to the hair too. We love this look because it uses lots of elements and looks trendy. You can recreate this style with beads, hair colors and patterns of your choice.
4. Double Cornrows with Small Braids
Looking for a trendy braided style? Then this next pick could be for you. Here we have a hair idea that features two braids with smaller braids too. You can create a similar look to this one or just choose the double braids without the small ones. Also consider experiment with braiding styles too.
5. Pink Feed In Cornrows
Make a statement with your hair by adding some color! This cornrow idea features thick braids with pink weaved into them. We love this vibrant shade as it will really jazz up the hair. A hairstyle like this is perfect if you want a dramatic new look. You can also use other bright colors too.
6. Chunky Feed in Cornrows
Next, we have a six braid idea to show you. The hair has been divided and braided into six chunky, feed in braids which creates a sleek and stylish finished look. A hairstyle like this would suit everyone and it would suit any season and occasion. You could even add some color if you wanted to make more of a statement.
7. Long, Thin Cornrows
Our next idea features long cornrows with a funky pattern. The braids are long and thin with a gorgeous weaved pattern at the top of the head. You can recreate this look or you can create your own pattern. Thinner braids work best for this type of style, you can try shorter braids.
8. Trendy Thin and Thick Cornrows
You can combine thin and thick braids to create very stylish hairstyles. For this hairstyle the hair has braided into four chunky braids and eight thinner braids. The thin braids have also been weaved together. A hairstyle like this is perfect for someone who wants a trendy new look for summer.
9. 2 Cornrows with Braid Cuffs
Next, we have another double cornrow idea. The hair has been split in two, braided and is finished off with gorgeous braid cuffs. Braid cuffs are a great way to accessorize as these will jazz up a simple hairstyle. Hair like this will suit anyone.
10. Zig Zag Feed in Cornrows
Our next idea is creative and trendy. The hair has been braided into chunky cornrows and the cornrows have a zig zag design. We love the zig zag design as it is stylish and fun. You can have braids like featured or add some color or braid cuffs.