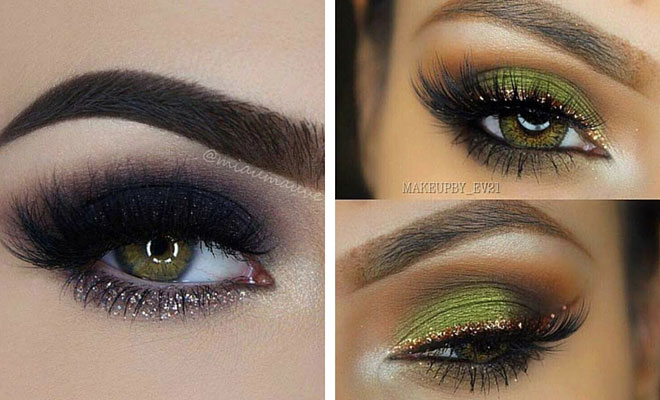 Instagram
Beauty
31 Pretty Eye Makeup Looks for Green Eyes
By
|
11. Fun Makeup Look for Summer
It's coming up to summer and we tend to experiment more with makeup during this season. The sun is out and you want your makeup to reflect the vibe. This is beautiful fun makeup at its best. If you start practicing this now, by the time summer comes, you'll be an expert and all your friends will be asking you to do their makeup!
Products used: Sigma Beauty "Paris Palette" & Morphe Brushes "350 Palette".
12. Gold Glitter + Cut Crease
Sexy, sleek and sparkly. These are the three words that describes this look. Cut crease technique is trending so you need to copy this look. We think the cut crease and gold glitter is a perfect combination. The gold glitter looks amazing on the eyelids, right?
13. Purple Glitter Eyes
As mentioned, purple is a winner with green eyes. On the colour wheel chart, purple is the opposite to green and therefore it's a good choice. If you are out shopping and forget about colours will suit green eyes, remember to stick to the warmer shades versus the cooler shades.
Add a touch of glitter to the striking purple shade to add some glam. Apply black eyeliner to create a thick winged cat eye and to widen your eye, use white eyeliner for inside your waterline.
14. Stunning Smokey Eye with a Pop of Glitter
It's all about the smokey eye and glitter. Blend your eyeshadows to create a sexy smokey look and add some glitter. Glitter looks great under the eye and adds to the mysterious feel. As this is heavy but quite subtle and neutral in colour, you can always brighten your face up with a sexy red lipstick.
15. Smoked Out Winged Liner
For a heavier evening look, we recommend this smoked-out eye makeup look with a pop of gold glitter. When the light catches your eyes, this gold glitter will look incredible.
16. Purple Eye Makeup Look
The purple colour with the peach/copper eyeshadow looks incredibly stunning. Make sure you add the purple underneath your eyes too for the intense style. If you want to stand out even more, try to find a matching purple lipstick. We know it's hard to believe when you're used to nude, red, pink and clear lipsticks, but trust me, purple looks great. It's been trending for a few seasons now and it looks exquisite.
17. Dark Green & Pink Smokey Eye
This is an ideal for evening makeup. If you're wearing a bright outfit or having a bright coloured lipstick, you need to go softer on your eyes. This is ideal for you. The dark green highlights green eyes even more so and you'll look fabulous.
18. Perfect Evening Makeup Look
We all want to feel amazing when we go out, right? We want our makeup to stay put and know that it will look fabulous all night long. Go heavy with the lashes and on the outer edge of your eyelids. Add a winged tip and add a shimmering gold or pink eyeshadow to your eyelids. Apply a line of black eyeliner inside and below your waterline, and then smudge a little to create that dramatic look.
Products used: ABH eyeshadows in "Noir", "Fawn", "Dusty Rose", "Sangria", and " Pink Champagne".
19. Easy Smokey Eye Tutorial
These pictures show a systematic guide on how to fashion the smokey eye look. As you can see, this makeup adds a simple shine and shimmer to green eyes. It could be your daily makeup as it's natural looking. It's simple to follow and you are left with a subtle smokey eye for the day or evening.
20. Elegant Makeup Look
This is a simple but elegant evening look. Use a gold eyeshadow and add a few touches of glitter. Keep all the sparkle on the eyelid. Blend a dark purple with a nude colour to achieve this gorgeous effect. Once you have applied your eyeshadow, either use the same for under your eye or use a dark brown tone, then simply smear it along to create the look.