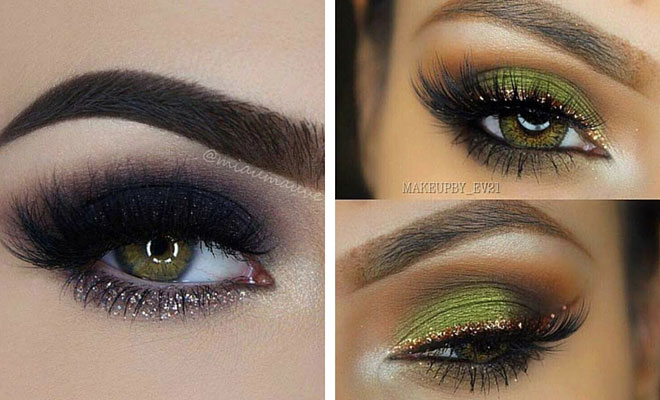 31 Pretty Eye Makeup Looks for Green Eyes
When buying new makeup, it's always worth carrying out some research online before you splash out. Don't just research makeup to suit your skin tone, think about your eye colour too. Many people tend to forget that different shades of colour can enhance your green eyes. This will show off your eye colour in a different way. Makeup artists will tell you this and they will give you a colour guide to follow.
If you hadn't already guessed, this article is all about green gorgeous eyes and showing them off! Of course, there are different shades of colours that favour green eyes more than others do, and you need to know what tones these are and try to stick to them. Gold, purple, lilac, lavender and plum are just one of them. To make things easier for you, we have come up with 31 pretty eye makeup looks for you to try. Enjoy!
1. Black & Gold Look
Black and gold looks so pretty with green eyes. Mixing black and gold for shimmering eyes, looks phenomenal. To finish the look off, add the same gold eyeshadow to your water line and use a white cream to the corner of your eyes to stand out.
Try to avoid silver. If you want to add a metallic shade to your eyelids, keep to bronze or copper tones. Silver doesn't always look as great on green eyes and it certainly doesn't show how good and sexy they are. If you do intend to wear silver, go for a deeper, darker steel shade, which works better.
Products used: Too Faced Stardust Palette by Vegas Nay
2. Tutorial for Green Smokey Eye
Look at these four shades – emerald green, deep purple, dark red and white. Picture one shows the eye without any makeup on and as you go through the photos, you can see how dramatic and attractive these colours make green eyes look. Try this today to release your sexy vibe.
Products used: MAC eyeshadows in "Shroom", "Embark", "Brown Script", and "Soft Brown" & ABH eyeshadow in "Emerald".
3. Copper Makeup Look
Copper colour shades looks amazing. Copper tends to highlight green eyes and makes your eyes have a wide-awake appearance.
If you have green eyes, try switching your black eyeliner and mascara to brown. This will instantly give you a different look. Black tends to be overpowering and harsh. It will add a warmer shade to your eyes before you even apply your eyeshadow.
4. Peach & Gold Eye Makeup Look
Peach can sometimes looks like copper so this colour will work well too. This is a slightly softer look and not as shimmery on the eyelid as the copper tone. This is perfect for a daily into evening makeup.
Products used: ABH eyeshadows in "Sienna", "Orange Soda", "Fuge", "Metal", and "Metallic"; Waterline: ABH "Metallic Luster Liner".
5. Black Smokey Eye with a Pop of Glitter
We all know that black, smokey eyes look sexy on any colour eye. This will look amazing for a night out with your green eyes. Add a touch of silver or white to the corners of your eyes near the tear duct and for the extra glam, apply a pop of glitter to below your water line.
6. Cut Crease Look
If you haven't heard of the cut crease look, you simple need to know. It's the new makeup craze that Kim Kardashian West loves and we can see why. If you have small eyes, it creates the illusion of bigger eyes making them stand out. The best tip for applying eyeshadow this way would be to use a spoon. Hold the spoon over your eye and use the spoon line to guide you. Apply a darker eyeshadow above your eyelid crease and use lighter and softer shades below, then blend. It's that simple.
7. Glamorous Light Purple Eyes
For a glamorous style, go for a light purple shade and apply to your eyelid. Apply a deeper purple above and a white to the corner of your eye. Blend the deep purple in above your crease line and add a bit of sparkle to the lilac shade.
Bear in mind that not everyone with green eyes will like purple or lilac. You might love your green eyes with black mascara and that fits perfectly with your charisma and style. It's all about experimenting and practicing to find out what suits you and your character. Your friends may have green eyes too, but remember, there are different shades of green. We all like different things and we have created this as a guide to give you a few ideas on how to highlight your emerald eyes.
8. Green & Gold Eye Makeup Look
Just because you have green eyes, doesn't mean you should stay away from the green eyeshadows. As you can see above, green works so well with green eyes, especially if you pair it with gold. Apply the green shade to your eyelid, then line your lid with a sparkly gold eyeliner, winging out the end. This will act as a border between your green eyes and green eyeshadow.
9. Matte Pink + Winged Liner
For a softer, girly look, combine matte pink with a cat eye. Usually winged liners or cat eyes can be very dramatic but with this matte pink, it's give a pretty and feminine style. Add a gorgeous nude colour to the lips and you will look amazing.
10. Gold & Purple
Teaming gold and purple together is a match made in heaven for green eyes. This picture shows just how stunning your green eyes can look. Keep the purple on and below the waterline and the gold in the inner corner of the eye. Perfect!
11. Fun Makeup Look for Summer
It's coming up to summer and we tend to experiment more with makeup during this season. The sun is out and you want your makeup to reflect the vibe. This is beautiful fun makeup at its best. If you start practicing this now, by the time summer comes, you'll be an expert and all your friends will be asking you to do their makeup!
Products used: Sigma Beauty "Paris Palette" & Morphe Brushes "350 Palette".
12. Gold Glitter + Cut Crease
Sexy, sleek and sparkly. These are the three words that describes this look. Cut crease technique is trending so you need to copy this look. We think the cut crease and gold glitter is a perfect combination. The gold glitter looks amazing on the eyelids, right?
13. Purple Glitter Eyes
As mentioned, purple is a winner with green eyes. On the colour wheel chart, purple is the opposite to green and therefore it's a good choice. If you are out shopping and forget about colours will suit green eyes, remember to stick to the warmer shades versus the cooler shades.
Add a touch of glitter to the striking purple shade to add some glam. Apply black eyeliner to create a thick winged cat eye and to widen your eye, use white eyeliner for inside your waterline.
14. Stunning Smokey Eye with a Pop of Glitter
It's all about the smokey eye and glitter. Blend your eyeshadows to create a sexy smokey look and add some glitter. Glitter looks great under the eye and adds to the mysterious feel. As this is heavy but quite subtle and neutral in colour, you can always brighten your face up with a sexy red lipstick.
15. Smoked Out Winged Liner
For a heavier evening look, we recommend this smoked-out eye makeup look with a pop of gold glitter. When the light catches your eyes, this gold glitter will look incredible.
16. Purple Eye Makeup Look
The purple colour with the peach/copper eyeshadow looks incredibly stunning. Make sure you add the purple underneath your eyes too for the intense style. If you want to stand out even more, try to find a matching purple lipstick. We know it's hard to believe when you're used to nude, red, pink and clear lipsticks, but trust me, purple looks great. It's been trending for a few seasons now and it looks exquisite.
17. Dark Green & Pink Smokey Eye
This is an ideal for evening makeup. If you're wearing a bright outfit or having a bright coloured lipstick, you need to go softer on your eyes. This is ideal for you. The dark green highlights green eyes even more so and you'll look fabulous.
18. Perfect Evening Makeup Look
We all want to feel amazing when we go out, right? We want our makeup to stay put and know that it will look fabulous all night long. Go heavy with the lashes and on the outer edge of your eyelids. Add a winged tip and add a shimmering gold or pink eyeshadow to your eyelids. Apply a line of black eyeliner inside and below your waterline, and then smudge a little to create that dramatic look.
Products used: ABH eyeshadows in "Noir", "Fawn", "Dusty Rose", "Sangria", and " Pink Champagne".
19. Easy Smokey Eye Tutorial
These pictures show a systematic guide on how to fashion the smokey eye look. As you can see, this makeup adds a simple shine and shimmer to green eyes. It could be your daily makeup as it's natural looking. It's simple to follow and you are left with a subtle smokey eye for the day or evening.
20. Elegant Makeup Look
This is a simple but elegant evening look. Use a gold eyeshadow and add a few touches of glitter. Keep all the sparkle on the eyelid. Blend a dark purple with a nude colour to achieve this gorgeous effect. Once you have applied your eyeshadow, either use the same for under your eye or use a dark brown tone, then simply smear it along to create the look.
21. Neutral Eye Makeup Look
If you're feeling a bare neutral vibe, go heavy with the eyelashes and have a champagne shade on your eyelids. It's almost bordering on silver. This is a classic and simple look, which will look amazing with any outfit.
22. Coppery Red Eye Makeup Look
Mixing copper and red will give you a lovely deep shimmer shade. This will infuse your lovely green eyes. Apply you eyeliner to your tear duct area and go soft for underneath your eyes.
23. Brown Winged Liner
Using brown eyeliner rather than black gives you a softer and warmer appearance. If you end up loving the brown eyeliner, then try brown mascara. They look amazing together. As brown is an earth tone, it will make your green eyes look crazy-beautiful.
Products used: Sigma Beauty Line Ace Liquid Eyeliner in Monogram.
24. Black Smokey Eye + Mauve Lips
Wearing heavy, black smokey makeup that set off your green eyes will only need a nude colour lipstick. Mauve shades look stunning and will complement your smokey eyes.
Eyeshadows: Anastasia Beverly Hills; Lips: Anastasia Beverly Hills "Dusty Rose"
25. Gold Glitter Look
When you want to shine, you don't have to add any other colour to gold. Gold takes your eyes to another level so be sure to try this classic colour for a chic and elegant look.
26. Glam Cut Crease
Do you want to look and feel glamorous? Use both gold and brown eyeshadows and remember to use your spoon to get your curve. It's easy when you know how!
27. Champagne & Orange Makeup Look
Champagne isn't just a drink honey, it's a striking eyeshadow colour too. You can see from these pictures, how good champagne and orange tones look together. The finished colour looks similar to a light copper colour, which we already know complements your eyes. Next time you're makeup shopping, you can go straight up to the counter and say "Have you got any champagne and orange eyeshadows please!" This will make you sound like a pro!
28. Dark Green Smokey Eye
To create the smokey eyes, make sure you keep blending. Many people tend to blend for a second and then wonder why they haven't got the smokey eyed look. This is a perfect example on how dark green smokey eyes should look. You can always add white eyeliner to your waterline to broaden the look of smaller eyes.
Products used: ABH "Bone" and "Moss" & Morphe Brushes "350 Palette".
29. Dark Gold & Brown Smokey Eye
When it comes to gold, any shade will suffice. All gold tones look amazing and when it's blended with a brown smokey effect, it looks breathtaking. Don't be afraid to go for light, medium or dark copper, the more you have in your makeup bag, the better. You can have a different copper style every weekend.
30. Bright Look for Spring
Spring is here and soon it'll be summer so make the most of it by having a gorgeous bright look this season. This gorgeous purple shade will instantly brighten up you face. Team it with a few flowers in your hair to make your eyes come alive. Bright colours are meant to be fun and experimented with in the spring and summer months. Having a face full of colours can really brighten up your mood as well as you face. Lets face it, before we know it, it will be winter again and we'll be back to darker shades, so get your bright colours out girls and rock your vibrant tones and colours.
31. Pink Glitter Look
Every girl loves a bit of glitter, especially if it's pink! Go for the glitzy and girly look with this pink glitter eyeshadow. These photos show just how dramatic you can make your sexy green eyes look. Take your black eye pencil and draw near your tear duct, apply your false lashes and use a softer colour pencil underneath your eye so all the focus if pointing towards your eyelashes and glitter. With these beautiful eyes, you will want to party all night long.