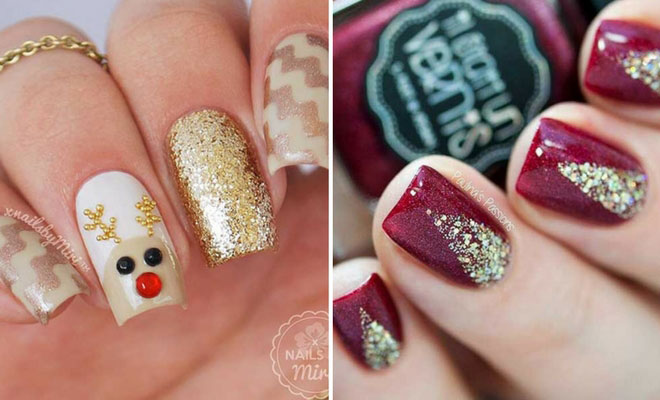 Instagram
Beauty
69 Easy Winter and Christmas Nail Ideas
By
|
21. Reindeer Accent Nail
What goes better with reindeers than red nails? Plus, you can't get more Christmassy than red either, can you? That's why we love these easy winter and Christmas nail ideas. Whatever you do, don't forget the big red nose. That'll spoil the look!
Products used: China Glaze in White on White and Ring in the Red.
22. Sparkly Christmas Baubles
What a great idea – using larger pieces of glitter to create a Christmas bauble nail design that is bound to catch the light wonderfully. A quick flick with a black nail pen will help you retreat the bow and string at the top, and once again, rhinestones have been added to really bring the entire look to life. Another winner if you ask us.
23. Simple & Elegant Design
How do you feel about blue Christmas nails? It's not a shade that will automatically spring to mind, but now you've seen how cool this navy shade of blue looks with the sparkly gold Christmas tree, aren't you a little convinced?
Products used: Sinful Colors in Mesmerize, and Essie Polish in Beyond Cozy.
24. Sparkly Winter Design
What a fabulous idea! It's a holographic almost ombre look at the back, and that's the part you'll want to do first. On these nails, those silver designs are decals applied over the top. The other way that you could recreate these is by painting your nails silver, then placing the decals on top (with the aim to remove them once the nails are dry), and then painting over the top with this ombre blue to purple holographic look. When you take the decals away, you should be left with the silver shimmer outline just like you can see here.
Products used: F.U.N Lacquer in Frost
25. Red & Gold Glitter Ombre Nails + Christmas Tree
Glitter at the base of the nails is such a simple idea, and one that is often overlooked when it comes to easy winter and Christmas nail ideas. This one has been perfectly matched with a 'squiggly' Christmas tree. Let's face it, this Xmas tree design is a lot easier to recreate than some of the other intricate designs we've come across!
Products used: OPI in All I Want for Christmas and All Sparkly And Gold.
26. Snowflake Accent Nail
Make just one of your nails a big feature, such as this snowflake feature nail, when you just don't have the time to head to the salon, or give yourself a home manicure. It's a great way to give your mani a new lease of life when you don't have the time (or patience) to re-do them all, and it'll help bring the Christmas cheer to your life. That's what we keep telling ourselves anyway!
Products used: Lilian Eve in Mere Mortals.
27. Pretty Snowflakes + Christmas Tree Accent Nail
Wow! What a fabulous look. To start with, you have that silver glittery / shimmery shade on the bottom. Then you add a few bright white snowflakes, either hand-painted or decals. After that, get doodling with your Christmas tree. Make sure everything stays exactly where it should with a good top coat, and then show off your nails for all the world to see.
Products used: Bundle Monster snowflake stamps, a white nail polish and a Christmas tree vinyl.
28. Cute Design for Short Nails
If you have short nails, you can still play around with these easy winter and Christmas nail ideas, you just might need to amend them a tad to match your shorter length. We love these red reindeer designs, a great way of 'shortening' a design to make it fit a smaller nail. You still have the white background, you still have the refiner design, and you still have the glitter on the tips. It's all the benefits of long nails when you think about it.
Products used: China Glaze in Son of a nutcracker.
29. Holly Design
These holly design nails are perfect for when you want to smooch your crush this Christmas, and they allow you to get a little creative too. Berries and leaves are easily painted, and you can include a touch of sparkle with some glitter added for good measure. There are lots of ways you could recreate this one so that it suits you. We can't wait to see what you come up with.
Products used: OPI in That's Hula-rious! + acrylic paint.
30. Cute Gingerbread Nails
Gingerbread is a Christmas classic and these nails have been inspired by the festive treats. There is a different design on each nail that include: a gingerbread face, buttons, glitter and a gingerbread wave design. These nails are super cute and would look great for any Christmas event.