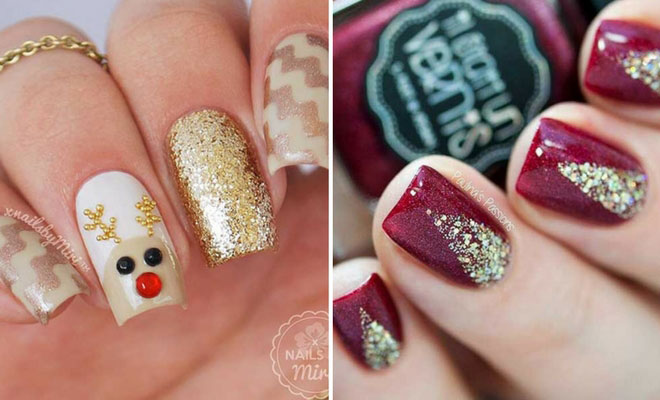 Instagram
Beauty
69 Easy Winter and Christmas Nail Ideas
By
|
11. Pink Glitter Christmas Nails
You might not have thought about using pink glitter in your easy winter and Christmas nail ideas, but we think it goes really well with this light silver / white hue. It's still a Christmassy look, especially with that pretty pink Christmas tree, but it's not too Christmassy. Perfect for those who don't really dig the red, green, and gold theme.
12.  Cute Winter Nails
We love the idea of this – it's like a winter sweater on your nails. And because it's only on the one featured nail, you can easily nail it! (See what we did there?) Again, if the hand-painting of this brings you out in a cold sweat, cheat it with nail wraps, or consider using nail stamps instead. You can get a wide range of designs, meaning there's no limit to the crazy creations you can come up with.
13. Easy Last-Minute Christmas Nails
If it's something last minute you want, this is a great look. One red nail, one green nail, one gold nail. That's all you need to make your hands look festive, and you could put them in any order, in any way that you like. If you already have red nails, for example, remove the polish from one nail and paint it green instead. Then do the same with another, and repaint it gold. By doing that, you're getting maximum use out of your old mani, and you're still getting a fresh new look at the same time.
14. Red and Gold Bow Design
Gold nail foils are the trick when you want to wrap your nails up in a bow, and you can buy a bow embellishment from many places online. You could even switch it up to silver if gold isn't really your thing. It's cute and simple, and everyone will want to copy them. It's great to be a little Christmas trendsetter right?
15. Super Cute and Easy
Are you in love this Christmas? Why not show the whole world with these adorable easy winter and Christmas nail design? That mini Christmas tree is too cute for words, and those love hearts are simple, yet add something to these nails that the other's we've shown you just don't have. If you love Christmas, or you're just in love, and you want to shout about it, we reckon these are a winning selection.
Products used: Serendipity Nail Polish in Big Red Bow, Finishing Touch and Starfish Tree Topper.
16. Snowman Design
What winter would be complete without a snowman? What winter nail design would be complete without a snowman? The snowman is also a really easy character for you to paint on your own nails too. And these candy cane blue stripes are also simple. This means that these easy winter and Christmas nail designs are perfectly achievable at home!
Products used: Sally Hansen in Breezy Blue, Milani in White on the Spot, F.U.N Lacquer in Cinderella, and Hema Glitter Topcoat #8.
17. Elegant Snowflake Nails
When you're painting your nails and it's just one base shade, you should only need three strokes of your brush to completely cover them. One swoop down the middle, and one down each of the sides. Let it dry, and then repeat, and that's how you get a decent base. You'll want to make sure that the coats aren't too thick too – that'll cause a gloopy mani, and it'll take an age for it to dry as well.
18. Mistletoe Nails
Who do you fancy kissing under the mistletoe this year? We're just looking for an excuse if we're being honest, and with these mistletoe nails, we've got it! Now … who can we kiss? We're obsessed with the red glitter look in these easy winter and Christmas nail ideas, and the best way to achieve this look is to start with a solid bright red base, and then add a couple of layers of large red glitter.
Products used: OPI in Alpine Snow, China Glaze in The Heat is on, Seche Nails in Seche Vite, and Red holo glitter from Michaels.
19. Christmas Nails with Rhinestones
If you're going to have rhinestones and other embellishments on your nails, make sure you carry a spare tube of glue in your bag at all times. It's going to be just your luck that you'll lose a stone right at that crucial moment. At least if you have nail glue in your pocket or bag, you can pick it up and put it right back on again. In fact, nail glue is quite a handy thing to have in your bag. Just saying.
Products used: Essie in Pure Pearlffection, white base and rhinestones.
20. Festive Design
This festive design is brilliant, and it encompasses a couple of different designs which gives you even more opportunity to play around. You could recreate the entire look, or just pick one nail and focus on that. Which out of this lot is your favourite? We really like the red Christmas jumper style nail in this design, but we're in love with the whole lot!