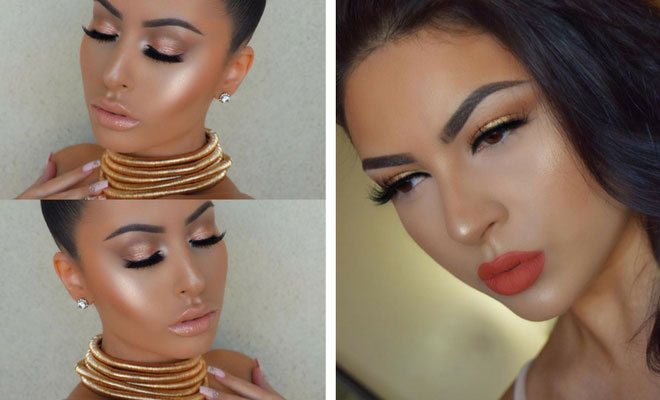 Instagram
Beauty
25 Easy Makeup Ideas for Summer Parties
By
|
Summer is all about having fun and going to lots of parties.  Nobody wants to look the same for every party they attend; therefore, you will want to try out different makeup looks.  Summer is about experimenting with your makeup and feeling great in the sun.  Everyone knows that if our makeup looks great, we feel great too. Wearing makeup can often boost our confidence and puts us in a good mood. When we know we look good, we stand tall and proud.
When deciding what makeup to wear for a party, we tend to look for inspiration on social media to see what's currently trending.  Not everyone can afford a makeup artist, so why not teach yourself how to apply makeup the professional way.  This will save you money and time.
We have come up with 25 easy makeup ideas for summer parties that you could do at home. Have fun!
1. Dark Gold Eyes + Bright Orange Lips
Have dark golden eyes and bright colour lipstick. If you choose to opt for dark eyeshadow, for instance, dark gold then team with a bright orange colour lipstick.  Orange is a warm colour and will instantly make your skin have the summer glow before you step foot out the door!
2. Purple and Orange Eyes
Go for the wow effect. If you want to make a statement and stand out, purple and orange combined are the perfect solution.  The purple shades add colour and the orange will compliment your skin tone.  This works for any skin and eye colour.
3. Gold Glitter Eyeliner
All that glitters, definitely shines. Apply a thin line of gold glitter just above your eyeliner to show a little sparkle.  This will give off a brilliant shine and will compliment your makeup.
4. Brown and Green Smokey Eyes
Are you feeling the earthy tones? Brown and green eyeshadows, look great with any colour eyes but will enhance green eyes.  Both of these colours are earthy tones and will make you stand out from the crowd.  You could always alternative the two colours for another party, so that the green eyeshadow is on the eyelids and the brown is underneath the waterline.  Whatever you decide, it will look great!
5. Bronzey Copper Eyes
Bronze and copper are quite similar in colour so work well together. The copper shade will brighten up the darker bronze shade which creates a natural shine.
6. Perfect Summer Look
Are you looking for the perfect summer look? Look no further, you have found it.  This is a simple nude, pink tone that  will set the summer vibe.
7. Gold Glitter Eyes + Matte Orange Lips
Keep the glitter to your eyes. Let your eyes do all the talking by applying gold glitter to your eyelids.  The shine and sparkle will come from your eyes alone.  Keep your lips looking sexy with a matte orange shade lipstick.
8. Blue Eyeliner
Electric blue eyeliner creates the summer style. This almost has a retro look about it.  If you're feeling funky and sexy, try this.  It will look spectacular and will get you attention all day and night.
9. Purple Smokey Eye
Fun, bright and sexy. Purple is a fun colour and when applied on the eyelids and lower lash line, it looks great.  Light purple, like the photo above is a colour for summer.  Light purple tends to be trending in summertime whilst dark purple trends for the colder seasons.
10. Simple & Easy
This is a simple and easy look. Bright eyeshadows are a must have this summer.  They open up your eyes and look fun and summery.  Apply a golden shade to your eyelids and the lower lash line.  You can then add a touch of a lighter golden shade or white to the corner of your eye.  If you are used to having dark colours, try this.