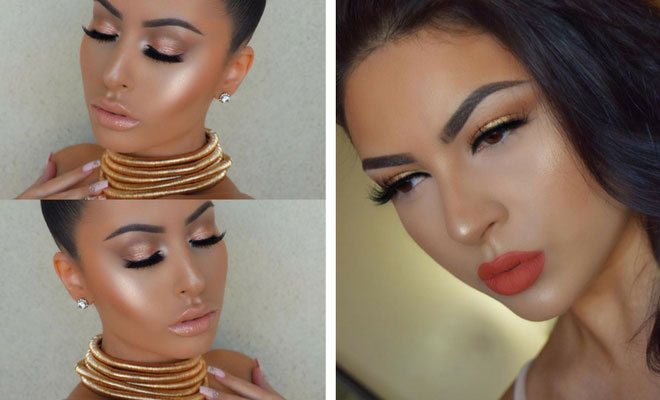 Instagram
Beauty
25 Easy Makeup Ideas for Summer Parties
By
|
11. Gold & Green Eyes
Gold is an amazing colour for summer. Gold and green are uber amazing!  The glitter will shine and the green will add the extra boost of colour.
12. This Look Screams Summer!
Think JLo with this look. This is screaming summer.  Once you try this, you will probably like it that much, it will become your "go to" party look.  Everyone wants to look fresh and amazing and with this makeup look, you will do that.  Go for a bright coral colour lipstick to add to the summer vibe.
13. Blue Smokey Lower Lash Line
Blue will add colour to your makeup. Keep your lips quite nude and neutral and go for a shocking blue colour on the lower lash line.  This will draw attention to your eyes and set off your makeup look.  Don't forget to smudge the blue shade to achieve the smokey effect.
14. Purple & Bronze
Purple and bronze work so well together. When mixing colours, you don't have to blend the two colours together.  Take a look at the photos above, you can see that the bronze shade is on the eyelids whilst the purple tone is underneath the waterline.  These colours are two colours that look great together and blended together.
15. Pink and Champagne Eyes
Champagne tones look fab. Try mixing pink with a champagne tone eyeshadow, it will give you a natural looking glow and will look party ready.
16. Pop of Purple
Add a touch of purple to your eyelids. We don't mean go crazy for the purple eyeshadow and brush it all along your eyelid.  Nope, we are saying just add a thin line of purple above your black wing tip.  This will look perfect and adds a little touch of colour to your face.
17. Blue Smokey Eye
Show off your creative and bright side. Blue smokey eyes will show off your face and definitely make you stand out from the crowd.  Add a lighter blue or a green colour to the corners of your eyes to make your eyes look wide-awake.
18. Glowing Makeup Look for Summer
Glowing makeup looks amazing in the sunlight. Add highlighter to your cheekbones and upper eyelids to create a natural looking glow.
19. Smokey Green Lower Lash Line
Add some colour to your lower lash line. Instead of applying the colour to your eyelid or lips, apply to underneath your eyes.
20. Orange and Gold Glitter Eyes
Orange and gold are the perfect summer combination. They are both warm colours so will create the perfect summer feel.  If you're wearing a similar colour outfit, they will bounce off one another.