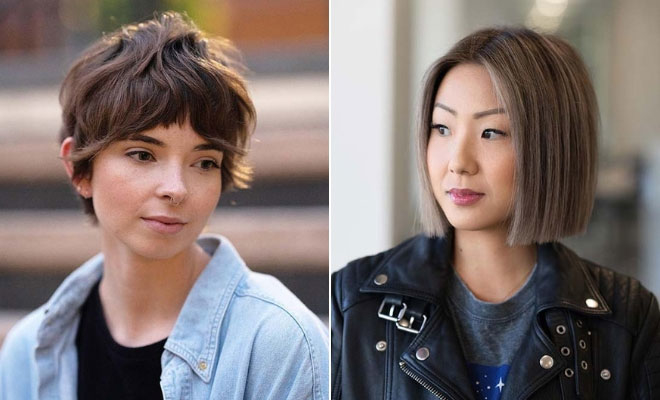 Instagram
Beauty
23 Cute Short Haircuts We Love for 2020
By
|
11. Pastel Bob
Next, we have bold bob to show you. For this look, the hair is cut into a bob and pastel pink color has been added to the hair. The pink color really jazzes up the classic bob. Hair like this is fun and stylish. It would be perfect for the spring and summer. Recreate this or choose a different vivid color for your hair. Purple or blue would look awesome!
12. Cute Pixie Cut
Love the pixie cuts? If so, you need to take a look at this. Here we have a simple pixie with bangs. This hairstyle is so pretty and easy to wear. It will suit women of all ages and it can look edgy and modern or chic and classy depending on how you wear it. This is one of our favorites and it looks easy to style and maintain so it is perfect for the busy ladies.
13. Short Cut with a Side Braid
The next hair idea features another short cut with a cute braid. This time the hair is cut into that chic style where the hair is longer at the front and shorter at the back. Light blonde color has been added to the hair as well which really makes statement. The hairstyle is finished off with a pretty braid. This haircut is so trendy and modern and you can recreate the style with or without the braid.
14. Sleek and Modern Short Bob
This next hairstyle is another one of our favorites! Here we have a sleek and modern bob. The hair sits just below the chin, has no bangs and it has a center part. It is a simple style but it just looks effortlessly trendy. We love the color too. This is a chic and beautiful bob that will look amazing on everyone.
15. Stacked Bob Cut
The stacked cut is another popular style. So, when the hair is stacked, it has layers at the back which creates shorter hair at the back and longer hair at the front. Here is another beautiful example of it. The hair is sleek and the longest section of the hair just hits the chin. It is a sharp and trendy cut that will completely transform your hair.
16. Stylish Blonde Bob
Color can really transform a short cut and this next idea is proof of that. This hairstyle features a beautiful bob. The hair is also a very bright blonde shade. Now, if this bob were a different color such as a more natural shade, then it would look more subtle and low-key. As the hair is super light blonde, it makes the hair more modern and trendy. When choosing a short cut, also consider the color as this will add to the hair's overall vibe.
17. Very Short Cut with Bangs
If you like the short cuts with bangs, then you need to see this. Here we have a short and straight cut with heavier straight across bangs. As you can see, the heavier ones make more of a statement than some of the more lightweight bangs that we have featured. This is a stylish and bold hairstyle that will suit everyone.
18. Pixie with an Undercut
The undercut is another short haircut that has become very popular for women. When hair has an undercut it will be longer on the top section of the head and shaved around the back and sides. This style is a gorgeous example. As you can see, the pretty blonde hair looks like a classic short cut on the top but it has that trendy undercut too. It is a modern and super stylish look that is great for the ladies who want to try something new.
19. Chic Grey Hairstyle
Next, we have a trendy cut and color to show you. For this look, the hair is cut into a chin length bob and the hair has light bangs too. The hair is also a bright grey shade. We love the grey color because it is so stylish and it shows how amazing a short cut can look for the naturally grey ladies. Recreate this softer style or you can for something more sleek and sharp.
20. Textured and Beachy Hair Idea
Thinking about going for the chop for the spring and summer? If so, this idea is for you. Here we have a textured short cut with added blonde color. The texture and color create a beachy sun-kissed look while the hair length is easy to wear and manage during the hotter weather. It is a gorgeous style and is also practical.
21. Short Curly Red Hairstyle
The next hairstyle features another bold color. Here we have a short and curly cut. The hair is also a bright red color that is super trendy all year round. The color and cut look amazing together and the red makes such a statement. There is a red shade to suit everyone. Try lighter and brighter tones with the cut for the spring and summer. Darker and richer shades are best suited to the fall and winter.
22. Short Bob with Side Bangs
Next, we have another short bob with bangs. This time the hair is about chin length with long side bangs. The hair has lots of volume and layers. It is a great example of a short cut for the ladies with thicker and fuller hair. This hair looks effortlessly beautiful and the cut will suit everyone. It is just easy to wear and versatile.
23. Cute and Short Ponytail
The last of our cute short cuts is this short and pretty ponytail. We wanted to include this because it shows how you can still wear your short hair in styles like the ponytail. As you can see, the shorter hair looks so chic when worn in an updo. This is another hair idea that can be dressed up or down to suit any occasion.
We hope you have found a cute short haircut to try!