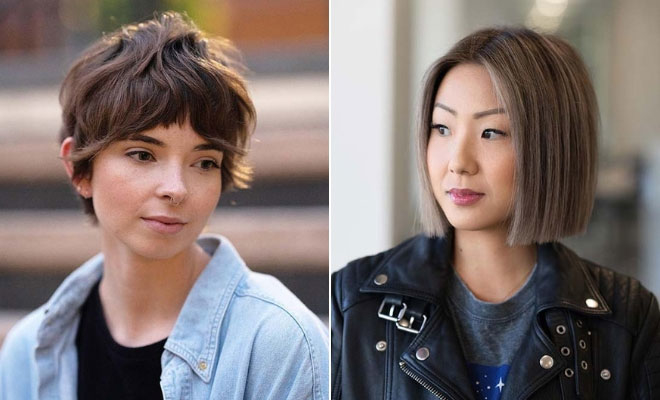 Instagram
Beauty
23 Cute Short Haircuts We Love for 2020
By
|
Fed up with your hair and want a change? Maybe you want to finally be brave and try a short cut? If any of these sound like you, then Stay Glam has you covered. We would like to show you 23 cute short haircuts we love for 2020. Short hair can seem a bit daunting to some but these show that you can create different looks, wear updos and still accessorize without compromising on style. There is a haircut for everyone, from the classic bob to edgy shaved styles. These are perfect for the ladies who have short hair and just want some fresh hair inspiration or for those with long locks who are ready for something new. Once you try one of these cuts, you'll never look back. Take a look!
1. Cute Short Bob with Bangs
The first hairstyle that we have to show you is so cute and easy to wear. Here we have a short bob with lightweight straight across bangs. It is a chic and simple cut that will suit everyone. You can recreate this style or you can try a similar cut with side swept bangs. Either way, it will be a stylish short cut.
2. Elegant and Chic Short Hairstyle
Short hairstyles can look so elegant. Ladies like Audrey Hepburn are proof of that. Next, we have a beautiful and classy short haircut to show you. For this look, the hair is shorter at the back and longer at the front. The length change is soft and subtle so it keeps the hair chic. Blonde balayage highlights have been added to the front sections of the hair. We love the stylish cut and the sun-kissed color. This hairstyle would be great for the summer.
3. Short Cut with Straight Across Bangs
Next, we have a modern and trendy cut. This time the hair is cut into a bob that sits just above the chin. There are also straight across bangs too. It is a sleek and versatile style that can be dressed up or down to suit any occasion. You can recreate this or you can try bringing the length of the hair down to the chin. Side swept bangs would look amazing with the cut as well.
4. Pastel Pink Pixie Cut
Want to try a new cut and color? If so, take a look at this! Here we have a short cut that is very short around the back and sides with longer hair on the top of the head. The hair is also colored in a pastel pink shade. This is such a funky and fun hair idea. It is perfect for the ladies who like more bold and daring styles. This pink shade would be great for the spring and summer but you can recreate the cut in any color.
5. Pretty Hairstyle with a Vintage Vibe
This next hairstyle is so cute and pretty. The hair is cut to just below the chin with center-parted bangs. It is a relaxed and stylish short cut and it also has a vintage vibe. This is a beautiful hairstyle and it is great for the ladies with looser natural curls. If recreating the look, try and keep the bangs lightweight to keep the softness of the style.
6. Braided Pixie
Pixies are one of the most popular short cuts and this next idea shows how to wear a pixie in style. Here we have short blonde hair and the hair has been braided on the top section. We love everything about this. The cut is stylish, the color is bold and the braid shows that you can style your hair in different ways even though it is short.
7. Simple and Stylish Hair Idea
Looking for a simpler cut that is easy to wear? If so, this could be perfect for you. For this look, the hair is cut into a short and layered style with long side bangs. The top layers have blonde highlights which gives the haircut a trendier vibe. Hair like this is versatile and will suit women of all ages. The hair can look as modern and edgy or as chic and elegant as you want to make it. It's all about how you wear it.
8. Bob with Short Bangs
Next, we have another bob to show you. This one looks like a classic bob but with trendy short bangs. It is such a cool and cute style. The combination of the traditional bob with the modern bangs is so amazing and the two compliment each other perfectly. You can recreate this or try even shorter bangs to suit the micro bang trend, or you can make them longer.
9. Cute Accessorized Short Cut
If you are a little worried about going for the chop because you don't know how to style shorter hair, then this is for you. This hair idea features a cute blonde cut with side swept bangs. The hairstyle is finished off with a pretty blue scarf. We love this idea because a scarf really jazzes up the hair and you can make your hairstyle look unique. Any scarf with any color and pattern can be used. You can also use a scarf with any hair length.
10. Edgy Shaved Hair
There are so many different short cuts to try from bobs to pixies. But have you ever though about having your hair shaved? This may seem like a very bold choice but as you can see on the image below, shaved hair looks amazing. This edgy lady went very short around the back and sides while the hair on the top is a little longer. It is a statement making short cut that will make you stand out from crowd in style.