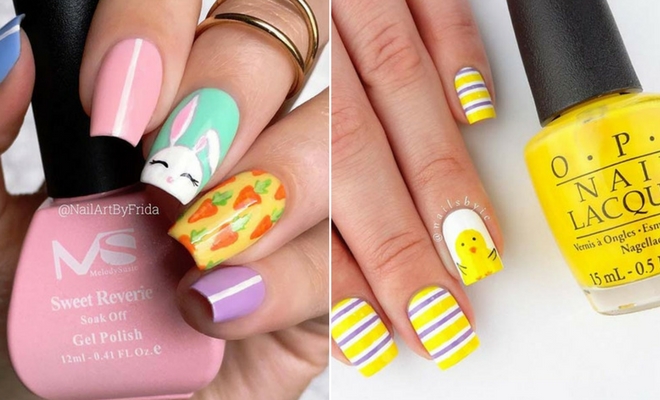 Instagram
Beauty
61 Cute Easter Nail Designs You Have to Try This Spring
By
|
21. Pretty Easter Nails
Next on our list is this vibrant Easter manicure idea. All the nails are painted in bright and fun colors and there are also two accent nails. One accent nail has a carrot print and the other has the cutest rabbit we have seen! We love this idea! Something like this is better on longer nails.
22. Cute Easter Eggs and Bunny Nails
Next, we have a cute and fun Easter nail idea. The nails are painted in two colors and each one has a white Easter design which includes Easter eggs and a bunny. This is a colorful and pretty idea that will suit everyone. Recreate the whole look or just one of the nail designs. You can check out the products used to create this manicure on the page below.
23. Colorful Polka Dots
If you want a pretty nail design for Easter but want it to look stylish after the event, then this idea is for you. Here we have colorful polka dot nails. The nails are painted in white with lots of small dots in different colors. It is a simple but statement making idea. We love this because it suits the spring season and the fun of Easter. Try a similar look to this or use your own color palette. You can take a look at the polishes and colors used on the nail artist's page.
24. Chick and Easter Egg Design
Our next idea is bold, colorful and super cute! Most of the nails have an Easter egg design and there is one accent nail with an adorable chick. You can create the Easter egg design with any color palette but keep it light and bright as it is spring. There is a YouTube tutorial available down below by Nails By Miri so you can easily recreate this manicure. You can also see what polishes were used in the description of the video.
25. Two Bunnies
Looking for unique Easter nails? Then you need to check out this idea! The nails are all painted in a light color and three of the nails have an Easter design. One is an Easter egg pattern, the next has two adorable bunnies and the last nail reads "Some bunny loves you". It is a gorgeous nail idea and it is fun too.
26. Simple Spring Yellow Nail Idea
If all the Easter egg and bunny designs are not for you, then you can try something stylish and simple like this. Here we have vibrant yellow nails. Yellow is the perfect color to wear as it suits the spring season, and it is great for Easter because it is a similar color to cute little chicks. To create the look, you can use Ferga-Colada by Wet n Wild or a nail polish like it.
27. Elegant Easter Nails
Just because it is spring and Easter, it does not mean that you can only use bright colors and pastel shades. You can try something more glam and neutral like this. The nails have a color palette of a light shade, white and gold. These nails will be perfect for an Easter party. You can recreate the whole look or try just one or two of the designs.
28. Polka Dots and Chevrons
Next, we have a cute chevron and polka dot look to share with you. The nails are all vibrant shades and most of the nails have a different design. Some of the nails are just polka dots, just chevrons and one nail is a combination of the two. You can create chevrons with nail tape and there are tutorials online to help you.
29. Pink Bunny Nails
Our next idea features an adorable bunny! The nails are all pink with a white and purple pattern. There is one accent nail that features a beautiful white bunny too. You can hand paint a bunny like this or you can buy stencils and stickers online to make it easier. Recreate this cute pink look or choose a different color.
30. Holographic Easter Nail Idea
Looking for a chic and glam Easter design? Then you need to check out these nails! The nails are all painted white with a sweet Easter egg pattern added over the top. The Easter Egg pattern was created with Whats Up Nails – Eggs Stencils and you can take a look at the colors used on the Instagram page below. It is a fun and simple design that will help you celebrate Easter in style.