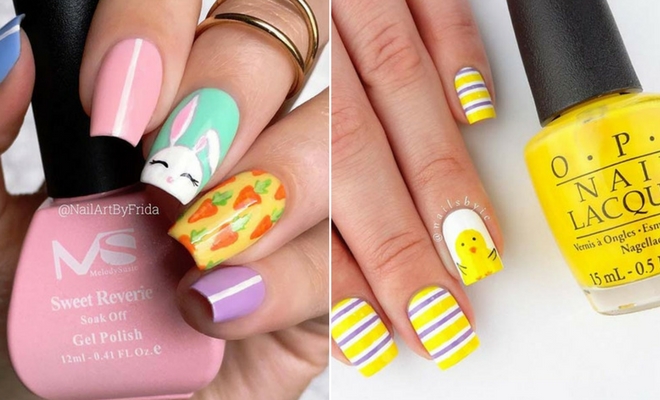 61 Cute Easter Nail Designs You Have to Try This Spring
11. Chic Easter Nails
If you want to an Easter manicure that celebrates the occasion but still looks chic and trendy, this idea could be for you. The nails use a soft pink, dark purple and has a bunny accent nail. We love how the bunny is cute but simple and the use of light and dark tones. This is a unique Easter look.
12. Yellow Chick and Polka Dot Nails
Our next nail idea features the most adorable Easter chick! The nails are painted in a vibrant yellow with orange polka dots and there is a chick accent nail. We think the chick is super cute because it looks like it has just hatched. There are tutorials available to help you create the chick and egg design.
13. Easter Egg and Bunny Nail Art
Looking for nails that make a statement? Then these could be for you! The nails feature a variety of designs including an Easter egg pattern, bunny ears, vibrant polish with gems and a 3D bow. 3D bows like these look super cute for any manicure. These are simple to use, and you can buy them online and find out more information on the application.
14. Polka Dots and Easter Bunny Nails
Nothing is cuter than polka dots and bunnies for Easter. These Easter nails use a light pink and blue with white polka dots. There is also a white bunny accent nail. For this you could recreate the whole look or maybe just have the polka dots or bunny. Either one would look great for spring.
15. Fun Carrot Nails
What do Easter bunnies love? You guessed it carrots! Our next nail idea features a fun and quirky carrot design. The nails are painted white and have a cute carrot print all over. You could recreate a similar look with bigger carrots. There are plenty of tutorials online to help you create the look at home.
16. Cute Bunny and Carrot Nails
Next, we have a manicure idea that combines many of the designs we have featured together. Each nail is different and includes: a large carrot, Easter bunny, small carrot print and ombre design. Nails like these will take effort and time but the end result is worth it.
17. Pastel Polka Dot Nails
Earlier in the post we featured pastel nails. Our next idea shows a different way to wear the must-have shades. Each nail is painted a different pastel color with white polka dots over the top. This is a super cute design that will suit all nail lengths and shapes.
18. Easter Bunny Accent Nail Idea
If you liked the Easter bunny idea but want a simpler bunny design, these nails could be for you. The nails are painted white with tiny colorful dots and there is also a bunny accent nail. As the nail only features the face it will be easier to recreate. With a steady hand and practice you could hand paint an adorable rabbit just like this.
19. Easter Bunny and Glitter Nails
Want Easter nails that are cute and glamorous? Then these nails are perfect! The nails are painted in a vibrant blue with one silver glitter accent nail and one bunny nail. You could recreate this look with any color scheme, any bunny design and any glitter color.
20. Pink and White Easter Chevron Design
Our next idea combines the chevron print and bunny design. The two designs look great together and are perfect for Easter. For a bold look choose a bright pink like this or for something subtler choose a softer shade. You could even add some polka dots.