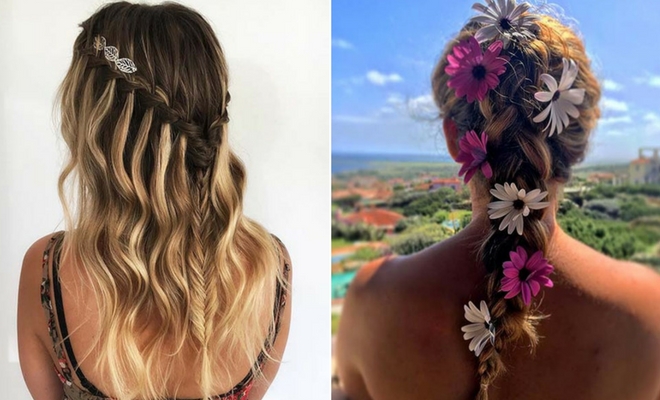 Instagram
Beauty
41 Cute Braided Hairstyles for Summer 2019
By
|
11. Boho Braids
If you like the boho style, we have another hairstyle for you. This one is a half up and half down style with a braided bun. It also features little braids in hair left down. The style is beautiful would suit any girl. You could even add some feathers or flowers for a unique boho hairdo.
12. Five Strand Braid Half Updo
If you want something more advanced then check out these five strand braids. These complex braids create a unique statement look. You will give everyone hair envy with intricate styles like these. A hairstyle like this will be very trendy for the summer. There are plenty of tutorials available online so have a practice.
13. Braid into a Ponytail
Summer is a very popular season for weddings. If you have a wedding coming up consider a braided hairstyle like this one. It is beautiful, stylish and summery, what more could you want? You could make it extra special by adding some gems or flowers.
14. Braids into a Bun
We have shown you a couple of braided summer hairstyles with buns, here is another alternative style with just one. It features double dutch braids that go into a bun. The double braids are a great style to learn as there are many ways to style them. A hairdo like this will look cute in summer and beyond.
15. Trendy Side Braids
Our next pick has a rock chick vibe. It features three very small braids on one side with voluminous hair on the other. This combination creates a unique and edgy look. Something like this would be a great way to give your rocker look a touch of summer.
16. Loose Braid with Volume
If you want something simpler, then this single braid is for you. It is just one loose braid with plenty of volume and the finished result is stunning. Simple braided summer hairstyles like this will suit anyone across all ages for any occasion. You could even glam it up for a summer wedding or special occasion.
17. Bold Braids
Our next pick shows how to wear bold braids in style. The braided hairdo features two double braids with two different braid styles. Something like this would look amazing all summer. If you wanted to step up your style game even get your hair colored into a pastel blue or vibrant pink. Bright hair colors are bang on trend this summer.
18. Loose Braided Crown
Here is another style that shows how to wear a braided crown this summer. This gorgeous hairstyle features a loose crown braid that blends together to create a single braid. It is a beautiful boho hairdo that will look amazing for any summer occasion. You could even add some little braids to the hair left down.
19. Braids for Medium Length Hair
Braids do not have to include all or most of your hair you could just have a small braid like this one. It just jazzes up the normal style for the new season. To make it trendy and unique you could add a clip design like this one. Hair clips can create funky patterns. On this hairstyle, the clips were placed into a triangular design. We love this look.
20. Half Up, Half Down Fishtail Braid
Fishtail braids look beautiful so why not add the braids to your half up, half down style. The braids just refresh the style ready for summer. You could recreate this easily and in little time with some practice. The great thing about fishtail braids is that they don't have to be perfect to look good. Loose fishtail braids look awesome.