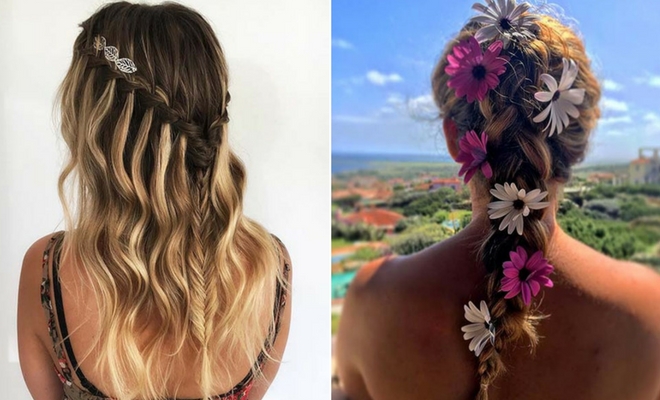 Instagram
Beauty
41 Cute Braided Hairstyles for Summer 2019
By
|
Summer is almost here, so it is a good time to start thinking about your summer look. One of the most important things to consider is the hair. Changing your hair or trying a new style will instantly refresh your look ready for the new season. Braided hairstyles are on trend and super popular for the summer. You can look cute and stylish but also tie your hair up on hot day. We have put together 41 of the best braided hairstyles for summer. There is something for everyone.
1. Double Dutch Braids
First up we have this double braid hairstyle. This is an easy style that can be created with practice. You could wear it like this or continue the braid all the way to the ends. It is a great style for hot days or days at the beach as the hair is tied up out of the way. You can keep cool and look cute at the same time.
2. Floral Braid
Jazz up your braided summer hairstyles by adding some flowers. The pretty pink and white flowers in this look just give the hairstyle a summery vibe. Flowers are a great way to add a pop of color to your outfit. You could recreate something like this with any flower you like.
3. Waterfall Braid
Half up, half down hairstyles give you the best of both worlds. This half up style features a gorgeous waterfall braid. The hairdo is finished off beautifully with little leaf accessories. You could recreate it with accessories or without. It is a cute style that would look great for any summer occasion.
4. Braided Ponytail
Next, we have a beautiful ponytail and fishtail braid hairstyle. This summer style is very pretty and would look great with a floaty dress and natural makeup. It is a versatile style that could be worn anywhere from a festival to a day at the beach or even a wedding.
5. Braided Crown and Bun
Braided crowns are a very popular style. To create a summer braided crown why not wear the braids with a bun. This creates a cute hairstyle perfect for the hot weather. You could even add in some flowers for a bohemian hairdo or some cute hair accessories like gems for a festival.
6. Accessorized Braided Style
If accessories sound like your thing, you will love this next braided style. It features intricate braids with blue and green gems. We love this hairstyle because the styling possibilities are endless. You could have different colored gems and you could try different braids to create a unique look.
7. Braids and Waves
Bohemian style is always a must have for the summer. Boho braids are an easy way to give any outfit the bohemian vibe. For a simple hairstyle try something like this. Create beach waves, there are plenty of tutorials online and then just add some braids around the hair. This is a cute and easy summer style to make you look like a boho babe.
8. Festival Braids
Like the cornrows? Then this style is for you. This summer hairdo features cornrow braids and soft waves. A hairstyle like this will suit everyone and is great for festivals, hot days and days at the beach or the pool. Your hair is out of the way but still looks gorgeous.
9. Glitter Roots and Braids
Glitter roots have become a festival fashion must have. This sparkly trend is great for the summer, it really suits the fun summer vibe. Glitter roots looks amazing with braids and the glittery braid would be perfect for festivals and vacations. Have fun with it and add glitter in your favourite color.
10. Crown Braid Updo
For a simple and stylish summer braided style, try a crown like this. It is a beautiful hairdo that would be great for bad hair days, hot and sunny days and if you haven't got a lot of time to style your hair. You could jazz it up for a special occasion or night out.