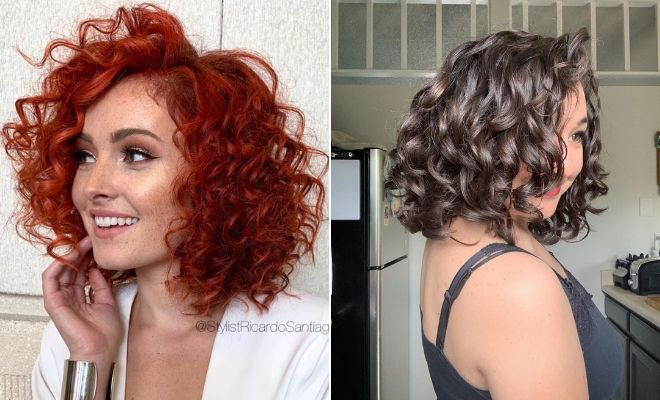 Instagram
Beauty
23 Curly Bob Hairstyles That Are Trending Right Now
By
|
11. Ash Blonde Curls
The hair is cut to sit just below the chin and it is colored in different ash blonde shades including warm and cool tones. Hair like this will look amazing for the summer. You can also have a similar cut and color with loose or tight curls too.
12. Inverted Curly Bob
Next, we have another simple and stylish hair idea. For this look, the beautiful curly hair is cut into inverted bob style. There are no bold colors or trendy cuts, it is just easy to wear and chic. A haircut like this will suit everyone and it can be worn with any hair type, from loose waves to tight curls.
13. Bob with Loose, Natural Looking Curls
If you have looser natural curls, then consider a hairstyle like this one! For this look, the hair is cut into a long bob as the length of the hair is just above the shoulders. The curls are loose which gives the hair a relaxed and summery vibe. It is a beautiful hairstyle and can be recreated in any hair color.
14. Bold Blue Curls
Tired of your hair and want a new hairstyle that is bold and daring? Then try a bright bob like this one! The hair is cut into a stacked bob as the hair is longer at the front and shorter at the back. It is finished off with a vibrant blue color. Hair like this is perfect for the ladies that want to stand out from the crowd. Try the blue look or choose your favorite bright hair shade.
15. Curly Bangs
Give your hair a complete makeover with this next hairstyle. Here we have hair that is cut into a beautiful, layered bob and it is finished off curly bangs. The bangs and stylish cut will transform your hair and it will no longer look dull and lifeless.
16. Curly Bob Weave
Curly long and short bobs are one of the most popular hairstyles right now. Ladies that are afraid to cut they hair short or aren't ready for a bold change can experiment with curly weaves and wigs. These styles look natural and are easy to install. If you want to find out how you can achieve this cute bob look, make sure to check TheHeartsandCake90's YouTube tutorial.
17. Purple Messy Curls
Love the vibrant hairstyles? Then this next idea is for you. Here we have an amazing curly bob that is colored in a bright purple shade. Purple is a bold and stylish color that will look fabulous on everyone! Try a bob like this or you can try a different purple shade. You can also try purple highlights instead of full head color if you want a subtler look.
18. Curly Blunt Cut Lob
There are lots of different cuts and styles out there. A trendy hairstyle you can try is a bob with a blunt cut. Hair with blunt cut is very sharp and precise. This next bob is a stylish example. The hair is cut beautifully and it has lots of tiny curls. Try a trendsetting bob like this or you can opt for a shorter style. Either way, your curls will look amazing and your hair will be easy to maintain and style.
19. Beautiful Bob with Tight Curls
If your hair is very curly, then consider trying a bob like this one. The hair has a stacked cut, so it is longer at the front and shorter at the back and it is about chin length. This is a gorgeous hairstyle because it shows how stunning tighter curls can look when cut into a bob. Hair like this will suit anyone and it will give you a chic look.
20. Soft Blonde Bob
Thinking about trying blonde? Then you need to check out this hairstyle. Here we have a long dark bob with added lighter brown tones and warm blonde highlights. The blonde is so subtle and the warm shade makes the blonde look more natural. We love this hairstyle because it has a sun-kissed and summery look.
21. Simple Brunette Bob
Our next idea is trendy and simple. For this look, the hair has been cut to about chin length. This is another style that will suit anyone and it is easy to wear. A hairstyle like this is perfect for someone who wants to try the bob cut without being too bold. Also, it would be great for the ladies trying a bob for the first time.
22. Beautiful Blonde Bob
Next, we have a chic blonde bob idea. The hair starts dark at the roots and gradually gets lighter until it is a very bright blonde shade. We love this bob because the blonde blend is just stunning. This is a beautiful hairstyle that will make you look glam for any occasion. You can try this hairstyle with any blonde shade. Honey blonde would also look nice.
23. Curly Bob Wig
The last hairstyle we would like to show you is this black bob with relaxed curls. For this look, the hair is dark and voluminous. The curls are loose and textured. It is a stylish hair idea that will be perfect for any season. Recreate this hairstyle or try tighter curls. Either way, it will look fabulous.
We hope you have been inspired by of all of these beautiful curly bobs!