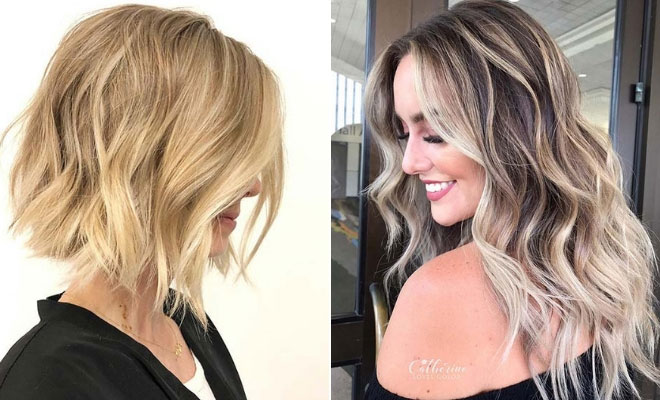 23 Best Blonde Highlights Ideas for 2019
The summer is almost here so it is the perfect time to try a new hairstyle. One look that would be amazing for this time of the year is blonde highlights. Blonde highlights will brighten and freshen up your hair ready for the new season. Not only that, but you will look sun-kissed and glowy too! To give you some hair inspiration, we have found 23 of the most beautiful blonde highlights. There are lots of different shades and even some stylish short cuts that would be great for the summer too. Take a look to find your new hairdo.
1. Subtle Highlights for Blonde Hair
The first idea we have to show you features blonde highlights for blonde hair. Here we have a trendy bob that is a sandy blonde color. Blonde highlights have been added over the top in a lighter and brighter shade. As you can see, the highlights are subtle but they do give the hair a lift. This is perfect for the blonde ladies with hair that has been looking a little dull. These will give your hair new life. Try the cut to for a stylish look.
2. Dark Brown Hair with Blonde Highlights
Next, we have a highlighted hair idea that has a summery and beachy vibe. The hair is a very dark shade with added light blonde highlights. We love this hair idea because the blonde brightens the hair and with the waves, the hair looks sun-kissed. Hair like this will suit everyone and it is perfect for the summer.
3. Blonde Ombre Hair Idea
If you want a bolder blonde hairstyle, then you need to check out this idea. For this look the hair is a dark brown shade at the root and lighter brown and blonde highlights have been added. A lot of blonde color has been used so it really makes a statement. It is a gorgeous hairstyle and it is perfect for the ladies who want to transform their hair.
4. Blonde Highlights for Short Hair
Thinking about trying a new cut as well as a new color? Then take a look at this. Here we have a gorgeous short hairstyle with blonde highlights. The blonde is cool and icy so it really stands out against the dark hair color. We love the cut and it shows how to wear highlights with short hair beautifully. Recreate this look or you can try a warmer blonde shade. Either way, it will look amazing.
5. Glam Caramel Blonde Highlights
This next hair idea is so glam and gorgeous! The hair looks black at the root with added brown and caramel highlights. We love the caramel blonde because it looks stunning with the dark hair. The style is beautiful too. Try the style as well for an occasion where you want to impress. Hair like this will suit everyone!
6. Champagne Blonde
There are so many different blonde shades available and this next one is one of our favorites. Here we have gorgeous sleek hair that is a light brown shade at the root, then champagne blonde highlights have been added. The champagne color is so bright and gorgeous. It is a glam color that will make you stand out from the crowd. Recreate this hairstyle or you can try adding less blonde for a subtler look.
7. Bright Golden Blonde Highlights
Next, we have a stunning blonde hair idea. The hair is light brown at the root with bright blonde highlights. These highlights have a mixture of warmer and cooler blonde shades. As you can see, the different colors look amazing. We love this hairstyle and it will look glam and gorgeous on anyone.
8. Icy Blonde Highlights
Our next hair idea is another multi tone look. Here we have very dark hair with light blonde and icy highlights. We love the color combination because the light blonde is quite subtle, but the ice blonde really makes a statement. The contrast between the colors is amazing. This a trendy look and it will transform dull hair that needs a lift.
9. Face-Framing Highlights
You don't have to add lots of blonde to create a beautiful highlighted look. Maybe you could try a hairstyle like this. The hair is a gorgeous brown shade with bright blonde highlights at the front of the hair, while the rest of the blonde is more towards the bottom of the hair. It is a chic and stunning hairstyle that will suit everyone. You can create an even subtler look by adding less blonde at the bottom of the hair too.
10. Stylish Highlighted Bob
Love the shorter hairstyles? Then check out this next hair idea. Here we have another trendy bob cut with added blonde highlights. This is super stylish bob and the blonde is soft which creates a subtler look. It is an easy to wear hairstyle and it would be perfect for the summer. The shorter cut will be easier to manage and the blonde will make your hair look sun-kissed.
Last modified on July 30, 2019