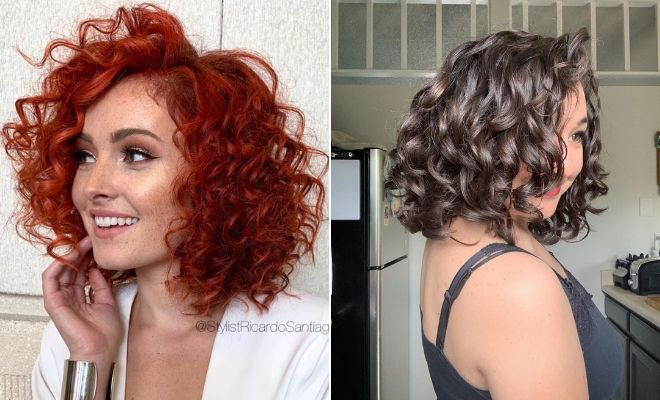 Instagram
Beauty
23 Curly Bob Hairstyles That Are Trending Right Now
By
|
Bobs are one of the must-have hairstyles. When searching for the perfect bob you will find endless amounts of straight bob cuts, but what about hairstyles for the ladies with curly hair? Well, we are here to help and have found 23 gorgeous curly bob hairstyles. There are short bobs, long bobs, hair with tight curls, relaxed waves and more. Any of these will transform your hair and give you a trendy new look that will give everyone hair envy! What are you waiting for? Take a look and snapshot an image to show your hair stylist! You will wonder why you didn't try shorter hair before.
1. Vibrant Red Curly Bob
We would like to begin by showing you this chic, vibrant red bob. The hair is a stylish red shade and it is beautifully curled. This is just an easy to wear hairstyle that will suit everyone and it will look gorgeous for any occasion too. Recreate this hairstyle or you can go a little shorter. This style would look amazing in any color. The look was created using the Joico PowerHouse Reds.
2. Curly Bob with Bangs
Next, we have a beautiful bob with natural curls. The hair is around chin length and the curls are tight. It is a gorgeous hairstyle and it will look amazing with looser curls too. Also, if your hair is not naturally curly, you can create a similar bob by just curling your hair yourself. Tight curls can be created with a small and thin curling wand.
3. Textured Curls
If you have long curly hair, why not consider a bob cut for the summer? This hairstyle is a great example of what you could try. The hair has been cut to sit just above the shoulders and the hair was cut dry so the hair stylist could see how the curls will sit. Try this length or go a little shorter. The textured curls will look amazing for the summer, a similar style will give you a beachy look.
4. Short Curly Bob with Subtle Highlights
Want to completely transform your hair? Then this is the hairstyle for you. The hair is cut into a short bob and warm highlights have been added. By giving your hair a trendy cut and adding highlights, it will give your curly hair a lift and make your curls pop. You can add highlights to any hair color.
5. Curly Long Bob
You don't have to cut your hair very short to try a bob, you can go for a long bob. A lob is longer than the classic bob, so when you have your hair cut, you will still get the cool style but it won't feel as much of a dramatic change. This is a gorgeous example of a long bob. The hair is beautifully layered and styled. A hairstyle like this will look stunning on anyone.
6. Short Stacked Bob
Our next hairstyle is a trendy stacked bob. A stacked bob features longer hair at the front and the hair is shorter at the back. There are also small layers at the back too. This hairstyle shows how to wear a curly stacked bob in style! The hair is highlighted and the curls are beautiful. Hair like this will be perfect for the summer or if you just want a chic new look.
7. Short Blonde Curls
If you want to glam up your look, then this hairstyle is the way to do it. The hair is cut short, has bangs and it is a gorgeous honey, blonde shade. We love this hairstyle because it is curly and full of volume. It just shows curls off at their best. A similar hairstyle will look amazing in any color.
8. Short Curls with Red Highlights
The next hairstyle we have to show you is quite short. This look features a beautiful curly cut where the hair length is just above the chin. It is a trendy short hairstyle and it would be perfect for the ladies who want to completely change their hair. This is another style that will be great for the summer because it will keep you cool. Try similar funky colors or try the cut in a hair color of your choice.
9. Trendsetting Short Style
Next, we have a bold hairstyle that shows how to wear a couple of trends in one cut! Here we have a short curly bob that is styled with side bangs and unique highlights. This is a cool and trendy look, perfect for bold ladies that aren't afraid to experiment with their curly hair. You can recreate this curly bob with any highlight color.
10. Honey Blonde Highlights
Looking for a way to enhance your curls? How about adding some light highlights? Adding a few (or a lot) bright highlights can make your curls pop and give your curly hair some dimension. Here we have a cute bob with warm honey blonde highlights. This is a chic and easy to wear bob that will suit everyone. Honey blonde highlights are not as bold as some other, lighter blonde shades and they are perfect for brunettes transitioning to blonde. Also, a similar blonde to this is perfect for someone who wants to try blonde for the first time.