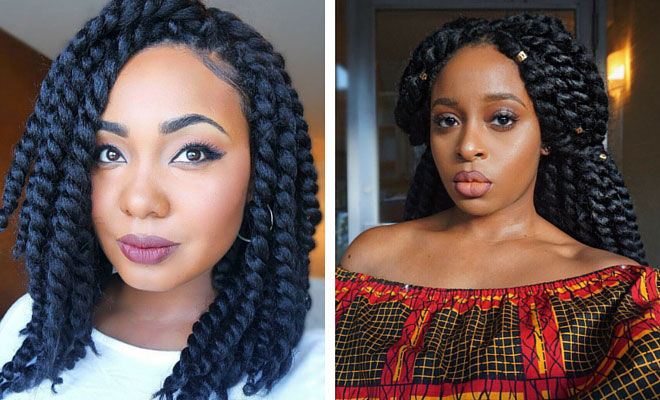 Instagram
Beauty
31 Stunning Crochet Twist Hairstyles
By
|
11. Black and Purple Twists
Color is a great way to spice up your look so if you've been having crochet twist hairstyles for a while and you want the same thing but just a little different, why not consider adding a bright pop of color?
This purple look is a brave one, but purple is very much an on-demand color for hair right now. When you're adding 'faux' hair to your own head, you can play around with color without the need to bleach or lighten / dry out your hair. Why wouldn't you take advantage of that?
12. Burgundy Rope Twists
If purple wasn't quite your color, how about red? This fiery delight is not only fierce, but pretty damn fabulous too.
The one thing you may need to remember, and this lovely cleverly reminds us, is that you may need to change up your makeup routine if you're changing your hair color dramatically like this. As you can see, there is more of a red than dark or brown tinge to her eyebrows, something many color-changing ladies don't take into account. The palette you used before with your natural dark or brunette hair all of a sudden won't look the same.
13. Jumbo Twists
The thinner your twists, the more hair you'll need – that's something a lot of women don't bear in mind before sitting down to have their hair 'did'.
If you want thick crochet twists, you'll need a lot less hair than if you only want thin and small ones. The latter will use more hair though. If this is your first time and you're not sure how many packs of hair to get, always get more, but go for thicker twists if you want the hair to go further.
14. Medium Length Nubian Twists
Nubian twists are a different sort of crochet twist, a short and tight spiral used to achieve a wide range of looks.
We love the Princess-Leia look about this one – the twists piled and wrapped into buns on the top of her head. Think of the possibilities with hair like this – there are so many things you could try!
15. Black and Brown Twists + Hair Cuffs
Hair accessories have never been so on-trend, and we love these hair cuffs, just one of a wide range of accessories you could use to bling up your hair.
Hair cuffs are simple – you place them in the best places and go. If these cuffs weren't quite your thing though, there's nothing to stop you from using scarves, headbands and more to jazz up your look.
16. Crochet Bob Twists
When you're ordering your hair, make sure you order enough. I know that should go without saying but so many women get it wrong, especially the first time.
If you're in any doubt, don't do the look at home. Instead go to a salon where they can get things right. There's nothing to stop you from learning by watching your stylist and 'stealing' the methods and techniques when you go home.
17. Crochet Twists + Side Cornrows
Mixing two looks in one here, you have one of the most fabulous crochet twist hairstyles we've seen, mixed with cracking cornrows. Who said you couldn't? We think it looks fabulous!
It's such a simple addition, just three little cornrows, but it changes the look up completely, and gives you a way to keep those strands free from your face. Multitasking at its finest.
18. Cute Half Up, Half Down Style
Half up and half down styles are great for when you wake up in the morning and aren't sure what mood you're in. We love the way these have been swept over from one side, almost giving a bang-style look.
You could twist these round as simply or as intricately as you like, that's the best thing about them – you can achieve the widest range of styles and designs.
19. Half Up, Half Down Bun
And for when the faux-bangs just aren't your thing, what about a big bun? This is one of the easiest ways to wear any kind of twists or braids, but for crochet twists, it just works, you know?
Just taking the top section of braids, wrap them around and affix with grips, leaving the rest to hang free. Just make sure your eyebrows are 'on fleek'!
20. Long Crochet Twists
Before you decide to have your crochet braids installed, make sure you and your hair is ready. You'll need to both wash and then deep-condition your hair, preferably a couple of times over a few weeks, and then you'll need to give your scalp and locks a good hot oil treatment.
The idea of this is to lock all the moisture and hydration in so hewn the protective style is installed, your natural hair is left to chill out and recover.