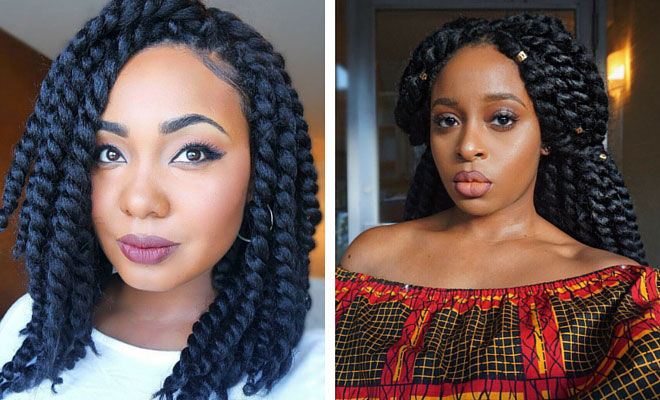 31 Stunning Crochet Twist Hairstyles
Crochet twists are also referred to as Senegalese twists but for now, we're going to stick with crochet twists. They were big in the early 90's before making a reappearance a few times, just like the hair fashions usually do. There are plenty of reasons why they are good for your hair, some of which we'll go into shortly, but more than that, they just look fabulous, often the reason behind so many women sitting in the hairstylists chair for hours to get them done.
If you're looking for a new 'do, you should check out these 31 stunning crochet twist hairstyles:
1. Layered, Medium Length Crochet Twists
Keep things short and cute like these layered, medium length crochet twists. This style is easy to maintain and perfect for hot summer days.
2. Crochet Senegalese Twists
If you have short natural hair and you want long hair, crochet twists offer you the perfect protective option to achieve just that. Once upon a time, if you wanted long hair, you just had to wait for it to grow but luckily these days we can speed things up a little.
It might take a few hours but with a little time and dedication (and $$$), you too could have long locks just like these beautiful twists.
3. 3D Cubic Twists with a Pop of Burgundy
The crochet techniques that we were using in the early 90's have evolved and there are now more ways than ever to have your crochet twists styled and designed. You can achieve a somewhat natural curly look like this one if you wanted, or you could go for some sort of elegant updo.
That's the best thing about these styles – they are customizable in so many ways, just like adding this bright pop or burgundy, you'll be spoilt for choice.
4. Crochet Jumbo Twists
Before you opt for a style like this, you should be aware that it can take anywhere from two to three hours to complete the look, to over eight and in some cases, even more than that. Have a good chat with your hairstylist before you decide to have any hair added, just to make sure you've got the time to dedicate to that.
You don't want to get halfway through your appointment only to realize you don't have the time to sit through it all. No one likes half a crochet-head!
5. Jumbo Senegalese Twists with a Shaved Side
If you want a 'spunky' style, you'll need to look at shaving. It sounds scary but it grows back a lot quicker than you'd think, and it's a really cool and edgy look that's been in fashion for a while, and doesn't seem to be showing signs of going away.
It's a great way to make your hair stand out and actually, when you think about, enables you to simply get rid of those problematic areas of dry and damaged hair to basically start over again.
6. Black and Brown Twists
Before heading to your appointment, if you want your stunning crochet twist hairstyles to look just as good as this one, you'll need to get ready for it. The whole point of using protective hairstyles like these is to protect, so before you tuck your own natural hair away under a beautiful mane or crochet locks, make sure you do the prep work.
You'll need to moisturize as much as you can. These braids can last for a couple of months so make sure you do it well, otherwise you might not get the chance to do it for a while and your new do won't have been quite as protective as you'd hoped.
7. Crochet Twists + Visible Cornrows
When it comes to crochet twists, you have two options – you can stick with what you know and go for the same looks you've always gone for, or you can think outside the box and go for something a little different, just like these crochet twists with visible cornrows.
It doesn't matter either way, of course, because these twists look gorgeous in any event, but sometimes it's worth thinking about something a little new and unique. You're paying a fortune for this style, and you'll be sat there for a while too, you might as well make it worth it.
8. Black and Red Havana Twists Bob
Short styles are just as easy as long styles when you're looking at crochet twist hairstyles, and this one is super fabulous. We definitely think you should be adding it to the list.
If you want beautiful hair thats easily styled but without all the maintenance often included with long hair, this is the kind of look you should go for.
9. Curly, Medium Length Twists
Pay attention to the ends of your hair. When you order hair, it usually comes with a blunt, straight edge to it and when the strands are installed, your hair and therefore your crochet twists are likely to have a blunt and straight edge.
You could trim the edges a little once they are installed to give you a more natural look, or just stagger the hair a little.
10. Crochet Senegalese Twists Half Updo
Thinner crochet twists hairstyles like this one are great because you can treat them basically as you would 'regular hair' – you can style them in almost the same ways.
If you wanted an intricate updo like this one, you can do it, just as this beauty shows, and in some cases, the twists actually work in your favor to keep them in place much better than regular hair.
11. Black and Purple Twists
Color is a great way to spice up your look so if you've been having crochet twist hairstyles for a while and you want the same thing but just a little different, why not consider adding a bright pop of color?
This purple look is a brave one, but purple is very much an on-demand color for hair right now. When you're adding 'faux' hair to your own head, you can play around with color without the need to bleach or lighten / dry out your hair. Why wouldn't you take advantage of that?
12. Burgundy Rope Twists
If purple wasn't quite your color, how about red? This fiery delight is not only fierce, but pretty damn fabulous too.
The one thing you may need to remember, and this lovely cleverly reminds us, is that you may need to change up your makeup routine if you're changing your hair color dramatically like this. As you can see, there is more of a red than dark or brown tinge to her eyebrows, something many color-changing ladies don't take into account. The palette you used before with your natural dark or brunette hair all of a sudden won't look the same.
13. Jumbo Twists
The thinner your twists, the more hair you'll need – that's something a lot of women don't bear in mind before sitting down to have their hair 'did'.
If you want thick crochet twists, you'll need a lot less hair than if you only want thin and small ones. The latter will use more hair though. If this is your first time and you're not sure how many packs of hair to get, always get more, but go for thicker twists if you want the hair to go further.
14. Medium Length Nubian Twists
Nubian twists are a different sort of crochet twist, a short and tight spiral used to achieve a wide range of looks.
We love the Princess-Leia look about this one – the twists piled and wrapped into buns on the top of her head. Think of the possibilities with hair like this – there are so many things you could try!
15. Black and Brown Twists + Hair Cuffs
Hair accessories have never been so on-trend, and we love these hair cuffs, just one of a wide range of accessories you could use to bling up your hair.
Hair cuffs are simple – you place them in the best places and go. If these cuffs weren't quite your thing though, there's nothing to stop you from using scarves, headbands and more to jazz up your look.
16. Crochet Bob Twists
When you're ordering your hair, make sure you order enough. I know that should go without saying but so many women get it wrong, especially the first time.
If you're in any doubt, don't do the look at home. Instead go to a salon where they can get things right. There's nothing to stop you from learning by watching your stylist and 'stealing' the methods and techniques when you go home.
17. Crochet Twists + Side Cornrows
Mixing two looks in one here, you have one of the most fabulous crochet twist hairstyles we've seen, mixed with cracking cornrows. Who said you couldn't? We think it looks fabulous!
It's such a simple addition, just three little cornrows, but it changes the look up completely, and gives you a way to keep those strands free from your face. Multitasking at its finest.
18. Cute Half Up, Half Down Style
Half up and half down styles are great for when you wake up in the morning and aren't sure what mood you're in. We love the way these have been swept over from one side, almost giving a bang-style look.
You could twist these round as simply or as intricately as you like, that's the best thing about them – you can achieve the widest range of styles and designs.
19. Half Up, Half Down Bun
And for when the faux-bangs just aren't your thing, what about a big bun? This is one of the easiest ways to wear any kind of twists or braids, but for crochet twists, it just works, you know?
Just taking the top section of braids, wrap them around and affix with grips, leaving the rest to hang free. Just make sure your eyebrows are 'on fleek'!
20. Long Crochet Twists
Before you decide to have your crochet braids installed, make sure you and your hair is ready. You'll need to both wash and then deep-condition your hair, preferably a couple of times over a few weeks, and then you'll need to give your scalp and locks a good hot oil treatment.
The idea of this is to lock all the moisture and hydration in so hewn the protective style is installed, your natural hair is left to chill out and recover.
21. Brown and Caramel Twists
When you're adding extensions, why not opt for different colors? You don't need to go quite as bright as blues, purples or reds to make a statement, this brown and caramel combined look is beautiful.
It's a very simple play-around with tones and shades, but one that works to give you a natural gradient of color that keeps the style alive.
22. Beautiful Protective Hairstyle
If you don't think you need a consultation appointment with your stylist before you have your crochet twist hairstyles installed, you're wrong. It's an optional extra for some but there are things that need to be discussed.
Your stylist will take a peek to make sure your hair is strong and healthy enough to deal with the crochet twists, as well as working out how much hair you'll need to finish the look, and roughly how long it will take you too. If you have an idea for a look, you can take photos in so that you're both on the same page.
23. Cute Styling Ideas
Remember we said about the hair accessories? Well, combined with the wide variety of styles you can achieve with your crochet twist hairstyles, hair accessories such as hairbands and hair cuffs can completely transform a look.
This is one hairstyle designed in different ways so you can get a feel for how many ways there are to where your hair!
24. Medium Length, Jumbo Twists
You may have heard the phrase 'go big or go home' but in the case of these crochet twist hairstyles, you can just disregard it entirely.
Just because you have a mass of length added to your hair, doesn't mean you need to do it. Sometimes the medium length hairstyles have the biggest impact, especially in the height of summer when all that hair just weighs you down.
25. Black Twists with a Pop of Blue
Remember we said about color? Well, what do you think about this bold flash of blue running through the twists? We love it, and we think that you might too.
A peekaboo strand, just the one strand, of color can make the world of difference to your look. If this is your first time, play around – add one colored strand at first, and work your way if you want to later on.
26. Jumbo Havana Mambo Twists
Havana mambo twists are reported to be much faster to install than other types of braids and twists, one reason why they've become increasingly popular.
Not only do these look great, but mambo twists need less tension in the installation, meaning it gives your scalp a bit of a break. Why not think of these if you've exhausted other crochet twist hairstyles or just fancy something new.
27. Bun Half Updo
Chunky twists look great when they're thrown up in a bun like this, whether you go for all the hair or just half the hair, just like you can see.
With the addition of a grip, this is a look that can easily take you from a day in the office to a night out on the town. Just make sure you have spare grips in your bag for hair-up emergencies.
28. Twists and Shaved Side
The type and brand of hair that you use will make a difference to the way the look pans out, especially for crochet twist hairstyles, even through they're considered an easy go-to style.
If you can afford to, spend a few extra bucks on hair that is better quality because your look will thank you for it. It's just like the saying goes – you really do get what you pay for.
29. Silver Twist Cuffs Style
When you go to bed at night, if you don't want your look to end up being frizzy and untamed, make sure you put a silk scarf over your 'do. The reason for this is to stop your hair from being dragged around your pillow case, causing friction, and pulling hair or causing it to break and go frizzy.
The same silk scarf can also be used to throw around your head on those days when you don't have time to come up with a fabulous look so technically, a silk scarf is a definite necessity.
30. Jumbo Twists Half Updo
Crochet twist hairstyles are considered easy enough to do yourself at home, but the first time you do them, don't expect them to be pretty!
It takes a lot of work and some practice to get all your twists of the same tension and tightness, and at first you may find that yours aren't as uniform as you'd like. It takes a while, and some practice, but you will get there. There are plenty of YouTube tutorials you can follow too.
31. Unraveled Mambo Crochet Twists
And finally, don't be afraid to let your twists come a little un-done, just like these unraveled Mambo crochet twists, complete with those hair cuffs we keep telling you about.
Sometimes a little un-done can be just the right amount of 'done' to finish a look. Don't be so worried about yours looking picture perfect.
We've brought you 31 of the most beautiful crochet twist hairstyles that we think you're going to love, but remember there are so many ways to mix it up so this style is your own. We can't wait to see what you come up with – be sure to come back and let us know!
Last modified on November 20, 2022