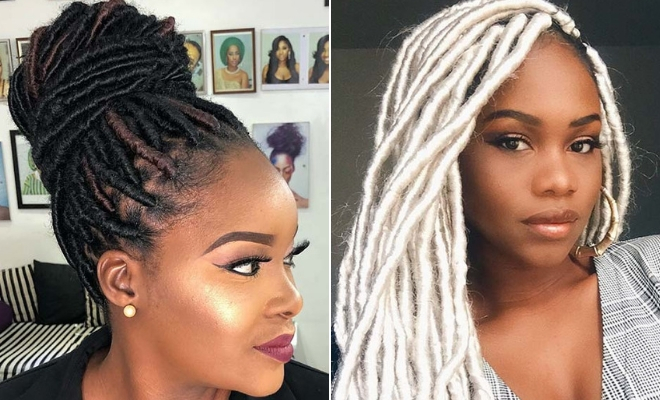 Instagram
Beauty
23 Crochet Faux Locs Styles to Inspire Your Next Look
By
|
Searching for a protective hairstyle? Then you are in the right place! We have put together 23 crochet faux locs styles that you need to try! There is a hairstyle to suit everyone. We have vibrant colors, trendy bobs, ponytails, buns and more. Any of these will give you a stylish new look that will give everyone hair envy! What are you waiting for? Take a look, you won't be able to decide which hairstyle to try next.
1. Crochet Faux Locs into a Bun
Our first hairstyle is this beautiful high bun. The locs are chunky and have multi tones of black and dark brown. You can recreate this bun with smaller or larger locs in any color of your choice. Choose a similar hairstyle to this if you are looking for something chic that will glam up your look.
2. Blonde Crochet Faux Locs
Next, we have a blonde hair idea. The faux locs have been styled into a medium length style and are a bright, summery blonde color. Blonde like this is perfect if you want a bold, new look. You can have blonde locs styled into a bob, lob, or leave them super long.
3. Individual, Jumbo Faux Locs
If you want hair that looks effortlessly stylish, our next pick is for you. The hair features long, chunky locs in a half-up style. This is a stunning hairdo that will suit anyone. You can make the hair bolder by choosing locs in a different shade. Dark red would be stunning!
4. Short Crochet Faux Locs
Next, we have another shorter style to show you. This one is a side bob with chunky locs. It looks so stylish and trendy. A hairstyle like this is perfect for the ladies who want a fresh, new look and it will suit everyone. You can recreate the same hairstyle or try smaller locs or locs in a different shade.
Stylist location: West Philly.
5. Vibrant Red Faux Locs
Create a statement with vibrant red hair like this! The crochet faux locs have been styled onto the side and are a beautiful red shade. If you love this color, give it a try! You can always choose brighter or darker reds, depending on what you like best. We love this hair idea, it's perfect for Fall!
The hair was done by @goddessfauxlocsx (Pasadena/Hollywood, CA).
6. Wavy Crochet Faux Locs
There are lots of different faux locs available. You can choose long, short, thin or thick but have you thought about wavy? Wavy locs look so trendy and chic. Don't just take our word for it, check out this hair idea. The hair has been styled onto the side, is medium length and is beautifully waved. Hair like this is gorgeous and will suit any lady.
Stylist location: Ft Lauderdale, FL.
7. Goddess Crochet Faux Locs with Accessories
You can jazz up your locs with accessories. Here we have a great example. The hair has been styled into long locs with curly hair at the bottom (also known as goddess locs). There are also cords, cuffs and a shell. You can recreate a similar look to this or choose your own accessories to suit your unique style. The different looks you can create are endless.
The hair was done by @shurba_by_samri (Minneapolis, Minnesota).
8. Half-Up, Half-Down Bun
Our next idea is a gorgeous half-up, half-down hairstyle. The locs are very long and they have been wrapped into a beautiful bun. A hairstyle like this is perfect if you want a glam new look. Create your own version of this hair idea or maybe consider changing the length or adding a vibrant color. No matter what you choose, any hair similar to this will look amazing.
Stylist location: West Philly.
9. Bohemian Goddess Locs
Next, we have a beautiful hair idea. The hair has been styled into thin locs but some of the hair has been curled instead. The different styles give the hair a trendy finished look. You can have a mix of locs and curly hair like this, but you can also have a mix of straight and wavy locs. The combination of wavy and straight faux locs will look cool and stylish. Products used for the look are: Zury Goddess Braid Deep Curl 2X (18 inches, color #4, 8 packs) and Outre Bohemian Curl (24 inches, color F4/30, one half of a pack).
If you want to learn more about DIY faux locs and and how to install them, here is a YouTube tutorial for the look above:
10. Copper Goddess Faux Locs
Copper is such a popular hair color, especially around the fall and winter. This is for many reasons, but we love it because it is warm, stylish and will suit everyone. Here is a beautiful example of a copper hairstyle. The locs have been styled on the side and turn to curls half way. Recreate this hair idea or use the copper color on any of your stylish faux loc hairdos.
The hair was done by @beautycanbraid (Tampa, Florida).