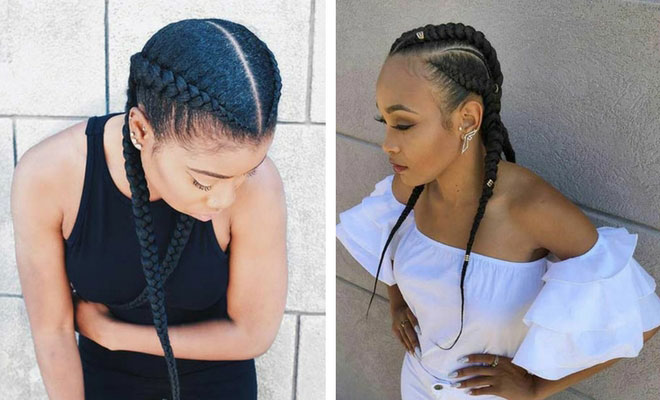 31 Cornrow Styles to Copy for Summer
Imagine if we lived in a world where we didn't have to style our hair every day, we had a hairstyle we loved and it lasted for months on end!  With cornrow styles, you can have all of this.  Cornrow braids are the perfect solution to having sexy, trendy and stylish hair every day.
Cornrows are the perfect summer hairstyle that will last for months.  There are so many different cornrow styles to choose from and this is a way to show off your style and creativity.  From highlights, curls, texture and patterns, we have a variety of looks for you to try.  You can even add hair accessories to your braids to create your own style.
Cornrows are a versatile style that can be changed daily.  Once you have braided your hair, you can then style your braids differently every day if you wish so don't think that your hair will be the same style for months.
You may need your friend or family member to help you with a few styles but if you know the style you want, then you are half way there.
We have searched high and low to show you 31 best cornrow styles for you to try this summer.  Have a look through and see which styles take your fancy.  Enjoy!
1. Trendy Cornrow Style
This is a cool and sassy hairstyle that you will love. Once you try this, you will wonder why you didn't try it sooner.  If you braid your own hair and think there's no way you could possible do this, remember that practice makes perfect. Practice before you plan on braiding your whole head.  If you look after your braids, you can keep your cornrows in for a few months so you don't need to worry about your hair in summer.
2. Cornrows into a High Ponytail
Show off your braids with a high ponytail. This will enhance your style and make you feel fabulous.  Once you have braided your hair, tying your hair up is an easy and fast style that you can do in minutes so if you want a change today, try it and see.  Grabbing your braids and tying them back, sets another level of chicness and style.  One of the good things about this hairstyle is that you don't need a hairband to tie your hair back, wrap a few braids around to finish the look.  This way, the flow of the braids will continue.
3. Cool Cornrow Design
Do you have a design you want to mix with your braids? Make your style your own and add a pattern or a design that you love.  This is a star design pattern mixed into small cornrows.  It shows off style, uniqueness and we can't stop looking at it.
4. Cornrows into a Fishtail Braid
If cornrows aren't your style and you need a little extra… Have a look at this style which is cornrows and fishtail braid!  This is a gorgeous and girly style that will take your breath away.  The cornrows swept around the head into a long fishtail braid.  We are loving how the blonde highlights enhance the style.  The centre parting looks great too!
5. Jumbo, Straight Back Cornrows
Choosing to have straight back cornrows will enhance your face. This hairstyle is a style that will show off your gorgeous face and looks perfect with any outfit.  In the photo above, you can see how good this style looks with an off-the-shoulder top.
6. Goddess Cornrows
When you know you have a great hairstyle and everyone loves it, of course you are feeling good. When you feel like this, you feel like a Goddess.  So why not have Goddess cornrows!  These are jumbo cornrows that will make you feel like a Goddess all day long.
7. Side-Swept Braids
Show your edgy side. From every angle, this hairstyle looks amazing.  You can see the side-sweep from the front, back and sides.  It creates a different style from the standard straight or slanted cornrows.  It's oozes sassiness and is the perfect style for summer.
8. Long Cornrows with a Zig-Zag Parting
Check this eye-catching style. This will attract all the attention you desire, wherever you go!  It is unique, stylish and it takes skill to achieve this look so don't worry if you can't do it the first time round.
9. Swirl Cornrows
If you are used to have cornrows and are looking for something a little different… have a gander at this style. A swirl cornrow style that screams style and chic.  Be warned, this style will definitely attract a lot of attention and you will feel amazing!
10. 2 Cornrow Braids (Boxer Braids)
Boxer braids are trending as many people already know! If you didn't know, you do now.  Boxer braids are the same as cornrows, just the name is different so don't be fooled.  Apparently, the "new style" of braiding is Boxer Braids but they have just renamed cornrows.  This is the fab two cornrow braids style that looks great for any occasion.  It's simple, easy to maintain and we love the long dangling braids.  Why change something that already works?
11. Side Cornrows + Weave
We know that braiding your hair, takes time and patience. If you don't any either of these, maybe think about having side cornrows and a weave.  Not everyone can sit for so long to style hair, especially if they have a busy lifestyle.  This doesn't mean you have to lose out on having braids!  Have a small section of hair braided into side cornrows and the rest of your hair can be weave.
12. Big Cornrows into a Bun
Big cornrows and a bun = the perfect combination. Many people have a job that requires your hair to be tied back.  This can sometimes be annoying especially when we have cornrows and want to show them off.  We have found a solution to this problem, take a look at this style.  It is cornrows into a bun.  You still get to show off your masterpiece and at the same time your hair is tied back!  The best of both worlds and everyone is happy.
13. Two Cornrows into a Side Braid
This is perfect if you are used to having the standard braids. If you are bored of the straight braids, take a look at this.  Two cornrows into a side braid looks absolutely amazing.  It has a delicate and soft finish which will look great for any occasion.
14. Cornrow Braids with Beads
This is a fun, creative and gorgeous style. Why not spruce up your cornrows with some beads.  We all know that having standard braids, looks amazing but teaming it with hair accessories or jewellery, can really make a difference to your hairstyle.  You still have the cornrows that look amazing but then you have added beads for that extra something special.
15. Long, Burgundy Cornrows
Burgundy is a rare colour to have. This is only because people tend to go for the brighter and bolder colours.  Red is a popular colour to choose but we are loving the deep burgundy shade.  It is a delicate and feminine colour that will wow everyone you meet.  You can see how beautiful the long strands are in the light.  We love it!
16. Two Fishtail Cornrows
Go for twin fishtails to set the bar high. We all know that once you set foot out your front door, people will be in owe of your hair.  Fishtail braids are trending but when people see this style, they will be in love!  You have two fishtails that look amazing.  You will feel great and on-trend.
17. Two Cornrows with a Pop of Blonde
Do you want to add a touch of colour to your cornrows? Then why not add a hint of blonde.  This will brighten up your style and you will feel fresh and ready for anything.
18. Big & Small Cornrows
Mix it up a little… By mixing big and small cornrows.  This is a gorgeous style and we love the contrast between the two sizes.
19. Small Cornrows Design
Opt for a smaller cornrow style. This looks girly, sexy and easy to maintain.
20. Cool Straight Back Style
The straight back style is rare as many people opt for the slightly slanted braids. We love the straight back style and think they are so underestimated.  Start the trend now and we can promise you that your friends will follow.
21. Long Goddess Braids
Live like a Goddess with these long braids. Be the envy of all your friends and family with these long gorgeous braids.
22. Red Cornrows
Do you want your cornrows to stand out and to be unique? Take a look at these sexy and fierce cornrows.  They are striking, stunning and will add a touch of colour to any outfit.
23. Cute Cornrow Updo
Don't forget about having an up-do for your cornrows. Many people tend to forget that cornrows look just as good up, as they do down.  Look at this cute cornrow updo.  It looks great and it is suitable for anything, so don't worry about changing your hair to suit your plans, it's already ready!
24. Ghana Cornrows
This style of braids have been around for a while now and is becoming increasing popular. Ghana braids also go by the name of Banana braids.  The difference between standard cornrows and Ghana braids is not only the name but also that Ghana cornrows are bigger.  The cornrow style is the same but they are larger.
25. Elegant Style
This is an elegant, chic and sophisticated style. This is perfect if you have a full time job and have a hectic schedule.  It is suitable for work, parties and shopping so try this style out and you will love it, we would recommend this.  You don't have to think about taking your braids out because you have a wedding or a formal event with this style so strut your braids and look beautiful.
26. Red, Jumbo Cornrow Braids
Add style and sexiness to your cornrows. Red looks amazing with cornrow braids.  The colour sets the hairstyle alive and shows off your character.
27. Big & Super Long Cornrows
If having long hair is not enough for you anymore, try super long! Super long cornrows look fabulous!  Try these big, super long braids to make you look amazing and to stand out.  Trust us when we say this, everyone will comment and maybe even try to copy your style!
28. Cornrows into a Side Fishtail Braid
Mixing different styles of braids sometimes ends up in a perfect hairstyle. For instance, take cornrows which are stunning alone and mix it with a fishtail braid!  How gorgeous do these look together?  You can see the cornrows and the side girly fishtail and we are loving this.
29. Jumbo Ghana Cornrows
They are beautiful jumbo Ghana cornrows. Ghana or Banana braids, whatever you choose to call them, look fab!  They stand out and scream fashion!  This is a hairstyle that you will not get tired of.  You can easily tie your jumbo braids back, in either a bun or a ponytail if you do need your hair back but whatever hairstyle you choose to wear yours, you will look great!
30. Trendy Two Cornrow Braids
We can all see trending styles on Instagram other social media and this is one of those styles. This trendy two cornrow braids hairstyle is becoming increasing popular.  Maybe this is due to Kim K showing hers on Instagram but even before this, they were popular and we can see why.
31. Simple Cornrow Design with Beads
Show off your style and creative side by adding beads. Just because you have braids, it doesn't mean they have to be a limited to one style.  This is a great way to show off your flare and make your hairstyle unique.  If you think outside the box, you can add whatever hair accessory to your braids.  The photo above shows simple cornrows with gold beads.  Even if you want to add hair accessories after you have braided your hair, you can always do this to the hair tips.