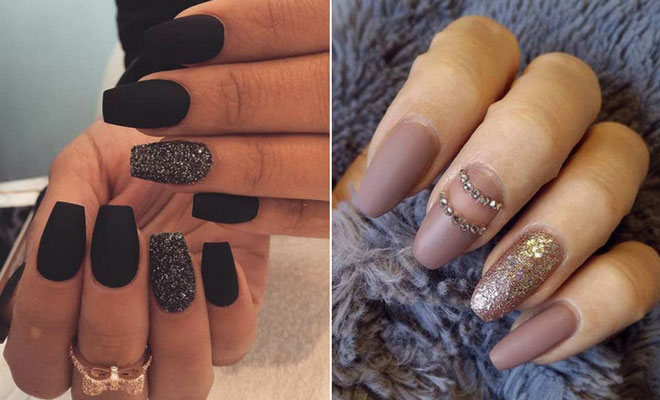 Instagram
Beauty
45 Cool Matte Nail Designs to Copy in 2019
By
|
11. Matte Neutral & White
Before you start your matte nail designs for 2019, make sure that you do the prep work. Your matte polish won't dry properly or evenly if it comes into oil with water. In fact, the two go together just like oil and water do – it's a bad combination.
12. Matte and Glossy Burgundy French Tip
Two trends that work so well together are matte and glossy finishes. We love these nails – such a simple design but still very eye-catching. In fact, we think these matte nail designs for fall and winter are brilliant. Once you've applied your matte shade, or your red pop of colour with a matte finish coat over the top, use tape to mark of the tips. Then use a glossy top coat to differentiate. It's simple yet effective, and we kinda love it!
13. Eye-Catching Matte Design
Once you've gotten your matte mani, why not play around with it? Add embellishments, throw some glitter into the mix, in fact, do whatever you like. How do you know it won't look great? Exactly – you don't. Therefore we think you should get creative. These short nails are perfectly manageable for fall and winter. Longer nails are a real pain in the backside when you're wearing gloves anyway!
14. Marble Accent Nail
Here's a great way to liven up an old mani too – how about those silver nail foils? They're simply thin pieces of what looks like foil, usually in silver or gold, and you can simply place them on your nails as you can see here. They're a great way of adding something new to an old look, especially if you have a tendency to keep the same shades or nail designs. Perhaps it's about time you started thinking outside of the box?
15. Simple Matte Neutral Design
And then we come to these simple matte neutral designs – a negative space nail done so subtly, you would be forgiven for missing it. Again, nail foils or masking tape will be your friend here, but you can freehand the negative space if you think you have a steady enough hand.
16. Matte Burgundy Nails + Gold Rhinestones
The quickest way to spice up your mani of course, is to add a few blinged-up accessories. It takes just a moment to pop these on, and you can pick from a wide range of colours and designs. Build them up so that they're intricately blinged, or just add a rhinestone here and there. The choice is yours – make it a good one!
17. Matte Black and White Nails
Black and white nails will never go out of style, and this monochrome look has been given the blinged-up treatment we spoke about in the last matte nail designs for fall and winter. The black rhinestones on the white backdrop really stands out, but if you wanted something subtler, those black stones on the black background really gives this look an edge. Definitely one we fell in love with – how about you?
18. Purple Ombre Nails
Before you start your matte mani, make sure you use nail varnish remover to get rid of any residue from your past polish. Why? Because you won't get a beautiful finish if there's any stuff left over from the last time you had your nails done. Then, give the nails a good clean, and make sure you don't use oil or lotion for your hands or cuticles until AFTER the mani is completed. You can't use a base coat with these matte shades either. For obvious reasons!
19. Matte Neutral Coffin Nails + Gold Rhinestones
We love the idea of these matte nail designs for fall and winter, especially with the simple line of rhinestones lying down the centre of the nail itself. It's a really good idea for something different, especially if you just want to make something out of one feature nail. How do you feel about the totally blinged-up nail while we're there too? That's a lot of shine!
20. Matte & Gold Metallic French Tip
What a brilliant idea! It's a matte nail with a shiny tip, but unlike the matte and gloss looks that we explored before, two shades have been applied in this look. There's the simple nude / neutral tone to get things started, and the gold tips in that chevron designs brings it all to life.