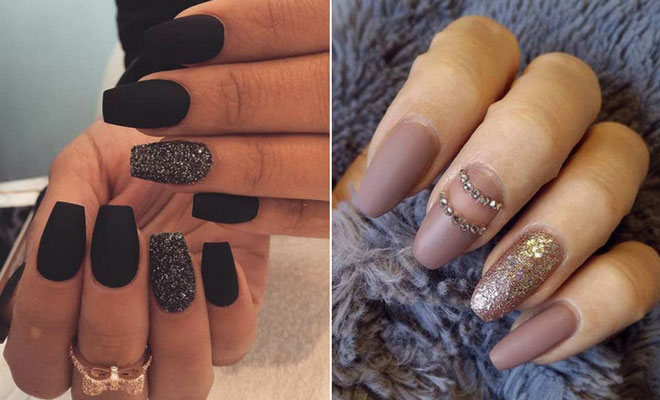 45 Cool Matte Nail Designs to Copy in 2019
It's coming to that time of year again, and the fall and winter trends for nails this year and these stunning matte beauties. Just in case you were looking for something super special, we found some inspiration ideas that cover every angle. These are the 45 cool matte nail designs for 2019!
1. Matte Burgundy Coffin Nails
If you want a matte mani that'll last the difference, you need to put the work in. Matte polishes are well known for NOT lasting as long as their shinier cousins, but being a 'trend', and with trends constantly changing, it's definitely one you should check out. This is even more so the case if you have an event coming up. If nothing else, these matte nail designs for fall and winter are definitely stunning, and great for any occasion.
2. Neutral, Glitter and Burgundy Nails
Do you want to know what works really well with matte nails? Glitter nails, that's what, especially when you team nudes and burgundy shades with a beautiful shimmer gold, just like you can see here. There's a really good reason why you should look at mis-matched manis just like these. If you chip or break a nail, it doesn't matter if you have the same shade at home, because you can just repair it with another shade. If you chip the burgundy nail, for example, and you don't have that particular shade at home, take the colour off and just replace with a nude or glitter one instead. Because they are mis-matched, no one would ever know the difference. Smart right?
3. Purple Gray with a Pop of Silver
If you don't have a matte polish, but you really can't bear any other colour than the one you have in your head, you can instantly turn any polish you have at home into a matte finish. All you need to do this is a regular matte polish. It's like clear coat, but rather than leaving your nails nice and glossy and shiny, they'll make them matte instead … just as the name suggests really!
4. Matte Black Nails for 2019
They're simple, elegant, and classic. You can't go far wrong with matte black nails, and when you throw that shimmer-glitter one in for good measure, you have the perfect matte nail designs for fall and winter. We're certainly adding them to our wish-list for this season! Black and silver shimmer go really well together, especially for big events such as New Year's Eve and Christmas. At the times, it's the norm to wear glitter, so don't be afraid to go a little overboard. Your nails ar ethe one place it's perfectly okay to go glitter-tastic!
5. Dark Nude Design for Long Nails
Matte shades generally dry quicker than the glossier, thicker ones, so you'll have much better luck if you use thin coats, and apply one or two. If you try to go for one thick coat, you may find that the matte doesn't dry as even all over as you'd like.
6. Matte Marble Nails
How about combining two of this season's hottest trends – marble nails and matte nails. It's a look that is both unique and beautiful, and everyone will ask where you had them done! We love the way that lilac tones have been used within the white and black marble here, a great way to bring everything together. Imagine the colour possibilities though – you could go with any shade you liked. Plus, these marble designs aren't as hard to achieve as you first may have thought! Just check out the Youtube tutorials. That's where we learned how to do ours!
7. Matte Black, Burgundy & Gold Nails
Because matte polishes chip faster than the glossier ones do, it might be a wiser idea to keep your matte nails shorter rather than longer. They'll be more durable, and the mani will last longer. Plus, shorter nails are more manageable … and less likely to break.
8. Matte Black Design for Short Nails
Kylie and Kendal Jenner are big fans of this matte look, and they've been seen with a whole host of shades on their lengthy talons. For a more long-lasting finish than what you're used to with these matte nail designs for fall and winter, use both a matte polish in whatever colour you like, plus a clear matte top coat too. You'll get two layers of protecting, and your mani will last the distance.
9. Glitter French Tip
This is such a simple idea, we're actually kicking ourselves for not thinking of it sooner. It's a simple matte manicure, but rather than having lots of decorations, the edges of the nail have been lined with a pop of gold glitter. If you've had your mani for a few days and it's started to chip around the ends, you could use this glitter trick to cover up any boo-boos. That is until you can get to the salon and get them repaired, of course!
10. Matte Red
To make sure that you don't chip the edges of these stunning matte nails, use your brush to add a quick flick of polish right along the edge of the nail. This is where the chipping will tend to start, so if you give the edge another layer of protecting, the polish will last longer.
11. Matte Neutral & White
Before you start your matte nail designs for 2019, make sure that you do the prep work. Your matte polish won't dry properly or evenly if it comes into oil with water. In fact, the two go together just like oil and water do – it's a bad combination.
12. Matte and Glossy Burgundy French Tip
Two trends that work so well together are matte and glossy finishes. We love these nails – such a simple design but still very eye-catching. In fact, we think these matte nail designs for fall and winter are brilliant. Once you've applied your matte shade, or your red pop of colour with a matte finish coat over the top, use tape to mark of the tips. Then use a glossy top coat to differentiate. It's simple yet effective, and we kinda love it!
13. Eye-Catching Matte Design
Once you've gotten your matte mani, why not play around with it? Add embellishments, throw some glitter into the mix, in fact, do whatever you like. How do you know it won't look great? Exactly – you don't. Therefore we think you should get creative. These short nails are perfectly manageable for fall and winter. Longer nails are a real pain in the backside when you're wearing gloves anyway!
14. Marble Accent Nail
Here's a great way to liven up an old mani too – how about those silver nail foils? They're simply thin pieces of what looks like foil, usually in silver or gold, and you can simply place them on your nails as you can see here. They're a great way of adding something new to an old look, especially if you have a tendency to keep the same shades or nail designs. Perhaps it's about time you started thinking outside of the box?
15. Simple Matte Neutral Design
And then we come to these simple matte neutral designs – a negative space nail done so subtly, you would be forgiven for missing it. Again, nail foils or masking tape will be your friend here, but you can freehand the negative space if you think you have a steady enough hand.
16. Matte Burgundy Nails + Gold Rhinestones
The quickest way to spice up your mani of course, is to add a few blinged-up accessories. It takes just a moment to pop these on, and you can pick from a wide range of colours and designs. Build them up so that they're intricately blinged, or just add a rhinestone here and there. The choice is yours – make it a good one!
17. Matte Black and White Nails
Black and white nails will never go out of style, and this monochrome look has been given the blinged-up treatment we spoke about in the last matte nail designs for fall and winter. The black rhinestones on the white backdrop really stands out, but if you wanted something subtler, those black stones on the black background really gives this look an edge. Definitely one we fell in love with – how about you?
18. Purple Ombre Nails
Before you start your matte mani, make sure you use nail varnish remover to get rid of any residue from your past polish. Why? Because you won't get a beautiful finish if there's any stuff left over from the last time you had your nails done. Then, give the nails a good clean, and make sure you don't use oil or lotion for your hands or cuticles until AFTER the mani is completed. You can't use a base coat with these matte shades either. For obvious reasons!
19. Matte Neutral Coffin Nails + Gold Rhinestones
We love the idea of these matte nail designs for fall and winter, especially with the simple line of rhinestones lying down the centre of the nail itself. It's a really good idea for something different, especially if you just want to make something out of one feature nail. How do you feel about the totally blinged-up nail while we're there too? That's a lot of shine!
20. Matte & Gold Metallic French Tip
What a brilliant idea! It's a matte nail with a shiny tip, but unlike the matte and gloss looks that we explored before, two shades have been applied in this look. There's the simple nude / neutral tone to get things started, and the gold tips in that chevron designs brings it all to life.
21. Cool Matte Nail Design
We think these nails are pretty epic, and definitely one to remember for the future. There's the matte purple, but slightly shimmery, shade to start with, and then the matte black triangular section in the centre. We'd probably start with that – get your black done, and then cover the nail with tape (the parts that you don't want purple) before applying that shade over the top. Finish things off with a sprinkling of glitter in the middle, and what do you have? Matte nail designs for fall and winter that everyone will love!
22. Edgy Black Nails
We've explored the idea of using gloss and matte before, but this one is a little different. Rather than just having a matte nail with a glossy tip, for example, an intricate design has been played in. You can barely see it when it's not in the light, but it's there, and it's just enough to make your matte black nails a little something else.
23. Matte Burgundy and Glitter Fall Nails
And while we're on the subject of patterns, how do you feel about these matte burgundy and glitter fall nails? We love the swirled pattern on these, and we definitely think it's a look we'd like to try out for ourselves. What do you think? Are you a big fan of the swirl?
24. Matte Green and Gold Nail Design
How do you feel about green and gold? It's a combination you might not have thought of, but this almost khaki-green shade works really well in this matte finish, especially when combined with those gold tones. The rhinestone embellishments cover the negative space on these nails, so we'd probably leave those out, but you must admit they add a certain special sparkle to the occasion?
25. Matte Black & Negative Space Nails
And while we're on the subject of negative space nails too, these matte black and negative space nails are something else, aren't they? Modern, funky, unique … They're definitely nails that'll stand out, and isn't that what you want from your matte nail designs for 2019?
26. Orange and Red Nails with Botanical Accent Art
Brighten up your look with cute nails like these. Here we have short matte nails and some are orange and some are red. There are two accent nails to with a leafy botanical design. You can hand-paint art like this or get a similar look with a stencil. Nails like these will be perfect for the fall.
27. Bold Purple Nails
Another beautiful color you should try on your nails is purple. There are so many different shades to choose from and the one used on these nails is stunning! This is a dark and vivid purple color and it will suit any occasion and any outfit. Wear it simply or you can jazz it up with gold embellishments like featured. One of the nails has a gold gem and as you can see, it really glams up the nails. You can by these embellishments online and stick them on with nail glue.
28. Matte Red Nails with Cut Out Cuticle Design
If you are looking for unique nail art, then you need to see this next idea. These nails are all matte red but there is a small cut out design on each nail. So, around the cuticle, a small area of the nail has no color. It is a simple but statement making look. You can create a similar design yourself.  Use tape to cover the area that you do not want to be colored and paint everywhere else, then just use a matte topcoat.
29. Glam Matte Black and Glitter
Next, we have glam nail idea to show you. Three of these nails are matte black and there are two accent designs. One of the accent nails is covered in glitter while the other is black with gold glitter. It is a super stylish manicure that would be perfect for any occasion. You can recreate the look with a black polish, gold glitter polish and a matte topcoat.
30. Bright Pastel Nail Idea
Add a pop of pastel color to your look with nails like these. We love pastel shades because they are bright, beautiful and are perfect for the spring and summer. Here is a gorgeous nail idea that shows how to wear pastels in style. Three of the nails are plain pastel and two of the nails feature trendy nail art. You can recreate this or choose simple colors without the accent art. Any colors can be used.
31. Matte French Ombre
One of the must-have nail looks is French ombre. French ombre uses the nude and white colors from the classic French manicure but blends the colors into ombre art. So, it combines two stylish nail designs. Not only are these ombre, but they are matte too, which makes the nails even more trendy. It is a chic and elegant nail idea that will suit any nail length and shape.
32. Trendy Pink Nails
If you love cool nail art and bright colors, then these nails could be perfect for you. These nails are painted in a dark matte pink color with two accent designs. One of the accent nails has a thin glitter line and the other is painted light pink with geometric white art. It is a funky and trendy look and it is great for the ladies who like their nails to stand out from the crowd.
33. Matte Grey, Glitter and Floral Nail Art
The next nail idea we have to share with you is one of our favorites! Two of the nails are matte grey, one nail has beautiful floral art, the next is covered in glitter and the last nail is matte black. It is an elegant and stylish design that combines gorgeous colors and nail art trends. A design like this would be perfect for a special occasion and you can buy floral stencils online to help you recreate a similar look.
34. Stylish Black and White Nail Design
Black and white is such a stylish color combination. Don't just take our word for it, check out these nails. Here we have matte black nails with a stunning white leafy design. It is an elegant look that will suit everyone. The pattern was hand-painted but you can buy stencils to make it easier. You can use any black and white polish, just use a matte top coat.
35. Matte Pink with Glitter Accent Nails
Give your nails a glam and glittery makeover with a design like this one. Three of the nails are painted matte pink and two are covered in sparkling pink glitter. It is such a pretty look and it would be perfect for any occasion from parties to a wedding. Recreate these nails or you can use any pink shade with any glitter. Silver glitter would look amazing!
36. Matte Red Nail Design
Our next idea is trendy and colorful. This manicure features red and grey colors with one accent nail. The accent nail is light with a red marble design. We love the color combination and the nail art because it is all unusual and super stylish. Recreate this look or try the red and grey without the marble design.
37. Bright and Vivid Blue Matte Nails
Want nails that are bold and statement making? If so, this idea could be perfect for you! Here we have long coffin nails that are painted in a vivid and vibrant blue color. This color is one of our favorites because it looks gorgeous! You can find similar blue nail polishes online and just use a matte top coat. It will suit all nail lengths and shapes. This blue is a must-have color for the summer.
38. Matte Purple Nails with Chic Accent Nail
Earlier in the post we featured a matte purple look. If you loved that, then you may like this one too. These nails are painted in a darker purple color and there is a chic accent nail too. The accent nail has a silver glitter line with a geometric silver embellishment. It is a chic and elegant look and something similar is perfect for the trendsetting ladies.
39. Glamorous Matte Black Nails
The next nail idea we have to show you is edgy, stylish and super glam. Three of the nails are painted matte black and there are two accent nails. One accent nail is covered in black glitter and the other is half matte and half glitter. The half and half design is stunning and it will make your nails stand out from the crowd. A manicure like this would be perfect for a night out or party.
40. Red Matte Nails with Geometric Accent Nails
Next, we have a trendy geometric nail design to show you. Most of the nails are painted vibrant red while two of the nails are painted in a light color. The light accent nails also have a black triangle pattern. It is such a cool nail idea and you can try and recreate similar nail art with a stencil.
41. Nude Nails with Elegant Flower Art
Matte nails can look so elegant and these nails are a beautiful example. Here we have short nude nails with chic floral nail art. Nail art like this can be hand-painted with a thin brush, but you can always buy and use floral stencils instead. A manicure like this would be perfect for a spring or summer wedding.
42. Matte Nails, Hearts and Glitter
Our next idea features more nude nails. Most of the nails are just simply painted but there are two accent nails too. One of the accent nails is covered in silver glitter and the other has a pretty heart pattern. You can check out the products used to create the look on the page below, there is a short tutorial.
43. Short Matte Black Nail Design
Earlier in the post we shared a red manicure with a cut out design. If you loved that, then you need to see these nails too. These nails are painted matte black with the same cut out design but this one also has a line of glitter. It just shows how you can use the same idea but create different looks with different colors. This is super glam and would be perfect for a special occasion.
44. Matte Purple Gradient
Gradient nails have become so popular. There are different ways to create this design but they all have colors that range from dark to light. Here is a stunning example. For this one, each nail is painted in a different purple shade. The thumb is very dark and the little finger nail is very light. It is a chic look and it will be easy to recreate. Just choose five colors, paint them on and finish off with matte top coat. The colors used here are: Little Plum Dress, Rising Violet, La Vie En Rose, You and Me, Dulce Amor and Mattely in Love. All by ella+mila.
45. Sun, Moon and Stars Nails
Love space, stargazing, the night sky or do you just like wearing cool nail designs? If any of that sounds like you, then this nail idea is perfect! Here we have dark nails and each one has a different gold pattern that is related to the moon, stars or the sun. It is such a trendy nail design and something similar will definitely make your nails stand out. Recreate the whole look or just choose one of the designs. You can buy all different stencils and stickers online.
And there you have them – 45 matte nail designs to copy in 2019 that we think you're going to love. There's something for everyone, long and short, colourful or not. We can't wait to hear which ones are your favourites, so why not get in touch and let us know!