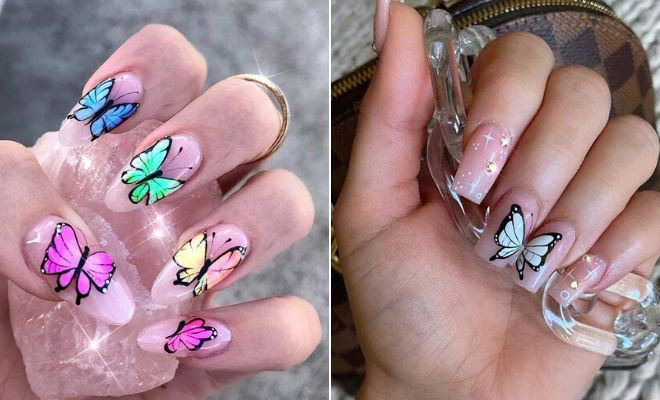 Instagram
Beauty
23 Ways to Wear Trendy Butterfly Nails This Spring
By
|
11. Nude Nails with Butterflies and Rhinestones
Next, we have another glitzy butterfly design. These nails are nude with rhinestones. Two nails on each hand also have half of a butterfly wing. What we really love is that the butterfly wings are different colors, and that creates a cute and statement making mani. This is a pretty and fun design that you can recreate or you can choose different colors for the wings.
12. Bold Purple Nails with Butterflies
If you love to wear bright nail colors, then this idea is perfect for you! Each nail is long and purple. There is one accent nail that is purple and clear with added butterfly sequins and stars. It is a pretty and magical mani. You can try a similar design with a purple nail color and you can buy sequin butterflies online.
13. Butterflies and Clouds
This next mani is another one of our favorites. All of the nails have a grey base with white clouds and each nail is adorned with sparkly rhinestones and colorful butterflies. It is such a pretty, unique and statement making nail idea. A design like this will have to be hand-painted which you can do with a thin brush. The butterflies can be created with nail stickers, you don't have to paint them. Art like this would also look stunning on shorter nails.
14. Clear Butterfly Nails
Next, we have a pretty pink mani to show you. All of these nails are light pink and clear. Some of the nails have sparkly rhinestones and some feature light pink butterflies. It is a beautiful and magical look. Clear nails are so trendy right now. A mani like this can be worn for any occasion, from every day events to more special days like weddings.
15. Pastel Blue Butterfly Nails
Maybe pink isn't your thing? If so, you can opt for a design in a gorgeous light blue shade! For this look, all of the nails are long and pastel blue. Two of the nails are decorated with dark blue butterflies, while the other two feature a silver glitter design. As you can see, the design is stunning and very springy. The look is perfect for the upcoming warm months.
16. Long Purple Nails
The next nail idea is trendy, pretty and screams spring! Here we have long purple nails with two accent designs. Each accent nail features butterflies in pretty pastel colors. We love this because it is stylish and uses the must-have nail looks. Not only that, but it shows that you can opt for any base color for your nails as well as shape. This look might be hard to achieve because the butterflies are hand painted, but luckily the nail artist made a short tutorial for the butterfly design. Make sure to watch it here!
17. Pink and Purple Nail Idea
We love this next nail idea as well. It is colorful, stylish and fun. Two nails are bright pink, one is ombre purple and the next nail is the mix of two with gorgeous butterfly art. This design is perfect for the summer because of the vibrant and vivid colors. You can create a similar look with the three nail colors and butterfly stickers which can be bought online.
18. Stylish Butterfly Art
This next nail idea is beautiful and unique. Each nail is nude with blue butterfly art. Each nail either has a whole butterfly or part of it such as the wing. It is a stunning and creative idea and the blue and nude color combo is gorgeous! You can hand-paint butterfly art like this. The design will look amazing on shorter nails too.
19. Glitzy and Glam Butterfly Nails
If you love bling and rhinestones, this next design is for you. Each nail is nude and square shaped. Two of the nails are decorated with gold rhinestones and two feature a black and white butterfly design. The butterfly is super glam and the gems are dazzling. This mani is not as bold as some of the others featured, but it will still make you stand out from the crowd in style.
20. Bold Mani with Blue Butterflies
Next, we have another clear acrylic nail design. This time the nails are super long and matte and each nail is heavily adorned with beautiful butterflies in dark and light blue shades. It is a pretty and easy to wear idea. You can try this design or you can opt for butterfly stickers for an easier recreation.
21. French Mani with Butterflies
Jazz up your French mani by adding some beautiful butterflies. As you can see, the butterflies look stunning with the chic nail art. These nails have three butterflies on each accent nail and they look stunning. A nail design like this is versatile and can be worn anywhere from work to a wedding. You can recreate this look with nail stickers.
22. Beautiful Butterfly Nail Art
This nail design is another one of our favorites! Each nail features a different design but together they create an eye-catching manicure. The gold rhinestones, purple shades and butterfly sequins look stunning together. Recreate the whole look or choose just one or two of the designs. Gold rhinestones can be bought online and you can easily apply them with nail glue.
23. Long Nails with Pretty Butterflies
Finally, the last butterfly nail idea that we have to show you is so pretty and elegant. The nails are long, nude and almond shaped. Two nails also feature purple and blue butterfly art. The colors are gorgeous and the butterflies are delicate and beautiful. This is an easy to wear mani that will suit everyone.
We hope you have found a stylish butterfly nail design to try!