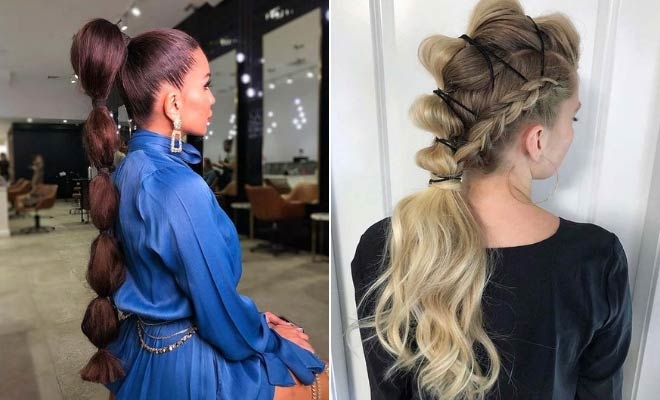 Instagram
Beauty
23 Trendy Bubble Ponytail Hairstyles to Try in 2020
By
|
11. Elegant Low Ponytail
The next hair idea features another chic and elegant version of the ponytail. This one is styled very low and has two bubble sections. There is also a wrap of hair around the base of the ponytail. This is a very beautiful and easy to wear bubble ponytail. It is another one that can be dressed up or down to suit any occasion from work to a formal event. We love this stunning hairstyle.
12. Bubble Ponytail for Brides
Even though a ponytail is considered to be more of a casual style that doesn't mean that it can't be dressed up to suit special occasions. This hair idea is a stunning example. Here we have a long bubble ponytail. The ponytail is styled low and each section is decorated with a beautiful accessory. As you can see, it is a gorgeous style that would be perfect for a bride or bridesmaid. Recreate something similar or use different accessories that suit your personal style.
13. Accessorized Half Bubble Ponytail
Next, we have another accessorized look to show you. This time the hair is long with beach waves. Half of the hair is left loose and the other half is styled into a bubble ponytail. Above each bubble section there is also a trendy clip. We love the clips used because they are so stylish and they make the hairstyle unique. You can find hair clips like these online. This is a pretty style that is perfect for the summer.
14. Bubbles and Braids
The next hair idea features another half style but this one is more unusual. For this look, the hair is styled sleek and straight. Again, half is loose and the other half is a bubble ponytail. This one is different because the last section of the ponytail is braided. As you can see, this just makes the hair stand out from the rest. Recreate this or you can use a different braid style. You can even maybe have a pattern such as bubble, braid, bubble and so on.
15. Cute Everyday Ponytail Idea
If you love bold and cute hairstyles, then this is perfect for you. Here we have a long bubble ponytail and each section is tied with a vibrant velvet scrunchie. We love this idea because not only do the scrunchies make a statement, but they also make the hairstyle easier to create. All you will have to do is put your hair in a ponytail and loosely tie each scrunchie down the hair to make the sections. You can use the half style like featured or just have one ponytail. Any scrunchies can be used in any color and pattern.
16. Edgy Formal Hair Idea
This next hairstyle is another one of our favorites! The ponytail featured here is very edgy and the bubbles are used to create a Mohawk look. There are also side braids which finish off the style beautifully. Hair like this is perfect for the ladies who want to look fierce and trendy. You can try a similar style or you can try the ponytail without the side braids. Either way, the hair will wow.
17. Glam and Super Long Bubble Ponytail
Need a glam hairstyle that will make a statement? If so, you need to check out this next look. Here we have a very long bubble ponytail that is styled high on the head. The hair is very sleek and swept back into the ponytail and there are five bubble sections. Wear this ponytail with gorgeous earrings like featured and a stylish outfit and you will be the belle of the ball wherever you go. We love this hairstyle!
18. Bubble Ponytail with Pearls
Earlier in the post we shared a beautiful ponytail with pearls. If you loved that idea, then you need to see this ponytail too. This time we have a low bubble ponytail with loose hair at front. The ponytail is also decorated with small and elegant pearls. This just shows how you can wear a bubble ponytail and pearls in a different way.
19. Sleek Low Ponytail
Next, we have a sleek and chic ponytail. The hair on the head is straight and neat while the ponytail is styled low. Smaller bubble sections have also been used which means there are more bubbles in the ponytail. As you can see, this creates more of a statement style. This is stylish and fun hair idea and it can be dressed up or down to suit any occasion.
20. Beautiful Blonde Hairstyle
The next hair idea is beautiful. Here we have a long ponytail. The hair is quite thick and it has a slight curl which creates a more voluminous ponytail. We love this because it looks like a hairstyle that Rapunzel would wear. This style will make you look like a princess for any special event.
21. Trendy Ponytail
If you like to experiment with your hair and love to wear unique hairstyles, then this is perfect for you. Here we have a cute bubble ponytail with a twisted section above the base. As you can see, the twists give the ponytail a glam and elegant look. This is a more unusual version of the ponytail and it will look stunning on anyone.
22. Statement Hair Idea
This next hairstyle is just amazing! This bubble ponytail is super long and it has added pink and purple color. We love the ombre style effect and the whole ponytail just wows. You can recreate this extra long hair or you can have a shorter and more manageable version. Try and add vibrant colors like these though because they are stunning. Hair like this would be great for the summer and festivals.
23. Pretty Ponytail Idea
This last ponytail is so pretty and cute. The hair has bubble sections that create a braided look. There is also a section that is left loose. It is a stylish and easy to wear version of the ponytail. This ponytail will suit everyone and it can be glammed up or down. Recreate this or you can even add braids.
We hope you have found a beautiful bubble ponytail to wear!