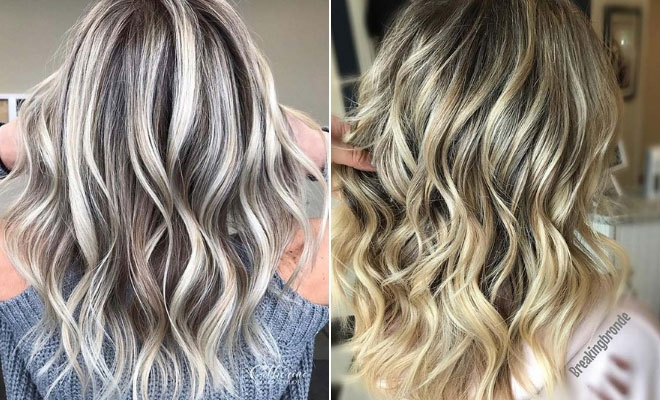 Instagram
Beauty
23 Ways to Rock Brown Hair with Blonde Highlights
By
|
11. Barely There Blonde
Our next hair idea is another one for the ladies who prefer subtle highlights. Here we have a medium length cut with barely there blonde highlights. The blonde is not too bright which creates a more natural and low-key look. It is a trendy hairstyle that will suit everyone.
12. Caramel and Light Blonde Highlights
When you have blonde highlights you can choose to have a blend of different blonde tones. This hairstyle features a mixture of caramel blonde and light blonde highlights. As you can see, the multi blonde shades look beautiful together. Not only do they look stylish, but it will give you a more natural blonde hairstyle too. You can recreate this or choose two different blondes.
13. Dark Blonde Highlights Idea
Next, we have another low-key look with dark highlights. The natural color is very dark and cool blonde has been added to the hair. It is a subtle and stylish hair idea that will look amazing on anyone. A hairstyle like this is great for those who want to try blonde without being too bold.
14. Honey Blonde Highlights
Another beautiful blonde shade you can try is honey. Honey blonde is popular with celebrities and it looks amazing with brown hair too. Here is a gorgeous example. The hair is dark brown with honey and light blonde highlights. We love both the color and the cut. They are both chic and trendy.
15. Beachy Blonde Hairstyle
Looking for a new hairstyle for the summer? Then this could be perfect for you. Here we have long brown hair with beach waves and bright blonde highlights. The beach waves are perfect for the summer and the blonde gives the hair a sun-kissed look. You can recreate platinum highlights or go for a warmer blonde. Either way, your hair will look fabulous.
16. Low-Key Blonde Highlights
The next hairstyle is so chic. Here we have a trendy cut where the hair is longer at the front and shorter at the back. The hair is a very dark brown with subtle caramel blonde highlights. It is a low-key highlighted look and it will never go out of style. You can try bolder blonde highlights with a similar cut too.
17. Summery Blonde
If you love the summery blonde hairstyles, then you need to see our next idea. Here we have beautiful long brown hair with multi tone highlights. Cool blonde tones have been used and there are warm shades also. The combination of blonde colors is just stunning and similar highlights will give your hair a trendy makeover just in time for the summer. Recreate hair like this or you can go for a shorter cut.
18. Soft Blonde Highlights
Next, we have a gorgeous blonde hair idea. The hair is very dark brown with soft blonde highlights. We love the highlights used here because they are so glam and even though the color is toned down, they still make a statement. Hair like this will look beautiful on everyone and these highlights can be created on any hair length.
19. Stylish and Easy to Wear Highlights
There are different ways that highlights can be added to your hair and our next idea features classic highlights that are easy to wear. For this look, the hair is a beautiful brown color and warm blonde highlights have been added from root to tip. This is a stylish look and it is timeless too. You can recreate this or you can try less blonde for a subtler look.
20. Platinum Blonde Highlights
Want your hair to stand out from the crowd? Then choose a blonde look like this! The hair is very dark at the root with platinum blonde color added to the hair. A lot of color has been used here but you could add less blonde if you want more of your brown hair visible. We love the platinum blonde and the cut is gorgeous too. This hairstyle is perfect for the trendsetting ladies.
21. Warm and Stylish Highlights
Our next idea features more warm highlights. The hair has brown root color with light caramel blonde highlights. It is a stylish color combination and this is one of our favorite looks. This is another hairstyle that will look gorgeous in the summer. You could consider having a similar cut and style to for a trendy look.
22. Bright Golden Blonde Highlights
Next, we have a beautiful and bright hairstyle. The brown color is not as dark as some of the others and the highlights are a light golden shade. This is a stunning hair idea and the blonde looks natural and sun-kissed with the lighter brown root color. It is a chic and gorgeous hairstyle and something similar will transform your look from drab to fab.
23. Beautiful Brown Hair with Blonde Highlights
The last hairstyle we have to show you is another multi blonde look. Here we have wavy, long hair with dark and light blonde highlights. The color combination of the brown and the blondes is beautiful. You can recreate this look or choose two different blonde shades. Choose two similar colors for a subtle look or for a bolder hairstyle, choose two very different blondes.
We hope you have been inspired by these brown hairstyles with blonde highlights.