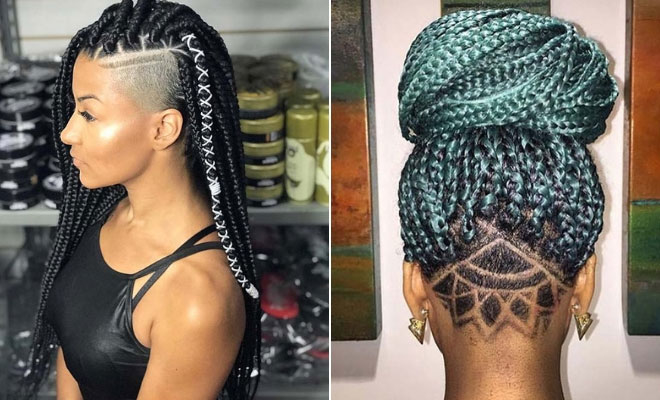 Instagram
Beauty
23 Badass Braids with Shaved Sides for Women
By
|
11. Unique Spider Web Shaved Pattern
This next hairstyle is one of our favorites! Here we have have sky high braided ponytail with a shaved section underneath. The shaved section features a spider web pattern. We love the spider web because it looks so unique and bold. Hair like this will be great for October or if it is Halloween for you every day.
12. Braided and Shaved Updo
Like the braided buns? If so, take a look at this. Here we have a high braided bun and the braided section features thin and thick braids. The hair is also shaved around the back and sides with a cool pattern. This is an intricate and bold hair idea that will make you stand out from the crowd in style.
13. Side Braids with a Shaved Side
Next, we have another side braid hairstyle to show you. The hair idea features long side braids with a shaved section. This hairstyle is so easy to wear and it will suit all women. Keep it simple like this or jazz it up with a different hair color or accessories. You can also opt for a shorter braid length.
14. High Box Braid Bun
This next hair idea features another high bun. The hair is styled into thin box braids that are tied into very high bun. There is also a shaved section with a geometric pattern. Everything about this hair is trendy and beautiful from the glam high bun to the modern shaved pattern. We love this!
15. Trendy Ombre Braids
Love the different hair colors? If so, check this out. Here we have gorgeous ombre braids. The braids start black and then blend to a light purple shade about midway. There is also a stylish shaved section. The ombre looks amazing and really makes a statement. You can try this purple look or try a different bold color.
16. Braided Bun with Shaved Sides
The next hair idea features a high bun with a short shave. This bun is very high and the braids are gorgeous. We love the shaved pattern as well. It is a trendy and statement making style that can be glammed up or down to suit any occasion. This is another shaved style that would look amazing in bold color such as red.
17. Stylish Blonde Braids
Blonde is another color that is very popular and with hair like this, it is no surprise. The hair is long and features bright blonde braids. These braids are worn to one side and the other side of the hair is shaved. White cords are tied onto some braids as well. This is a trendy hair idea that will be great for the summer.
18. Simple and Stylish Shaved Hair Idea
Next, we have another simple and stylish hair idea. Again, long braids have been worn to the side and there is a short shaved section too. This is another hair idea that will suit everyone. Recreate this low-key and easy to wear look or jazz it up with some accessories. Either way, your hair will wow.
19. Shaved Hair with a Trendy Blonde Ponytail
The next hair idea is another blonde look. This time the hair is braided and styled into a high ponytail. There is also a shaved section and the braids are a gorgeous blonde color. This is a bold and trendy hair idea and it is perfect for those who like their to stand out. It would be a great summer style too.
20. High Bun With Shaved Sides
Looking for a glam and stylish hair idea? If so, this is for you. Here we have long box braids that are tied into a high bun. Hair like this can be edgy or elegant, it depends on how you style it. Recreate this or you can try a shorter shave.
21. Box Braids Faux Mohawk
Let out your inner rock chick with hair like this. So, for this look, the hair is shaved around the sides with long and chunky braids on the top section of hair. We love this because it kind of creates a Faux Mohawk. Try this trendy long braided look or you can have shorter braids. Either way, your hair will be amazing.
22. Yarn Faux Locs Bun
This next hair idea is so vibrant and bold. The hair is styled into long and chunky aqua colored locs. All of the locs have been styled up into a high bun. It is such a vivid and beautiful hair color. This is great for the ladies who want their to be noticed. Recreate this or try the aqua color on other braided styles.
23. Multi Tone Braids with a Shaved Section
The last hair idea is so trendy and cute! Here we have a braided ponytail with multi tone colors. There is also a shaved section around the back and sides. The shaved section also has a stylish line pattern. Try a similar hairstyle or you can add more blonde for a summery ponytail.
We hope you have found beautiful braids with shaved sides to try!